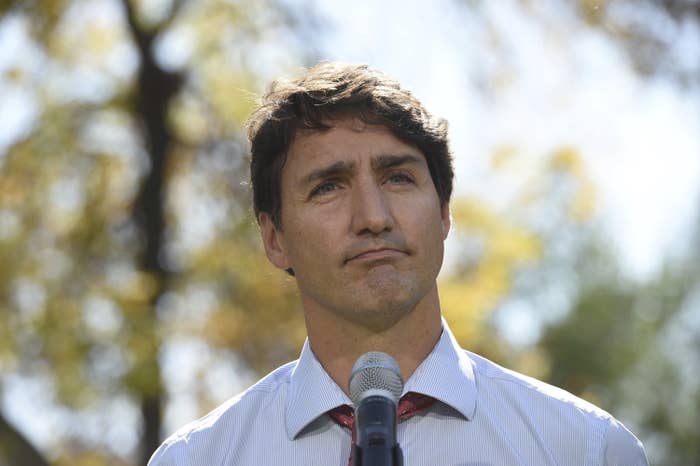 Justin Trudeau apologized again on Thursday after two images of himself in blackface were revealed — a day after he initially apologized for an uncovered photo of himself partying in brownface.
"Darkening your face, regardless of the context and circumstances, is always unacceptable because of the racist history of blackface," the Canadian prime minister said Thursday at a news conference. "I should've understood that then, and I never should've done it."
When asked if he'd leave the party — he is in the middle of an election campaign — he said he would "continue to do the work that is necessary to keep us moving forward."
Trudeau initially did not answer when asked if more photos of himself in blackface exist. When asked again, he said he is "wary of being definitive about this, because the recent pictures of this I had not remembered."

"The choices I made hurt people, people who thought I was an ally," he said.
Trudeau said he had a "difficult conversation" with his children on Thursday morning about "taking responsibility for your actions."

"I regret deeply that parents had to have difficult conversations with their kids that were uncomfortable and hurtful because of my actions," he said.

Trudeau said he never told his campaign staff about the photos before they came out because it was "really embarrassing."
"I was embarrassed, particularly given the person that I've become and the leader that I try to be, that fights for people's rights and defends people against intolerance and racism," he said.
"I'm not that person anymore," he continued. "I'm someone that understands the deep hurt caused by actions like that to people who live with discrimination every single day."

On Wednesday, Trudeau apologized for the first photo, which showed him dressed as a character from Aladdin in brown makeup and a turban at an "Arabian Nights"–themed gala in 2001, when he was 29.
"I regret it deeply and I'm deeply sorry that I did that," Trudeau told reporters shortly after Time magazine published the picture. "It was something I didn't think was racist at the time, and now I know it was racist."

When asked on Wednesday whether this was the only instance of him in the offensive makeup, Trudeau acknowledged he did so for a performance of the Jamaican song "Day-O" during a high school talent show.
That night, Canadian journalist Robert Fife tweeted a photo of Trudeau in the "Day-O" costume, which included darkened skin and an Afro wig.
Thursday morning, a video of Trudeau in blackface was first published by Canadian news station Global News.
In the video, Trudeau appears in dark face makeup, raising his hands in the air and sticking his tongue out.
A Liberal party spokesperson confirmed to BuzzFeed News that Trudeau is the man in the video taken in the early 1990s.
When the photo first came out Wednesday, Trudeau's reelection campaign was plunged into scandal. Journalists on his media bus reported a swift mood shift from a typically upbeat campaign into grim silence.
"Oh my god, there's a photo," someone said, according to the Toronto Star.

Trudeau has previously been criticized for donning costumes that some have accused of bordering on cultural appropriation, such as the traditional Indian garb he and his family wore during an official visit in 2018.
He acknowledged this criticism Wednesday night and admitted the blackface costumes were unacceptable.
"I've always — and you know this — been more enthusiastic about costumes than is sometimes appropriate, but these are the situations that I regret deeply," he said.