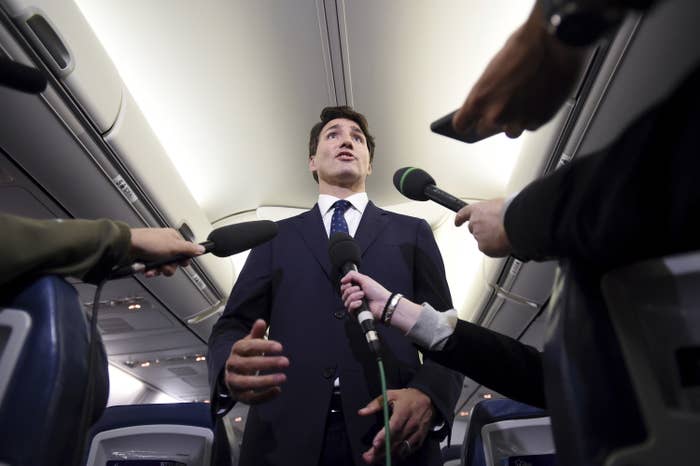 Canadian Prime Minister Justin Trudeau on Wednesday apologized for wearing "brownface" during a private school party in 2001, telling reporters he "didn't think it was racist at the time."
"I regret it deeply and I'm deeply sorry that I did that," Trudeau told reporters shortly after Time magazine published the picture. "It was something I didn't think was racist at the time, and now I know it was racist."
Asked if this was the only known time he remembered wearing similar makeup, Trudeau said he remembered doing so for a performance of the song "Day-O" during a high school talent show.
"I'm pissed off at myself, obviously," he said. "I'm disappointed in myself and I'm apologizing to Canadians."
Time reported the picture was taken at an "Arabian Nights"–themed gala at West Point Grey Academy, where then-29-year-old Trudeau was teaching and is seen wearing a turban while posing with three women.
The photo was published in the school's yearbook and, on Wednesday, Trudeau's Liberal Party of Canada confirmed the prime minister was in the photo.
During his press conference while in flight to a campaign stop, Trudeau confirmed he was dressed as a character from Aladdin.
Time noted that Trudeau also appeared to be the only person wearing makeup to purposefully darken his skin for the party.
The photo was published just days after Trudeau launched his reelection campaign.
The prime minister has been facing an uphill battle even before the racist photo surfaced, with criticism over his handling of a Canadian company accused of paying millions of dollars in bribes to the late Libyan leader Muammar al-Qaddafi over more than a decade.
Trudeau would not say how long his team had known about the existence of the photo, but said he had been having conversations with his team about it "over the past while."
In the past, Trudeau has been criticized — and sometimes ridiculed — for costumes that some have claimed bordered on cultural appropriation.
During a trip to India in 2018, for example, he and his family repeatedly wore traditional Indian garb for the official visit, drawing criticism.
Trudeau acknowledged his tendency to wear costumes but acknowledged he had crossed the line in the brownface photo.
"I've always — and you know this — been more enthusiastic about costumes than is sometimes appropriate, but these are the situations that I regret deeply," he said.
Canada's Green Party leader Elizabeth May on Wednesday called on Trudeau to apologize, saying that, "In this matter he has failed."
"Seeing the Prime Minister in brownface/blackface is deeply saddening," Mustafa Farooq, executive director of the National Council of Canadian Muslims said in a statement. "The wearing of blackface/brownface is reprehensible, and hearkens back to a history of racism and Orientalist mythology which is unacceptable."
Over the course of the press conference, Trudeau repeatedly apologized for the incident, but when asked whether he should step down over the racist picture, he said he would continue to atone for his action and make his case to Canadians.
"It's something that I shouldn't have done many years ago and I recognize that I shouldn't have done it," he said.