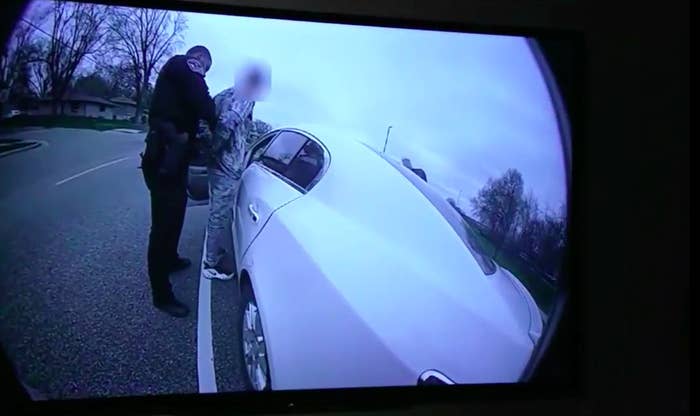 The Minnesota police officer who killed Daunte Wright, a 20-year-old Black man, on Sunday meant to use her Taser but accidentally fired her gun, officials said.
Police in Brooklyn Center, Minnesota, said Sunday that after pulling over the driver for a traffic violation, officers learned there was an outstanding warrant for his arrest. While trying to arrest him, they said he attempted to reenter his car, prompting police to fire.
But in a news conference Monday, body camera footage of Sunday's incident was shown for the first time. The footage shows Wright outside his car as authorities attempt to place him under arrest. He then suddenly tries to reenter the vehicle, prompting a struggle with officers. "I'll tase ya," a woman officer warns Wright as he tries to kick her.

"Taser, Taser, Taser!" the officer can be heard saying in the video. "Oh shit! I just shot him."
Brooklyn Center Police Chief Tim Gannon told reporters he believes the officer meant to reach for her Taser, but instead grabbed her gun.
"This appears to me, from what I viewed and the officer's reaction and distress immediately after, that this was an accidental discharge that resulted in the tragic death of Mr. Wright," Gannon said.
The officer was identified by Minnesota Bureau of Criminal Apprehension as Kim Potter, a 26-year veteran of the police department. She is on administrative leave pending an independent investigation.
Gannon would not comment directly on whether she would be fired, but added, "I think we can watch the video and ascertain whether she will be returning."
Brooklyn Center Mayor Mike Elliott said Monday that he supported Potter being terminated.
"My position is that we cannot afford to make mistakes that lead to the loss of life of other people in our profession, so I do fully support releasing the officer of her duties," he said.
Gannon said officers initiated the traffic stop due to an expired registration tag on the vehicle. When they ran Wright's name in their system, they discovered that he had a warrant out for his arrest, he added.
"That's why they were moving from the car and they were making custodial arrest," Gannon said, adding that the only information he had about the order was that it was a "gross misdemeanor warrant."
Wright's mother, Katie Wright, was on the phone with her son at the time of the shooting, she told KARE 11. He called her when he got pulled over because she had recently given him the car and he needed the insurance information, she said.
Katie Wright said she then heard a "scuffle."
"A minute later, I called and his girlfriend answered, which was the passenger in the car, and said that he'd been shot and she put it on the driver's side, and my son was laying there, lifeless," she said.
The shooting occurred just miles outside of Minneapolis, where the murder trial for Derek Chauvin, the police officer who killed George Floyd, is underway.

It prompted hundreds to gather in protest late Sunday night outside the Brooklyn Center Police Department headquarters, where officers used tear gas, projectiles, and flash-bang grenades on demonstrators.
On Monday evening, Elliott said the city manager, who oversaw the police department, had been relieved of his duties. According to local reporters, community members had demanded the official be fired because of the law enforcement response to protests Sunday.
The Brooklyn Center City Council also voted to give command authority of the police force to the mayor's office.
"At such a tough time, this will streamline things and establish a chain of command and leadership," Elliott tweeted. "I appreciate the other councilmembers who voted to approve this motion."
On Monday, the Minnesota Twins postponed their game against the Boston Red Sox "out of respect for the tragic events that occurred yesterday," and said they extend their "sympathies to the family of Daunte Wright." The Minnesota Timberwolves and Minnesota Wild also postponed their Monday night games in Minneapolis and Saint Paul, the NBA and NHL announced.
"Our thoughts remain with the family and friends of Daunte Wright during this difficult time," the NBA said.
In a press conference on Monday, Minnesota Gov. Tim Walz called for the state legislature to hold hearings on potential police reforms "that have passed in other states and have proven to make a difference … things that are supported by both law enforcement and community members." He did not specify further what policies he was referring to or supported.
"We don't have to continue having these press conferences, and having what may be a routine traffic stop end in a 20-year-old dead, a family devastated, and a community on edge," Walz said.
President Joe Biden extended his prayers to Wright's family and said he had watched the body camera footage, which he described as "fairly graphic."

"The question is was it an accident? Was it intentional? That remains to be determined by a full-blown investigation," Biden said in the Oval Office Monday afternoon.

He added that there is "absolutely no justification" for violence, but that peaceful protest is "understandable" in the wake of Wright's killing.
Hundreds of people gathered outside the city's police department headquarters again on Monday evening to protest Wright's killing. His family also joined supporters at the site where he was shot to death for a vigil.
Several of Daunte's family members addressed the crowd, including his brother Dallas Bryant, who questioned how the officer could accidentally shoot their firearm.
"You know the difference between your right and left, right? Everybody knows it," he said. "My brother lost his life because they were trigger happy."
In response to the unrest, officials issued a 7 p.m. curfew for Hennepin, Ramsey, and Anoka counties, setting the stage for another confrontation Monday night, when police again used tear gas and projectiles against demonstrators.