ATHENS, Georgia — Imani Scott-Blackwell, a 22-year-old philosophy student at the University of Georgia, said she slept well on Nov. 8, 2016. This isn't the kind of response you typically hear when passionately progressive women reflect on the night Hillary Clinton lost to President Donald Trump.
Usually these women can recall the exact moment they realized the predictions were wrong, and that the election of Trump — a man they viewed as impossibly dangerous and obviously misogynistic — was impending, unstoppable. Usually they mention the dread, the fear, the tears. Many, unlike Scott-Blackwell, remember their lack of sleep that night.
But on Election Day 2016, largely in protest of the Democratic Party, Scott-Blackwell voted for Jill Stein. Afterward, she said, "my conscience was not aching at all." Her first candidate of choice had been the supporting actor in 2016's epic drama: "Bernie Sanders is the core of my being," she said. She was joking, but not really, theatrically clutching her chest. "He has a place inside my actual body, that he doesn't know is there."
Scott-Blackwell was explaining — at times, defending — her 2016 vote while sitting in the home office of Mariah Parker, a 26-year-old PhD student at UGA. Parker was there, too, along with her friends Anna Gerbsch, a 21-year-old junior, and Ruth Pannill, a 22-year-old senior. All four young women are progressive activists in Athens, one of a handful of blue cities in the red state of Georgia. Two of the four, Scott-Blackwell and Parker, are running for local office (school board and county commission, respectively). Parker, Gerbsch, and Pannill are also working on another local campaign, of Tommy Valentine, who's running for a separate county commission spot. But on this warm Monday night in April, the four were just drinking red wine and talking politics.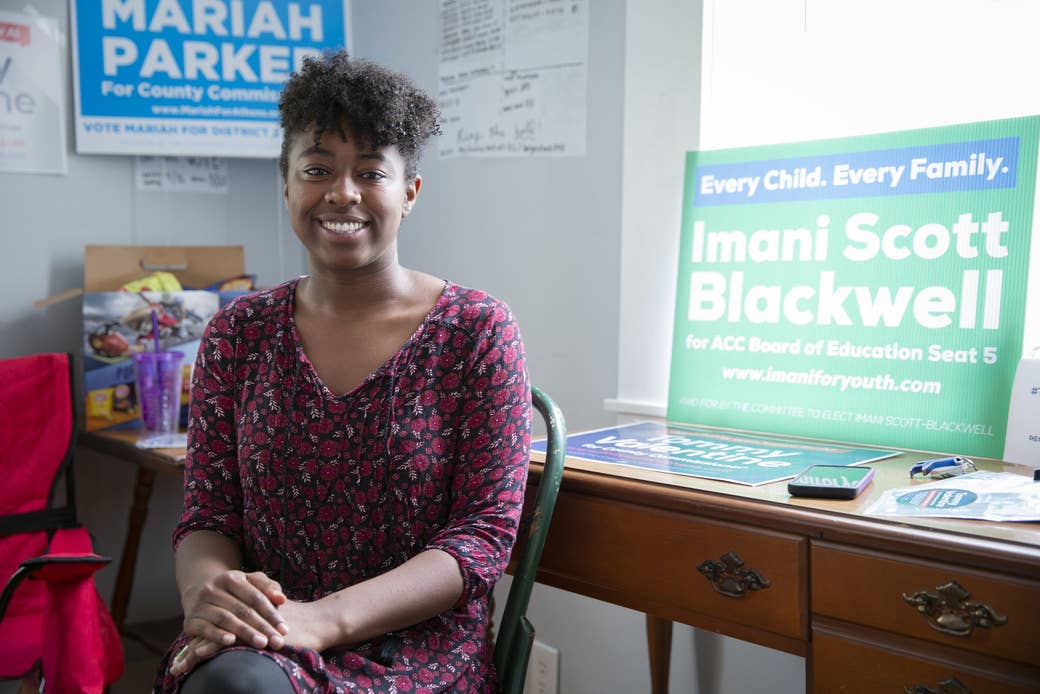 Often in these kinds of election-excavating conversations, tension can arise, particularly among liberal-leaning women. It's the same tension that's been hanging above these women since Clinton and Sanders faced off in the Democratic primary — when, according to a CNN poll analysis, women voters under 30 (including three of the four at Parker's house) supported Sanders by an astonishing 37 points. Sanders' domination of millennial women resurrected a generational fight among feminists: An older generation watched with dismay as young women energetically flocked to a septuagenarian man over their dues-paying, pantsuited icon; the younger generation were just as dismayed that they were expected to vote along gender lines.
Since Trump's victory, that tension may have cooled, replaced by a unison of women #resist-ing Trump. But in Georgia, amid a fascinating and historic Democratic primary for governor, it's crept back — an unbustable ghost.
One progressive candidate in Georgia's gubernatorial election has both grassroots and national support, including from EMILY's List and Sanders' group Our Revolution; if she were to win in May and then again in November, she'd be the nation's first black woman governor. The other candidate has endorsements from influential figures in the state's Democratic Party. Both are (somehow) named Stacey, and the stakes of their race are high. Georgia Democrats, who once occupied the governor's mansion for more than a century, have lost the last four gubernatorial elections to Republicans. But particularly after Republican congressional candidate Roy Moore's defeat in Alabama — a loss widely credited to black woman organizers — Democrats feel new hope in the South.
Yet this hope has brought with it an urgent need to get it right. And for the past year, supporters of the Staceys have absorbed that tension, teetering on a fight resembling the Bernie–Hillary rupture. The same influential group of women under 30 who supported Sanders — and, some say, helped derail Clinton's chances in the general election — haven't gone away. How will their votes land in 2018, as Democrats grasp at regaining power in the midterms?
One of the first tests of that question will come in Georgia's primary election in May. But the difference this time is hindsight. At this moment, as the country watches the made-for-TV battle of the Staceys, young progressive women like this Athens quartet are figuring out how to learn from their very recent past.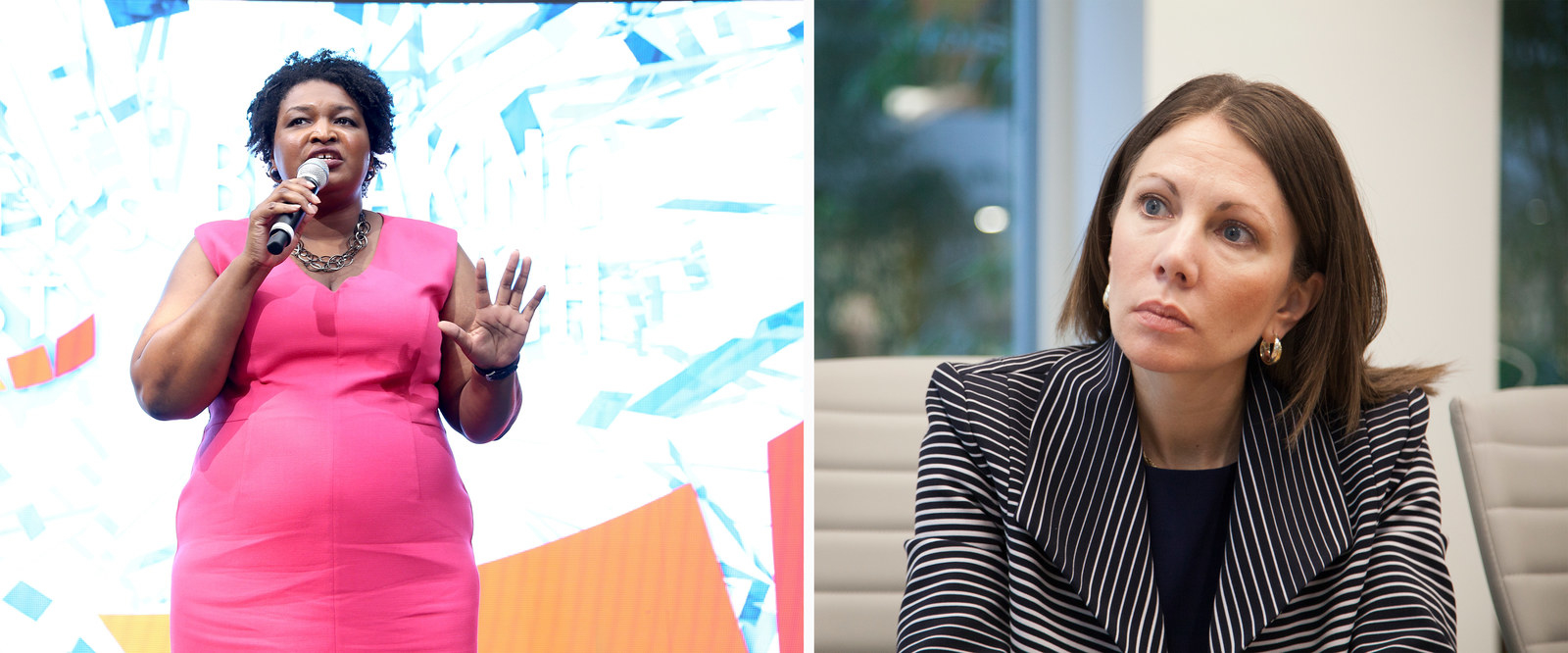 The Staceys, as they've come to be known, aren't terribly different candidates. Both are lawyers and both were raised in the rural South; Abrams, 44, was born in Gulfport, Mississippi, and Evans, 39, in Ringgold, Georgia. Until announcing their gubernatorial runs in mid-2017, both were members of Georgia's House of Representatives. Abrams was elected in 2006, and Evans in 2010.

It was in the state legislature that the two progressive politicians made their names, in part by opposing each other. In 2010, Abrams became the House minority leader — the first woman to lead a party in Georgia General Assembly history. In this role, she maneuvered a compromise with Republicans and Gov. Nathan Deal to reform a state college financial assistance program, the HOPE scholarship, that essentially allowed high school students with B averages to attend state public colleges for free; the program drained the state budget, and Republicans wanted cuts. The Democrats' compromise increased the academic requirements for a full scholarship, effectively decreasing the number of eligible students. Evans, who attended the University of Georgia under the program — and argued that with HOPE's new requirements, she herself would have been ineligible — fought hard against the changes.
"Black Stacey" and "White Stacey" have become unfortunate shorthands to distinguish the two.
This seven-year-old fight has been central to Evans' campaign for governor; her promise to restore HOPE is what she's most known for. Similarly, Abrams' experience working across the aisle has been central to her campaign; a Democrat in the Georgia Governor's Mansion would be useless if she couldn't work with a state legislature dominated by Republicans. But her ability to compromise isn't what Abrams is most known for in this race. If she succeeds, she'll make history as a black woman, and since she announced her candidacy, this potential has made her a national name, drawing major media attention and big supporters. In 2018's first quarter, Abrams outraised Evans by more than $680,000; a March poll found her leading the race by a 29–17 margin.
But Abrams' rising star has also made more visible the rising tension between the two candidates and their respective supporters. At the progressive convention Netroots Nation in Atlanta last year, both Abrams and Evans gave speeches. The former was warmly received, while protesters shouted down the latter with chants of "trust black women." Evans later slammed Abrams for not denouncing the protesters. Six months later, a Martin Luther King Jr. Day video from Evans' campaign — which ends with an image of MLK's face superimposed over her face — garnered national attention and criticism from commentators on the right and left. Last July, the candidates' hometown paper, the Atlanta Journal-Constitution, published a cringeworthy story comparing their race to Beyonce vs. Taylor Swift. "Black Stacey" and "White Stacey" have become unfortunate shorthands to distinguish the two.
"It's like high school," said Parker, both exasperated and amused. "'Oh, you mean Black Stacey?'"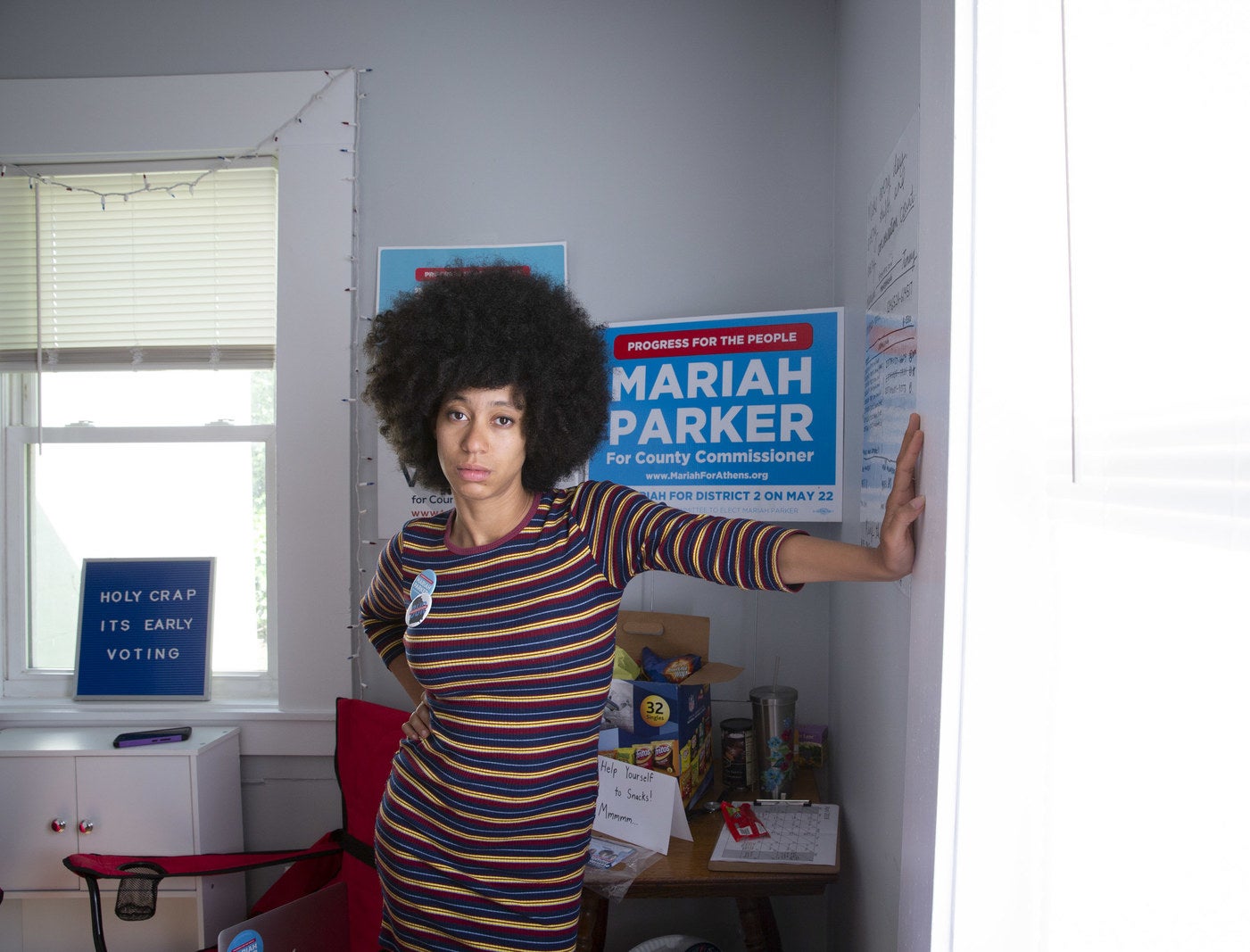 When I first met Parker, Gerbsch, and Pannill, at an Athens bar in January, none of them were sure which Stacey they'd support in May. This came as a surprise, given how active the three were in progressive politics: organizing congressional postcard- and call-making parties after the 2016 election, like Parker; leading the campus Young Democrats club as president, like Pannill; helping run a state legislature campaign that flipped a district seat from Republican to Democrat and brought another woman of color, Deborah Gonzalez, to the state capitol, like Gerbsch. Parker herself is a first-time candidate for local office. While working earlier this year as campaign manager for an Athens-Clarke County Commission candidate, she decided to run for the position in her own district.
Still, the three said they were more focused on their city and county races than the gubernatorial primary. That's where they felt they could make and see real change. But part of them was also hesitant, they said, to get involved in the Abrams–Evans debate. They were uninterested in furthering a narrative of two women tearing each other apart. Parker and Pannill both attended the Netroots conference, and months afterward, a full-on Bernie-Hillary-style fight had become Pannill's "biggest fear."
"Let's say Stacey Abrams wins the nomination. If we get to November and all of Stacey Evans' supporters aren't going to vote for her, it's not gonna happen. It's really not gonna happen," she said. So for now, Pannill was staying out of it, detaching emotionally, content with either one of the qualified candidates.
When I met the trio again at Parker's home office in April, this time joined by Scott-Blackwell, things had changed. Pannill and Gerbsch had recently seen both gubernatorial candidates address a statewide convention of college Democrats. Abrams' presence was electrifying to them; this is a common experience among the dozen women interviewed by BuzzFeed News for this story — many young voters were either indifferent or undecided until they saw Abrams in person. They described her as "moving," "powerful," "fearless," "exciting," "unapologetic," "energetic," an "incredible" woman who "knows her shit." A Reuters article once described her as rousing audiences to "near religious fervor."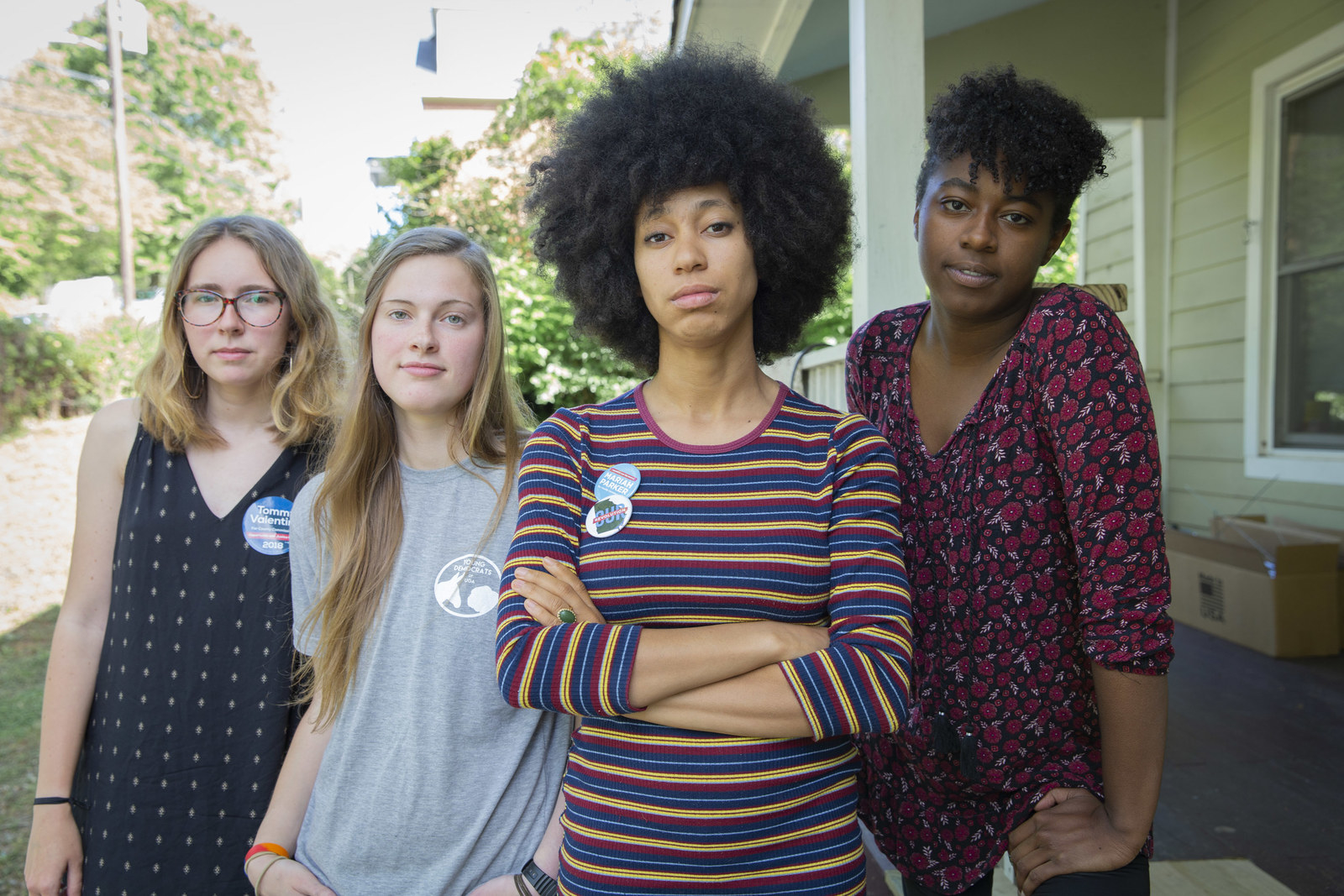 The closest Evans has come to that kind of praise was back in June 2017, following the release of her campaign video, "16 Homes," which chronicled her upbringing in a low-income family. But in Athens, the college-town bedrock of one of the most liberal counties in the state, there seems to be little enthusiasm for Evans. At UGA, student volunteers have formed a lively Dawgs for Abrams group, while no such group exists for her opponent, who even attended UGA.
Both Pannill and Gerbsch still liked Evans as a candidate, they said, but it was at this convention of college progressives — where Abrams received a standing ovation when she walked into the room — that they realized Abrams has energized, or as Pannill says, "jazzed," Georgians in a way her opponent hasn't.
"I just think Abrams has this urgency that's going to inspire people, and then she's also going to be able to reach out to communities that Stacey Evans wouldn't be able to," Gerbsch said. She sees more promise in Abrams' strategy — mobilizing voters of color — than her opponent's pursuit of moderates and regretful Trump voters.
Parker has said she'll vote for Abrams in the primary too. But she remained skeptical that her victory in May is a sure thing. And what happens to all that energy, all that jazz, if she loses?
"Who in this room thinks that after May 22, if Stacey Abrams wins, we'll volunteer for her?" Parker asked her friends. All hands shot up. "What about Evans? You think people will get all fired up for her?"
"Yeah, dude, it's our governor," Gerbsch replied. She and Pannill will work on behalf of whoever becomes the Democratic nominee.

"If anyone in Georgia is serious about making change in Georgia," Pannill said, "they know that after May 22, we're just gonna have to do what we're gonna have to fuckin' do. No matter what, either Stacey is going to be a 10,000 times better choice than whatever fuck-ass Republican they choose in these primaries."
But Scott-Blackwell? "Hard pass," she said, smiling through the same righteous iron will that kept her from voting for Clinton.
If Abrams lost, would Scott-Blackwell even vote for her opponent in November?
As it was in the presidential election, her answer was no, for now. More accurately, her answer was throwing up a peace sign as if to say "I'm out" — a gesture that made Gerbsch bellow out "How?" half-smiling, half-concerned. "How?"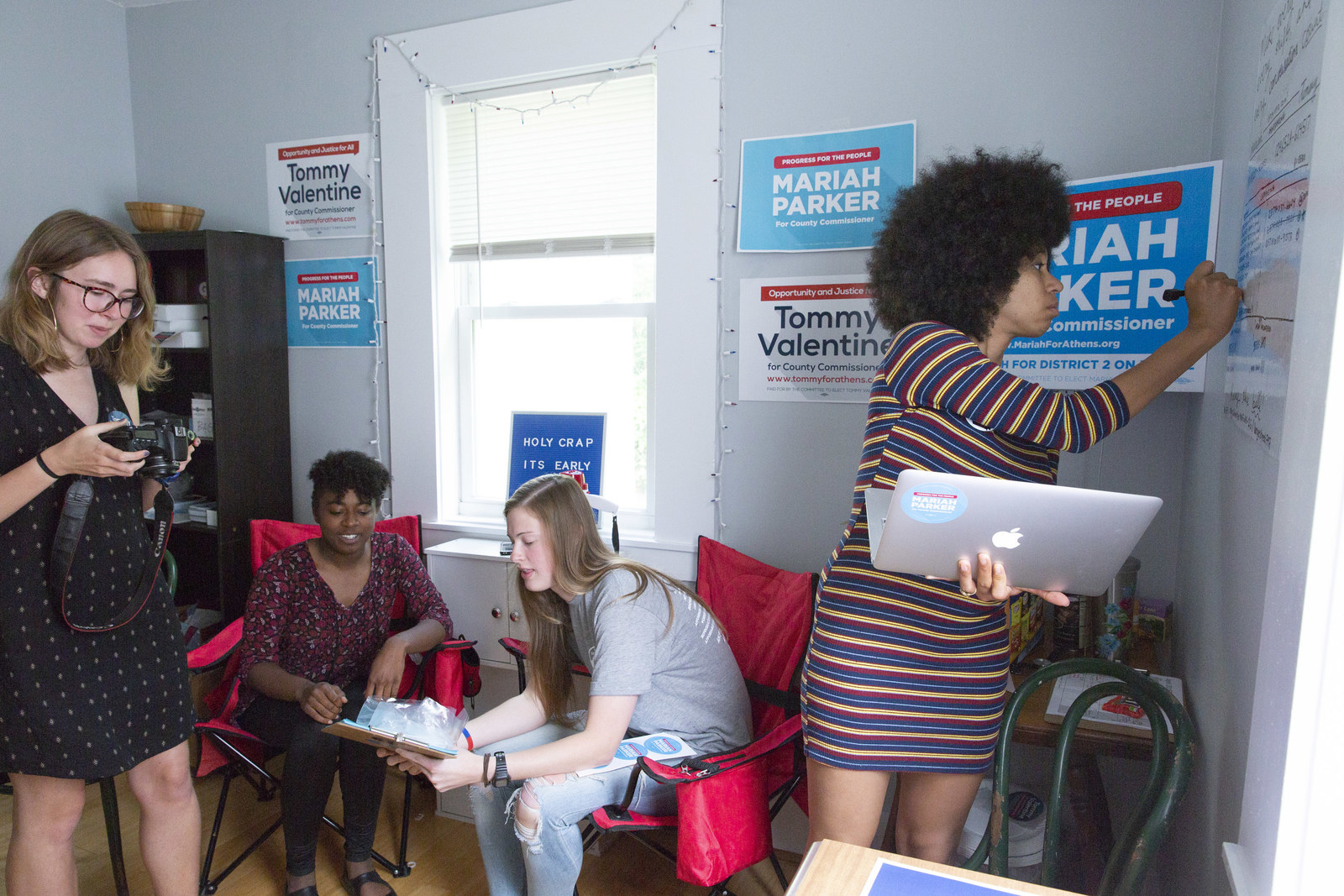 Scott-Blackwell supports Abrams because they share core concerns, she said, among them mental health and criminal justice reform — both have brothers who've been incarcerated, and Scott-Blackwell connects with the candidate's personal story. Evans, though, feels too much like a mainstream Democrat to Scott-Blackwell. "I don't get anything that suggests she feels the same sense of urgency that I think comes with coming from a community that has been ravaged by these issues," she said.

Young progressives know Scott-Blackwell isn't alone in this Abrams-or-nothing mentality; it may not be the position held by the majority of her supporters, but the undercurrent is strong enough to be felt — it's how the Staceys began garnering comparisons to Sanders and Clinton last year. State Republicans have spotted this weakness in the Democrats' ticket, latching on to the Bernie-Hillary comparison.
State Republicans have spotted this weakness in the Democrats' ticket, latching on to the Bernie-Hillary comparison.
Abrams, like Sanders, may have a powerful draw for young voters, but the history-making potential of her victory also plays a complex role in their attraction to her. There are young women who look at the similar progressive platforms and backgrounds of the Staceys and have chosen to support Abrams because she's the woman of color — and they're unapologetic about engaging in identity politics.
"I believe if you are progressive and you want politics to be more inclusive, you need to let those that can bring those people run," Jimena Vargas, a recent UGA graduate and Latina activist, told me at an Athens cafe in January. "So I'm all for Stacey Abrams, because I think a white person will never know what a person of color goes through. If they're both progressive, I'm gonna go for the person of color, because they have more experience."
But this is the same generation who were put off by those who urged them, as women, to vote for the potential first woman president in 2016. The ghost of the Democratic Party's rupture lingers, and it's largely up to this next generation of women — this generation that so definitively put its mark on 2016, catalyzing that rupture — to either exorcise it or learn to live with it.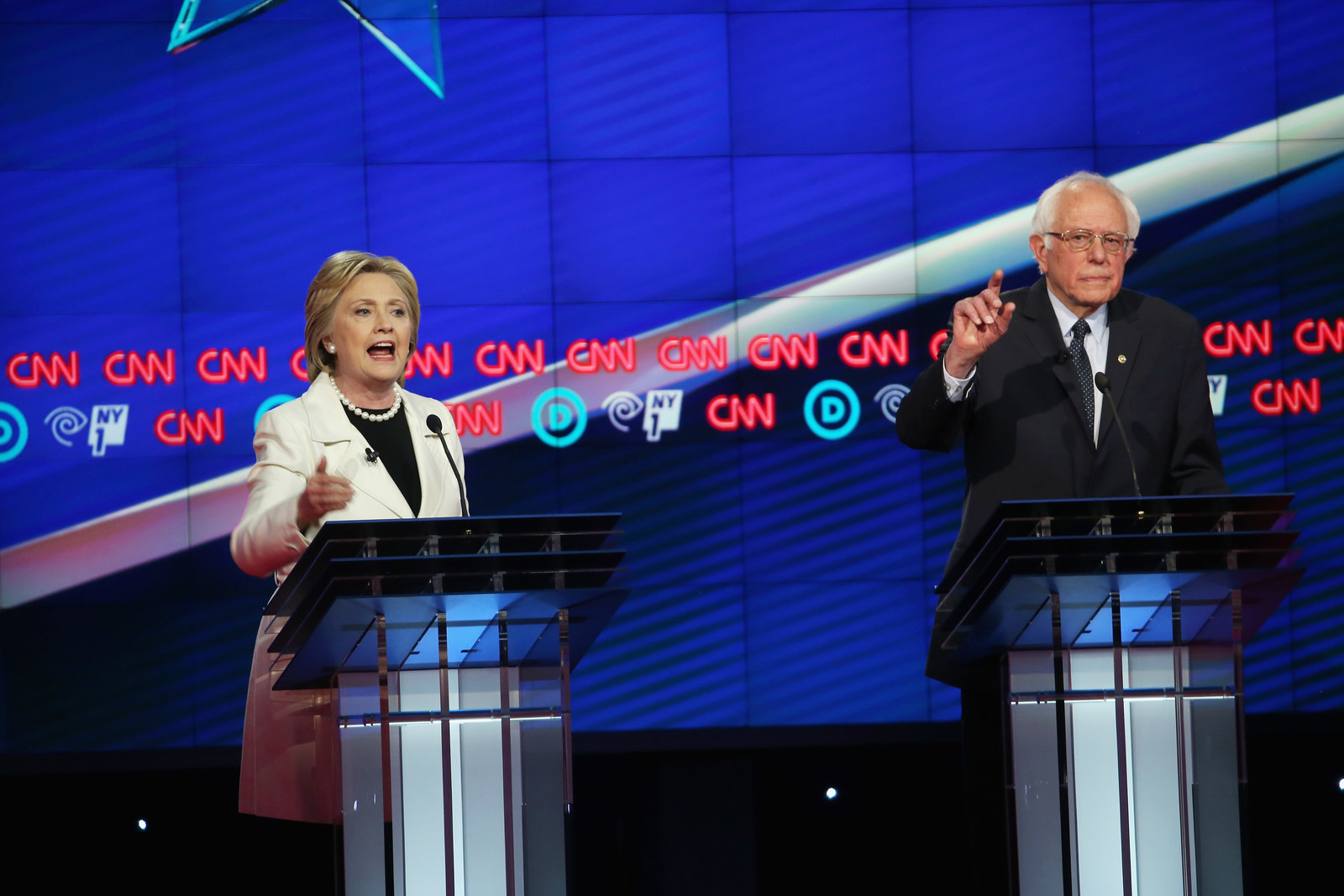 Back at Parker's house, Scott-Blackwell was still explaining to the group why she voted for Stein. In addition to her love for Sanders, she said, her vote had a lot to do with protesting Democrats' "relying on the black vote for so long." It had to do with Clinton's 1996 "superpredators" comment, and the "little to no benefit or growth in our community" that a Clinton presidency promised her.
"I didn't show up for her. I'm sorry. I'll take my responsibility for that," Scott-Blackwell said.
"If they're both progressive, I'm gonna go for the person of color, because they have more experience."
At this point, Gerbsch, sitting directly to Scott-Blackwell's right, turned her head away, grinning and grimacing at the same time, tapping her fingers against her wine glass, looking frustrated but unwilling to break the friendly vibe. "It's not just you," Scott-Blackwell told Gerbsch, sensing the latter's discomfort, putting her at ease. "My whole family has turned their back on me, politically. It's okay."
Young women like Scott-Blackwell will use their vote to make a statement, in the face of whatever their friends or family think. They're unafraid of burning it all down, untethered to the weight of consequences. They'll continue pushing candidates to the left. They won't support someone who doesn't inspire them, and that inspiration might come from the candidate's identity, or it might not. In any case, "the lesser of two evils" — the way their parents voted for years — isn't good enough anymore. Their votes are supposed to be choices, not obligations. Candidates have to speak to these young progressive women and their communities directly, on their level and on their terms, or they're not their candidates.
"If you need [my] support, show me a reason to support you," Scott-Blackwell said. "Otherwise I guess the Democratic Party's gonna have to die. That would just be the end of it, really, for me. And then we can see something new emerge out of that."
A vote for Evans in the November general election would be, for this Abrams supporter, an unearned vote — a vote "by default."
"And what kind of vote is that? That's not a choice. That's not me exercising my rights," she continued. "What's the point?" ●