Zynga's Casino Is The Most Depressing Place On Facebook
You can't win anything real, but your money's sure welcome!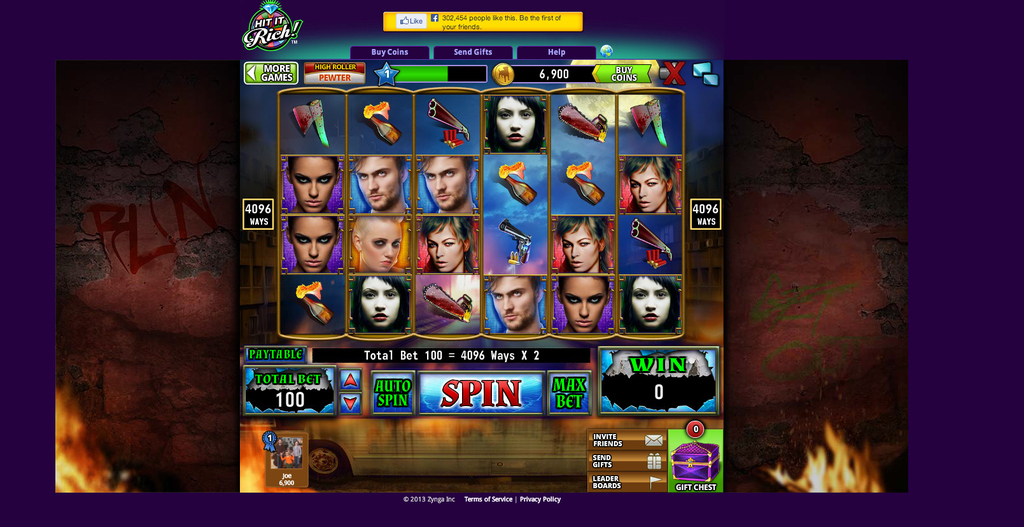 Imagine: After months of saving, you fly to Vegas for a little gambling at a new casino. You're not into anything serious: Just some slots, diverting and not too risky. So you play for a few hours, drink a few beers, smoke a few cigarettes, and—whaddayaknow—you get lucky! Your greenbacks have turned into a giant soda cup filled with shiny coins. You might even have enough to see Wayne Newton.
As you stand up, you feel a hand on your shoulder. It's a bouncer. "You know you can't take those out of the casino, right?" he asks. You're perplexed. You ask what you can do with the coins. "Well, you can play at other slot machines now," the bouncer tells you, gesturing to another bank of blinking machines. "Better ones." You ask if those machines dispense actual, usable currency. "No," the bouncer says. "But, oh! You can buy gifts for other people here in the casino." You tell him you'll buy a gift for your wife, back home. "No, you can't take the gifts out of the casino," the bouncer says. Now you're a little peeved. You've spent money getting here, and money to play, and now you've got a cup full of useless metal. You ask if you can exchange your coins back for the money you put into the machine, which can be exchanged for actual goods and services. "No", the bouncer says, a bit bored. He looks like he's given this talk before.
"Oh, one last thing," the bouncer says, as you turn to leave, furious. "Would you please recommend this casino to your friends?"
As preposterous at it sounds, this is exactly the model of the Facebook casino slots game by the free-to-play giant Zynga. Bearing the title Hit It Rich!, the game was updated with new celebrity-themed skins today (chief among them, Elvria, Mistress of the Dark). It allows you to do absolutely anything but hit it rich. Users start with a small amount of free virtual currency, which is replenishable by waiting or, more immediately, by paying real money.
And what, exactly, can you do with the virtual coins? Ask Zynga!
Can I win real money?

No. While Hit It Rich strives for an authentic casino experience, our games are strictly for entertainment purposes. All coins used in our casino are intended for fun only and cannot be cashed out. Purchasing coins allows players to advance further in the casino to higher-level machines and to play longer.
User data for Hit it Rich! isn't yet available, but according to AppMtr.com, Zynga Slots, the game's predecessor, averaged nearly 700,000 daily active users in the second quarter of 2013. That's more than the entire population of Boston endlessly clicking away on a button to receive made up units of credit that can be exchanged for little more than the privilege to click on different-skinned buttons for more made up units of credit.
Zynga isn't the only company doing worthless Facebook slots; according to AppData, 362,000 play Black Pearl Casino, featuring valueless "pearls", every month. And like that game, by the Maltese company Novogoma, Hit It Rich! is part of a suite of worthless gambling sims. Still, those games, which include Roulette and Poker, involve some strategy, some complex actions more sophisticated than simply clicking again and again on a button that says "Spin".
Because Hit it Rich! lacks a tangible reward of any kind, and contains only a single mechanic, which is to push a button on your mouse on top of a virtual button, its only discernible, valuable feature, per se, is that it is a randomness generator. (Of course, unlike other free randomness generators—say, random name generators—it is monetized to the teeth.) The transaction of these games is simply put, money or time for the privilege to repeatedly test differently colored randomness generators, sometimes featuring prominent images of Elvira's breasts.
Yes, Zynga has built a "casino" that lacks the very possibility of winning, that instead isolates the appeal of the casino as the ability to produce random results from one mechanic. And you can't even see a virtual Wayne Newton.