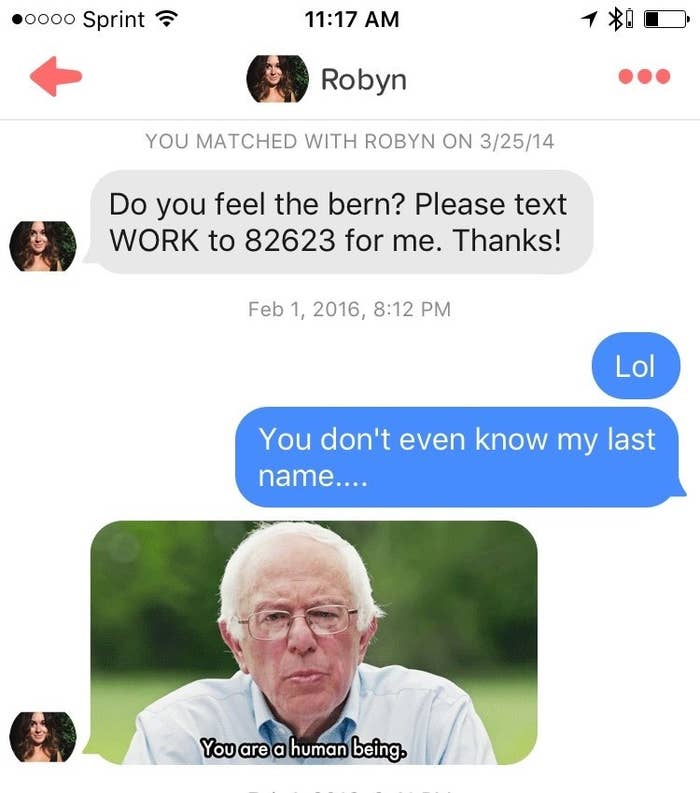 Every day for the past two weeks, Robyn Gedrich has swiped right on every Tinder profile she passes. And when she hits a match — which she often does — she sends a message, the same message, right away:
"Do you feel the bern? Please text WORK to 82623 for me. Thanks!"
She's not a bot, although many of the 50 or so men a day with whom she matches think she is. Rather, Gedrich is a 23-year-old from New Jersey who has decided to turn the notorious hookup app into a political outreach platform.
And she's not alone.
Independently, without any apparent prompting from the Sanders campaign, some young women have started to use Tinder to proselytize on behalf of the gruff socialist who has unexpectedly made the Democratic primary a dogfight. They're passionate. And their missives are the opposite of those of the (possibly mythical, unquestionably annoying) Bernie bro: targeted, subtle, and — maybe — actually convincing. (The Sanders campaign did not respond to requests for comment today.)
Gedrich said she got the idea during the blizzard that hit the East Coast two weekends ago. While absentmindedly swiping in the empty Asbury Park outlet mall store where she works as an assistant store manager, Gedrich realized she had nothing in common with the men she was meeting on the app and wanted to put the connections to better use.
"These guys are disgusting. They're just looking for sex and that's it," she told BuzzFeed News. "So if they're going to swipe right, they might as well do some good and donate to the man, the myth, the legend, Bernie."
It's unclear how many women (and men?) comprise the Bernie Tindercorps. But the idea is spreading.
A Tumblr called Tinder Campaigning chronicles "the adventures of a perpetual right-swiper in the efforts of electing Bernie Sanders." The responses range from supportive to sarcastic to, unsurprisingly, misogynistic and abusive.
And even the trolls of 4chan's "Politically Incorrect" forum have noticed:

While the Tindercorps is committed, it's hard to tell if their efforts have garnered any more support for Sanders. Gedrich said that — on top of the standard-issue Tinder vulgarity and a few accusations of being a bot — several of her matches told her they planned to vote for Donald Trump. And just today, Tinder banned Gedrich; she had been reported too many times.

Still, Gedrich, who is trying to save up money to get a bachelor's degree, is undaunted. "I'm stuck in this place and there's this guy who wants to make college more affordable so people like me can get ahead," she said. For now, she's limited to spreading the word on her Facebook account.
But others seem likely to pick up the slack. After all, Tinder is an app all about persuasion; who says it should be only one kind?