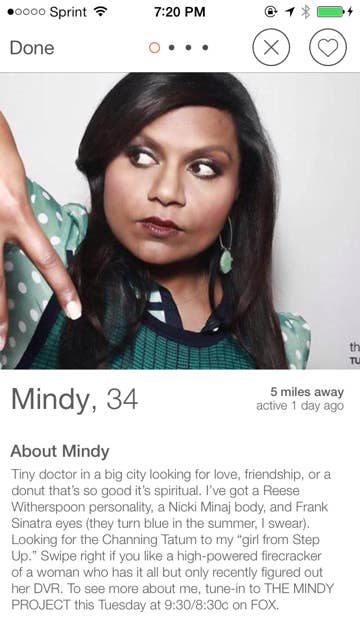 One of the small joys of the Tinder — the popular lightning-round dating app — is seeing a familiar face in the sea of sad, scary, unbalanced and/or pathologically horny weirdos. In the past few days, Tinder users have reported being matched with the actress and comedian Mindy Kaling, or more specifically, Mindy Lahiri, the main character on Kaling's Fox sitcom, The Mindy Project. The text of her profile:
Tiny doctor in a big city looking for love, friendship, or a donut that's so good it's spiritual. I've got a Reese Witherspoon personality, a Nicki Minaj body, and Frank Sinatra eyes (they turn blue in the summer, I swear). Looking for the Channing Tatum to my "girl from Step Up." Swipe right if you like a high-powered firecracker of a woman who has it all but only recently figured out her DVR. To see more about me, tune-in to THE MINDY PROJECT this Tuesday at 9:30/8:30c on FOX.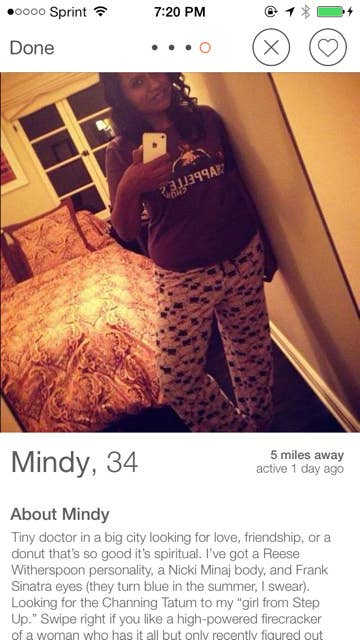 So is this a viral marketing stunt? A renegade star? The work of a particularly devoted fan? It's likely the former. As Valleywag reported in November, the show — which is currently on hiatus until April — will feature a Tinder-themed episode.
For The Mindy Project, which has struggled in the ratings, a Tinder page may actually signal that most familiar of dating app motivations: desperation.