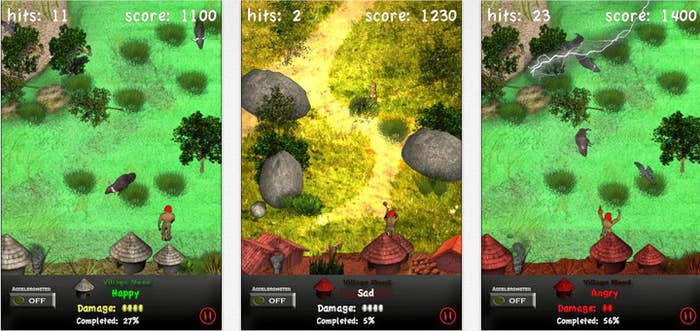 SAN FRANCISCO — Among the throngs of speakers at this week's Game Developers Conference are luminaries from all the constellations of gaming: lifer legends like Warren Spector and Hideo Kojima, project leaders from AAA studios like Ubisoft and 343, the new indie rockstars Jonathan Blow and Terry Cavanagh, and the moneymen at free-to-play frontrunners Zynga.
And, rubbing elbows with them in the speaker's lounge of the Moscone Center will be Eyram Tawia and Wesley Kirinya, the cofounders of Leti Games, the first game studio in Ghana.
Their talk, entitled "The Emerging Landscape of African Game Development," is something of an overstatement: Leti is only the second full-time game studio in sub-Saharan Africa. (excluding South Africa, which has a limited but significant history of game development). The two founders of Leti are not just the most promising company in the West African game industry; they are the West African game industry.
Tawia and Kirinya started Leti in Accra in 2009 with the aid of an investment from the Meltwater Foundation, the nonprofit arm of the Norweigan software company. Leti's first game, iWarrior, in the style of Space Invaders, was released for the iPhone in the same year. In it, players control a tribesman attempting to protect his village from an onslaught of hyenas, wildebeests, and lions.
Building it wasn't easy. New game companies in the West take for granted a pool of skilled human labor to hire and make their products. Tawia and Kirinya have found themselves in the position of having to train their own work force. Leti runs an internship program for high school and college students that teaches the basics of game making: animation, modeling, story writing, programming, and the basics of working in game engines. Leti, which has a staff of ten, has trained 25 interns since 2011.
The challenges of game development in West Africa extend far beyond a lack of skilled workers. The basic pay unit of mobile gaming — the credit card charge — is itself a problem for Leti. Simply put, most of the people in Leti's current market don't have credit or debit cards. Tawia and Kirinya have had to adapt, turning to mobile phone payments as a way of monetizing their games.
And there is a huge business opportunity if Leti — or anyone else — can figure out how to tap it. Mobile phone use in Africa is exploding; it's the fastest growing market for mobile use in the world. And there's undoubtedly a lack of games specifically developed with these new markets.
Developers from across the world have made games in African settings with mixed results (Resident Evil 5, a Japanese game, drew criticism in 2009 for its hordes of shambling villagers and spear-wielding warriors). Tawia thinks that games with African settings made by Africans are the best way to cultivate a sense of cultural authenticity: "a game like iWarrior, though small, is a good step to culturalizing games to our specific setting." Leti's next game, which its on the verge of launching, is entitled Ananse: The Origin and turns the narrative of the African god and trickster into that familiar trope of Western comics: origin story. It sounds like the kind of story that everyone — not just those familiar with the Anansi story — would want to play.
"We believe there is a global market for Leti Games," says Tawia. "Our focus is to make games from Africa for the world, not just games for Africa. However, we want to create the gaming industry in Africa before diving into global competition."
And that's no small challenge. As Leti trains and develops talent, the lure of working on major titles outside of Ghana, which is an English speaking country with a per capita GDP of a little more than $3,000, will likely grow. That, however, is a second-stage problem. For now, Tawai and Kirinya are focused on laying the foundation not just for more games, but for more people to conceive, make, and market them.
"We are on the verge of creating not just a game company," says Tawia, "but an entire industry."