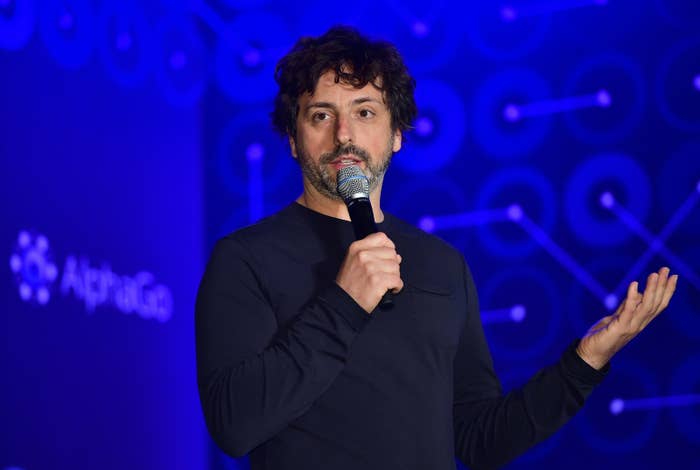 A video published on Wednesday of a Google all-hands meeting in the days following the 2016 presidential election shows the company's senior leadership, including cofounders Larry Page and Sergey Brin, CEO Sundar Pichai, and CFO Ruth Porat, reckoning with Donald Trump's shocking win and its reverberations around the world.
The video, which was published by Breitbart News, is certain to add fuel to conservative arguments that Silicon Valley is arrayed against the right.

In the video, Google's executives speculate about what motivated Trump voters, the role companies like Google played in informing voters about the election, and the possible consequences of Trump's win.
"We have no idea what direction this country will take... It's a period of great uncertainty... especially for immigrants or minorities [and] women," Brin told Google employees. Brin noted, "As an immigrant and a refugee, I certainly find this election deeply offensive, and I know many of you do too."
Google responded to the leaked video in a statement on Wednesday that emphasized the distinction between its employees' personal views and the products they create.
"At a regularly scheduled all-hands meeting, some Google employees and executives expressed their own personal views in the aftermath of a long and divisive election season," the statement reads. "For over 20 years, everyone at Google has been able to freely express their opinions at these meetings. Nothing was said at that meeting, or any other meeting, to suggest that any political bias ever influences the way we build or operate our products. To the contrary, our products are built for everyone, and we design them with an extraordinary care to be a trustworthy source of information for everyone, without regard to political viewpoint."
That explanation will do little to quiet conservative arguments that tech companies are part of an international liberal order that is deeply opposed to the rise in right-wing nationalist populism exemplified by the American president. It's a line of attack that Republicans have for months planned on making around midterms to rally their base. Conservatives have gone after Facebook and Twitter for months for purportedly threatening their speech. Last week, the Justice Department said it was investigating social media companies' alleged political bias against conservatives. And last month, President Trump tweeted that Google search results were rigged against him.
In the video, Google executives seek to explain the reasons behind Trump's upset of Hillary Clinton and specifically consider the psychology of Trump voters. "There's actually a lot of historical precedent for boredom being a huge factor in vote choice, and actually in building extremism," Brin said. "Also when people vote ... voting is not a rational act."
Larry Page, Brin's cofounder, characterized the resentment felt by Trump voters as both justified and potentially catastrophic. "I think we have a lot of structural problems in our democracies, and which I think is really, if you are worried about the World War III–type cases, I think a lot of that will be driven by this deep dissatisfaction that people have, some of which is really warranted."
The video offers ample proof that Google leadership finds Trump and his supporters distasteful and contrary to the company's stated values. It doesn't show, though, any evidence that Google's tools are built to disadvantage conservatives. The closest thing to that happens when a Google employee asks the executives how the company might combat "targeted campaigns of disinformation" to protect "low-information voters" — a clear reference to Trump backers. Sundar Pichai, Google's CEO, responds that "our investments in machine learning and AI are a big opportunity here," but doesn't offer any specifics.
Regardless, expect the video to become another chorus in the conservative rallying cry against Silicon Valley.