Who are Todd and Clare Hammond, and why are they leveling false charges against Julian Assange?

That's the question following last week's bizarre news that the people behind the tiny online dating site ToddandClare.com abused their membership in a UN program to publicize a Bahamian sex crimes investigation into the WikiLeaks founder. Bahamian police said the investigation doesn't exist — and WikiLeaks subsequently released a trove of documents that, if genuine, show a Todd and Clare representative attempting to blackmail Assange.
The Hammonds are the ostensible founders of ToddandClare.com. After interjecting themselves into an international dialogue on the role of WikiLeaks in the US presidential election, they remain curiously silent and unreachable — despite the efforts of journalists, WikiLeaks investigators, and the Reddit hive mind. But there may be a good reason they're keeping such a low profile: Todd and Clare Hammond don't seem to exist.
Instead, the person behind Todd and Clare appears to be an English toymaker, cartoon director, novelist, and book publisher named Akintunde Sahara Reid-Kapo.
Neither a small army of obsessed internet sleuths nor WikiLeaks and BuzzFeed News has been able to produce photographs, or any information beyond a dead LinkedIn page, about Todd and Clare Hammond. Nexis searches in the three states associated with ToddandClare.com — California, where they claimed to live; Texas, where the website is registered; and Michigan, where they claim to have been childhood sweethearts — returned no results remotely resembling a married couple named Todd and Clare Hammond.

The only obviously real and google-able person associated with the website ToddandClare.com (other than a programmer named Scott Drotar and a few now-baffled contractors) is Noam Chomsky, the leftist icon and Foucault interlocutor, whose endorsement of the ToddandClare side project KATIA (an algorithm to weed sex offenders out of the site) was plastered all over ToddandClare. (The site has been down since last week "following a serious hack.")
Chomsky, for his part, seems similarly befuddled. In an email to BuzzFeed News, Chomsky said while it was possible he had endorsed the project, he had no recollection of doing so, "but that doesn't prove much."
But his endorsement, genuine or not, may be the key to unlocking the mystery behind ToddandClare. Metadata from an undated PDF press release touting Chomsky's endorsement appears to indicate the file initially listed its author as "Yamie Chess Ltd" when it was created in mid-May, but was then re-saved a couple of minutes later to list "T&C Network Solutions" (ToddandClare.com's corporate name) as its author.
According to its website, Yamie Chess is "a diversified applied mathematics company" that makes a special chess set and accompanying comics for children, and that, jarringly, also does "data analysis and statistical consulting" for "military clients." Though the company is now registered through a shell agent in Wyoming, the mailing address of its founder, Akintunde Sahara Reid Kapo, is 10685-B Hazelhurst Dr., Suite 14354, Houston, Texas 77043.
That's the same address and suite number as ToddandClare lists here.
This indicates that someone associated with, or having access to the software of, a toy and data analytics company called Yamie Chess, which shares or shared an office with ToddandClare, wrote a press release for the dating site.
Like ToddandClare, Yamie Chess enthusiastically claims endorsements from prestigious institutions and academics; its website says "Yamie Chess has been endorsed by America's best mathematicians." (It's actually not.) And like ToddandClare, it seems no one is eager to take credit for Yamie Chess. There is no staff listed on the Yamie Chess site, and the two employees listed on the Yamie Chess LinkedIn are remote contractors.
However, a 2014 Fox News article cites "Tunde Reid-Kapo" as the CEO of Yamie Chess. And on IMDB, Tunde Reid-Kapo is credited as the director and writer of "King Tigermore In Strawberry Fields," a short and amateurish cartoon promoting Yamie Chess, which played in a handful of film festivals around the US.
Reid-Kapo seems to have been born in England in 1984. He once owned a publishing company called Schiel and Denver, through which he published an "autobiographical" novella called My Autistic Waterlilly and a "personal declaration of independence" called Financial Existentialism. While running Schiel and Denver, Reid-Kapo signed up for the UN Global Compact — the voluntary organization that ToddandClare used to promote the phantom crime investigation against Assange. As this Medium post shows, Schiel and Denver shares a Google Analytics identifier with ToddandClare.com. And an internet archive search for Schieldenver.com shows that the site redirected to ToddandClare.com as recently as Sept. 27 of this year:

Tunde Reid-Kapo proves hard to find. His companies list addresses in Texas, Nevada, Wyoming, and London. A phone number provided to BuzzFeed News by one of the Yamie Chess–endorsing mathematicians connects to a Las Vegas law firm. In December 2015, the Australian Business Name register added a company called AKINTUNDE SAHARA REID-KAPO. But he's not responsive from any of the phone numbers or email addresses connected to his name. A woman named Kate Hogan, who started sending emails on behalf of ToddandClare this month (and who, in an email obtained by BuzzFeed News, described Julian Assange as "an abhorrent and disgusting narcissist with no genuine interest in supporting women's rights"), did not respond to a BuzzFeed News email asking her if she was in fact Tunde Reid-Kapo.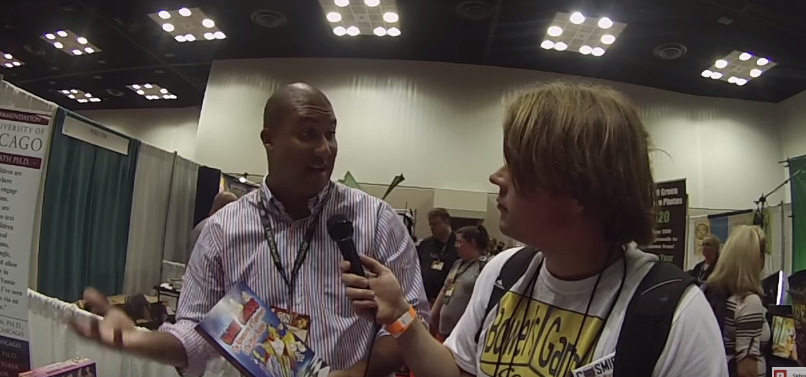 Of course, there are a few people who might reasonably know his whereabouts. But they aren't talking either. Scott Drotar, the programmer who claims to have built KATIA — the ToddandClare side project supposedly endorsed by Chomsky — hasn't responded to calls and emails. Nor has the only other person strongly connected to Yamie Chess, the chess champion and professional poker player Jennifer Shahade.

The extent of Drotar's involvement in ToddandClare is unclear. In February, Drotar told a BuzzFeed News reporter that he had been contracted by the site to analyze "preliminary data test studies" on KATIA, the sex-offender screening algorithm. (According to "Todd Hammond," that algorithm had initially been built by a Google engineer, whom he refused to name. A story BuzzFeed News started in February about KATIA stalled when "Hammond" suddenly stopped cooperating after questions about this engineer.) In March, Drotar started a Kickstarter to fund "KATIA Plus." The project videos feature both Drotar and Lexi Graboski, a Los Angeles actress who told BuzzFeed News she was hired to be a video spokesperson for ToddandClare over Fiverr, a freelance marketplace. (Graboski said that the account she interacted with on Fiverr, "NYCPrincess," is now defunct.)
There's also a connection between Drotar's activity online and ToddandClare's YouTube channel. On Drotar's personal website, where he frequently blogs about living with spinal muscular atrophy, and on his personal YouTube channel, he promotes the work of Danielle Sheypuk, a psychologist known for her TEDx Talk about dating and sex for the disabled. A January video on the ToddandClare YouTube titled "Dating Advice for Guys With Disabilities" is captioned "In response to Dr. Danielle Sheypuk's inspiring Ted Talk at Barnard College, Todd and Clare is the first American dating network to ACTIVELY WELCOME people with disabilities to join our network and search for love."

And strangely, Drotar had an imaginary girlfriend named Claire before he started working as a programmer for ToddandClare. In a blog post from 2014 — months before Drotar claims to have started working on KATIA — Drotar describes his addiction to prescription painkillers. In it, he realizes that the addiction has led to a profound fabrication: "It was at this time that I realized something that completely changed my life. There was no Claire. Claire was a hallucination. Everything I thought that I knew about her is what my mind had made up to make me believe she was real."
Then there's Jennifer Shahade, a two-time US women's chess champion. Listed on the Yamie Chess site and elsewhere as the game's creator, Shahade promoted the game at several conferences in 2014, including Toy Fair in New York and GenCon in Indianapolis, where she appeared along with Reid-Kapo. She did not respond to calls or a Twitter message from BuzzFeed News.
The GenCon connection is especially interesting. In an interview with BuzzFeed News in February 2016 about ToddandClare, someone claiming to be Todd Hammond said that he and his wife, Clare, came up with the idea for the dating site at a tabletop gaming conference in Indianapolis called, you guessed it, GenCon.
Whether or not Reid-Kapo and Shahade — with or without Drotar — are the pair behind the tiny dating site, they certainly seem to hold the answers to the question of Todd and Clare Hammond's real identities. Which leaves just one real question:
What, exactly, do they have against Julian Assange?
Stephanie Lee contributed to the reporting in this story.