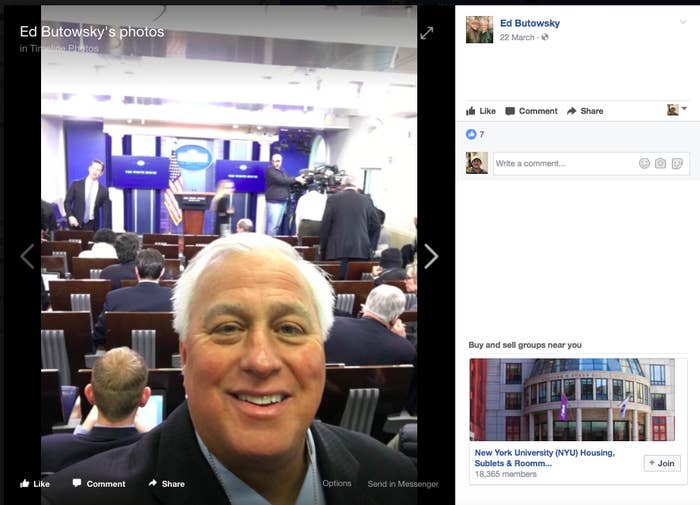 Ed Butowsky, the Dallas wealth manager and frequent Fox News guest who facilitated a private investigation into the murder of Seth Rich, is friends with and claimed on his website to serve on the board of an organization started by White House Chief Strategist Steve Bannon.

"I consider him a friend and a very nice man," Butowsky told BuzzFeed News of Bannon.
According to his website, Butowsky "serves as a Board Member for Reclaim New York, a non-partisan, non-profit think tank dedicated to advancing a grassroots conversation about the future of New York." Per tax filings, Bannon was Reclaim's vice chairman. (The group's secretary and treasurer are Jennifer and Rebekah Mercer, the powerful daughters of right-wing moneyman and Trump champion Robert Mercer.)
A spokesperson for Reclaim told BuzzFeed that Butowsky "has never had any formal involvement with the organization." Furthermore, per the spokesperson, Steve Bannon left the organization's board in August 2016.
Butowsky and Bannon know each other through Breitbart News, of which Bannon was executive chairman and to which Butowsky has contributed articles. In 2015, Bannon interviewed Butowsky for a Breitbart radio program.

Both Butowsky and a White House official deny speaking about Seth Rich.
Over the past week the Rich story has captivated conservative media, following a Fox News report that linked the murder of the 27-year-old Democratic National Committee Staff member with email hacks of the DNC that may have helped then-candidate Trump in his campaign against Hillary Clinton. Such a finding would contradict the view, widely held in the intelligence community, that Russian intelligence was behind the theft — a key point for those who believe there was an improper relationship between the Trump campaign and the Russian government.

Fox's report — a conspiracy theory with no corroborating evidence — was based on an interview with a private investigator, Rod Wheeler, who Butowsky introduced to the Rich family and offered to pay for. (Fox News yesterday retracted its story.) The Rich-as-leaker narrative's rise is the clearest example yet of the way an insurgent pro-Trump media has been able to push dubious stories beneficial to the administration into the limelight.
And the news that their benefactor has ties to a key figure in the administration — and the godfather of the pro-Trump media — has left the Rich family stunned.
"The family is in shock to learn that Ed Butowsky is both friends with and served on a board with Steve Bannon," Brad Bauman, a spokesman for the Rich family, told BuzzFeed News Wednesday. "We are very much trying not to rush to judgment in order to allow this story to develop."
Bannon declined to comment for the story.
Butowsky has long said that he heard about the Rich case from a friend, though he can't remember whom, and that he was motivated to connect the Rich family with Wheeler because he was moved by their story.
In an interview Tuesday outside Del Frisco's Steakhouse in Manhattan, where he was watching pigeons eat, Butowsky told BuzzFeed News that he had never discussed the Rich case with Bannon, and qualified their friendship as warm but not close.
"It's not like I have a Steve Bannon teddy bear," he said. "I've never eaten a meal with the guy."
A photograph on Butowsky's Facebook page shows him in the White House briefing room on March 22. Butowsky did not comment on the record why he was at the White House, but did clarify that he had not met with any White House officials.
Butowsky added that his association with Reclaim was distant and purely based on his wealth management expertise.
"Am I really on the board?" Butowsky asked when informed that his website claimed he was on the board. "I've never been to a board meeting."
Prior to his career as a wealth manager — his clients include a number of athletes and celebrities — Butowsky worked for nearly two decades at Morgan Stanley, where, according to his LinkedIn, he ran one of the highest earning teams at the firm.
UPDATE
This story has been updated to include Reclaim New York's assertion that Ed Butowsky never served on its board, and that Steve Bannon stepped down from the board last year.
UPDATE
This story has been updated to reflect the fact that Ed Butowsky was watching pigeons eat but not personally feeding them.