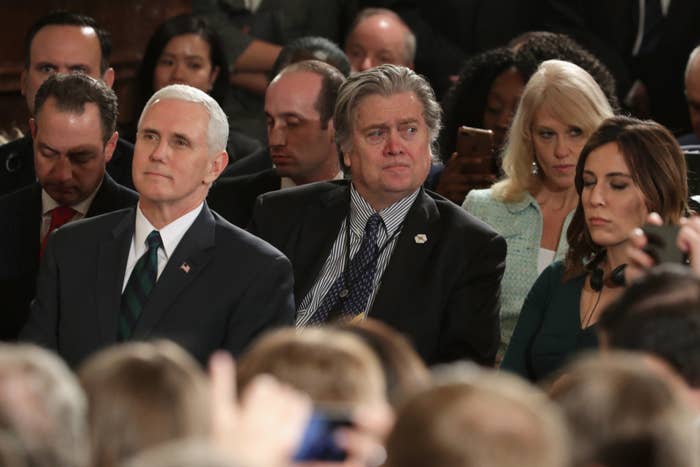 Steve Bannon privately slammed the selection of Mike Pence as Donald Trump's running mate a month before taking over the Trump campaign, according to emails obtained by BuzzFeed News.

The email exchange during Bannon's first stint as executive chairman of Breitbart is of new relevance as Bannon — two months removed from his role as President Trump's chief strategist — rolls out his plan for a wide-ranging attack against establishment Republicans in 2018. And it reveals that Bannon regarded the Pence pick as something of a deal with the devil necessary to bolster Trump's standing in the GOP.
On July 15, 2016, the day the Trump campaign announced that it had selected Pence, Breitbart's former technology editor Milo Yiannopoulos wrote to Bannon and Breitbart editor Alex Marlow.
"Seems like a bad pick. Should I tweet something ambivalent about him? People are telling me Trump likely didn't want this. ...What's our party line on this?"
"This is the price we pay for cruzbots and #nevertrump movement," Bannon responded. "An unfortunate necessity...very. feel free to do whatever u want. we, as always, will remain above it all."
And two days later, Bannon signed off on a Yiannopoulos column trolling the socially conservative Pence by asking him to attend a "big gay party for Trump." (Yiannopoulos is gay.)
"I'm cool," Bannon wrote of the story.

"It's a little mocking but we want to turn the screw," Yiannopoulos replied.
A spokesperson for Bannon did not respond to a request for comment.

A White House spokesperson for Pence and an outside political adviser both declined to comment when asked about the emails and about the vice president's relationship with Bannon.
That Bannon would be unimpressed with Trump's choice of Pence is not surprising, given the populist and aggressively anti-establishment politics Bannon has promoted at Breitbart. Pence, a former Indiana governor and former member of the House Republican leadership, often is deployed as the administration's ambassador to the GOP establishment: He headlines traditional party fundraisers and has been a key negotiator between Trump and Congress. (Less conventionally, Pence also starred Sunday in a Trump-approved stunt by walking out of an Indianapolis Colts–San Francisco 49ers game in protest of 49ers players kneeling during the national anthem — a culture war that Trump and his allies have prioritized.)

Since leaving the White House in August and returning to his role at Breitbart, Bannon has sought to assert his influence in Republican politics by backing Trump-friendly challengers to more-mainstream candidates and incumbents. He even split with Trump recently in Alabama by backing the right-wing evangelical insurgent Roy Moore over Sen. Luther Strange in a special election primary. On the night before the vote last month, Pence campaigned for Strange in Birmingham while Bannon was among the attractions at a Moore rally downstate.
Moore won, and now Bannon is looking to replicate the formula in other races. In a Fox News interview Monday night with Sean Hannity, Bannon talked of a "coalition coming together that's going to challenge every Republican incumbent [senator] except for Ted Cruz."
Breitbart this week promoted a slate of his preferred prospects in superhero fashion, as "The League of Extraordinary Candidates." Targeted GOP incumbents include Wyoming Sen. John Barrasso — a member of party leadership in the chamber — and Mississippi Sen. Roger Wicker. "We are declaring war on the Republican establishment that does not back the agenda that Donald Trump ran on," Bannon told Hannity.