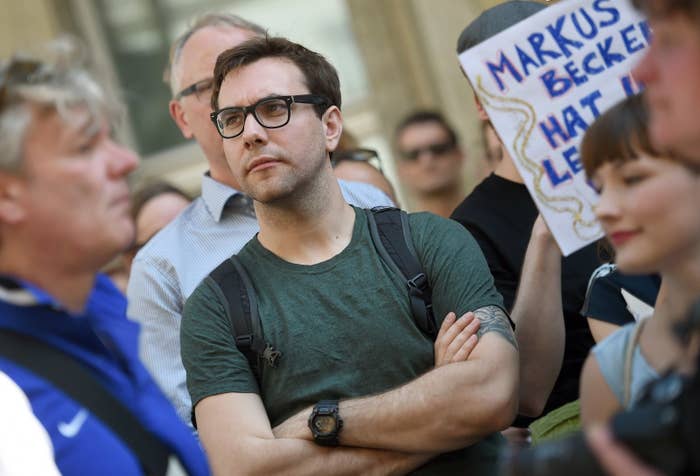 Karen Reilly was in tears. At an early March 2015 dinner in Valencia, Spain, she had just informed the board of The Tor Project of serial sexual and professional harassment by Jacob Appelbaum, a powerful and charismatic figure in the information security world who worked for Tor as an advocate, security researcher, and developer. And she couldn't hold it together.

She told them about Appelbaum's public and false claims that he had sex with a specific member of the Tor community — something multiple sources have told BuzzFeed News Appelbaum has "done to too many people to count." And she told them of darker allegations against him that had come up after a group of disgusted Tor community members gathered to share stories.
As she cried, according to someone with knowledge of the dinner, Tor vice president and director Nick Mathewson told her, "I hope you get counseling to help you through this."
On May 25, Appelbaum was finally forced out of Tor amid allegations of sexual misconduct. In the past week, The Tor Project (the nonprofit that maintains and promotes the anonymous internet routing software of the same name) announced Appelbaum's departure, and a series of mostly anonymous allegations against him have been published online. They include, at their most serious, accusations of rape. In a statement, Appelbaum denied any wrongdoing, calling the stories "a calculated and targeted attack ... launched to spread vicious and spurious allegations."
A separate statement published last week by Tor Project Executive Director Shari Steele — who was not with the organization at the time of the Valencia Board meeting — acknowledged that these "types of allegations were not entirely new to everybody at Tor; they were consistent with rumors some of us had been hearing for some time." But accounts of this dinner make it clear that the most important people at Tor knew about Appelbaum's inappropriate behavior, and for more than a year.
The board had gathered early one evening in a restaurant in Valencia during the March 2015 Tor Developer Meeting. The project's leading lights were all at the dinner: Roger Dingledine, president and director, and, together with Mathewson, an original developer of the Tor software; Wendy Seltzer, policy counsel to the World Wide Web Consortium and visiting fellow with Yale Law School's Information Society Project; and Andrew Lewman, The Tor Project's since-departed executive director. So was Sue Gardner, who had left her job as the executive director of the Wikimedia Foundation and was about to come on board with Tor as a strategic adviser. Reilly, who was The Tor Project's development director, also attended the dinner.
According to sources, Appelbaum's behavior had been the talk of the conference. Reilly had separately approached Lewman, Dingledine, Mathewson, and Seltzer in Valencia and told them of the harassment.
At dinner, the conversation turned to Appelbaum after Gardner, not yet a Tor employee, broached the subject. According to a source with knowledge of the dinner, Gardner said her friends had been asking her why she was working with an organization that employs a rapist. After that, Reilly "rehashed everything."
None of the board members responded to calls or email requests for comment. Gardner, reached by phone, said, "The Tor Project put out a statement and that's all that needs to be said about it."
Following the dinner, according to sources, Tor conducted a human resources inquiry into the matter. Both Appelbaum and Reilly were given the option of taking a 10-day suspension or leaving the company with severance. A copy of the letter written to Appelbaum by Tor's then–HR manager, Tom Leckrone, surfaced online earlier this week.
"It was a close call as to whether his benefits outweighed his liabilities," said a source with knowledge of the suspension.
Appelbaum took the suspension and remained with the company. Reilly, who, according to sources, was facing suspension for spreading rumors about the Tor Project, left.