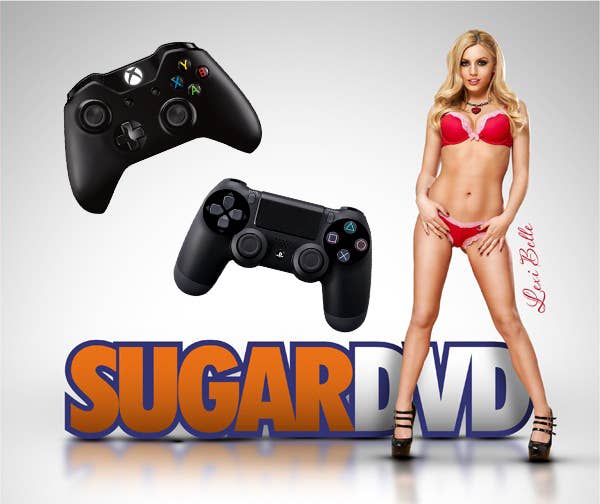 SugarDVD is the Netflix of porno—the largest online renter of porn DVDs—and the only company that makes a streaming porn web app compatible with each of the new consoles. And according to their December 2013 data (the first full month in which both consoles were available), the PS4 is thus far the pornier device: Three times as many people have signed up to use the SugarDVD app for PS4 than for Xbox One. While there is a discrepancy in total number of consoles sold—3.4 million PS4s and 2.4 million Xbox Ones according to VGChartz.com—it's not significant enough to explain the 3-1 disparity in porno loving. In fact, the Xbox One is the console more clearly designed with web browsing in mind, from the voice controlled browser to motion controls that are designed to eventually support device-free broswing. It should be the porno console of choice, a fact that has not escaped the management at SugarDVD:
"Simply put, the Xbox One is a gateway for porn of the future," SugarDVD CEO Jax Smith said, no doubt to the delight of Microsoft execs. "The PS4 is pretty, but Xbox One allows for more seamless integration and a more interactive experience."
So, what explains the difference? Well, the Xbox One has been positioned as an all-in-one family device, while the PS4 has been championed by hardcore gamers and various influential subreddits. Perhaps the average player profile for each console, at least in the early going, which reflects the most enthusiastic consumers, differs along those lines. (Remember, the Xbox One's Kinect voice sensor does not recognize porn sites.) Or maybe people just don't like furiously masturbating in front of a persistently-on camera and motion tracking device.
SugarDVD was kind enough to provide us with a look into the porno preferences of the two consoles, which we've included below:
Top 10 Playstation 4 movies viewed this month (December 2013):

1. Cream Plosions #2
2. Top Heavy Tarts #6
3. Creampie Hunnies From Russia
4. Big Ass Movie, The #2
5. Monsters Of Jizz #14: Older Men Younger Women
6. Desires #12
7. Wreck My Virgin Russian Ass
8. Big Titty MILFs #9
9. Top Heavy Tarts #11
10. It's Okay! She's My Step Daughter! #13

Top 10 Xbox One movies viewed this month (December 2013):

1. Cream Plosions #2
2. Wreck My Virgin Russian Ass
3. Creampie Hunnies From Russia
4. Top Heavy Tarts #24
5. Big Ass Movie, The #2
6. Monsters Of Jizz #14: Older Men Younger Women
7. School Bus Girls #2
8. Dirty Little School Girl Stories #3
9. Big Tits Curvy Asses #2
10. Top Heavy Tarts #25

Top 10 Playstation 4 categories this month (December 2013):

1. All Girl
2. Black
3. Amateur
4. Milf
5. Anal
6. Big Boobs
7. Chubby
8. Handjobs
9. Creampies
10. Latin

Top 10 Xbox One categories this month (December 2013):

1. Anal
2. College
3. Milf
4. Big Boobs
5. Black
6. Groups
7. Big Butts
8. All Girl
9. Amateur
10. Classic