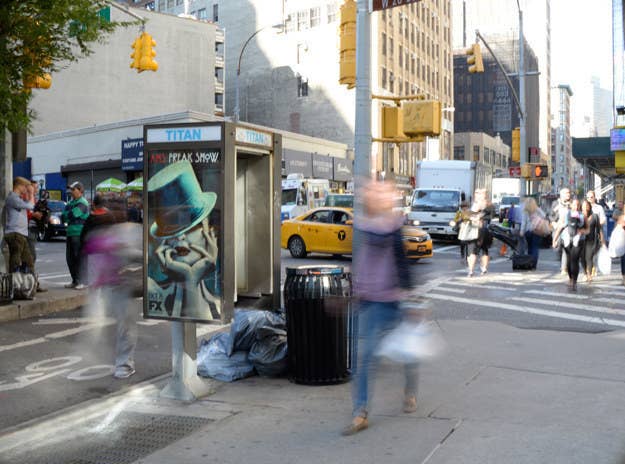 New York City is forcing an outdoor advertising company to remove hundreds of devices that can be used to push advertisements to mobile phones — and can help track users' locations — hours after BuzzFeed News exposed the devices, which are hidden in pay phone booths around Manhattan.
A spokesman for New York City Mayor Bill de Blasio told BuzzFeed News that City Hall has asked Titan, which owns the right to sell ads in thousands of phone booth kiosk advertising displays, "to remove them from their phones."
"The beacons will be removed over the coming days," the spokesman, Phil Walzak, said.
Walzak also defended the city's relationship with Titan, which is part of a program to turn obsolete pay phone kiosks into contemporary communications hubs.
"Titan has been an important City partner in helping expand communications options for New Yorkers, from piloting free public WiFi to providing free calling on all its pay phones across the five boroughs for three weeks after Hurricane Sandy," he said. "While the beacons Titan installed in some of its phone[s] for testing purposes are incapable of receiving or collecting any personally identifiable information, we have asked Titan to remove them from their phones."
Gimbal, the company that manufactures the beacons, emphasizes that the beacons do not themselves collect any information. They are, however, a key element in a network that can, in fact, track smartphone users. In its current iteration, a Gimbal beacon requires a third-party app to trigger advertisements, and requires those apps to receive "opt-in" permission from users, who must also have Bluetooth enabled. Gimbal's privacy policy says Gimbal-powered apps may collect your current location, the time of day you passed the beacon, and details about your device.
When reached for comment, Eric Sumberg, spokesperson for New York City Comptroller Scott M. Stringer, told BuzzFeed News: "New Yorkers deserve to know that their private information is being protected and the Comptroller's office will be keeping a close eye on any agreement that comes before us to ensure that the process to award this contract was done with full transparency."
Representatives for Gimbal and Titan did not immediately respond to BuzzFeed News' request for comment. [See update below.]
In an email to BuzzFeed, Titan spokesman Dave Etherington confirmed that Titan would remove the phone booth beacons:
"Titan has tested proximity beacon technology in some of its New York out-of-home assets in order to understand how, and if, this technology works in dense urban areas. There are many potential beneficial safety, communication and way-finding use cases for municipalities using beacons, as well as some potential commercial use cases. Gimbal proximity beacons do not collect user data/information, they do not send or push content, nor do they track people. Beacons can only be utilized through users' smartphones if, and only if, the user has downloaded a specific app with the technology imbedded and the user has specifically opted in. Titan is committed to testing new technologies which may have future benefits to its municipality partners and their constituents. At NYC's request Titan is in the process of removing the beacons from all NYC locations and ending the test."