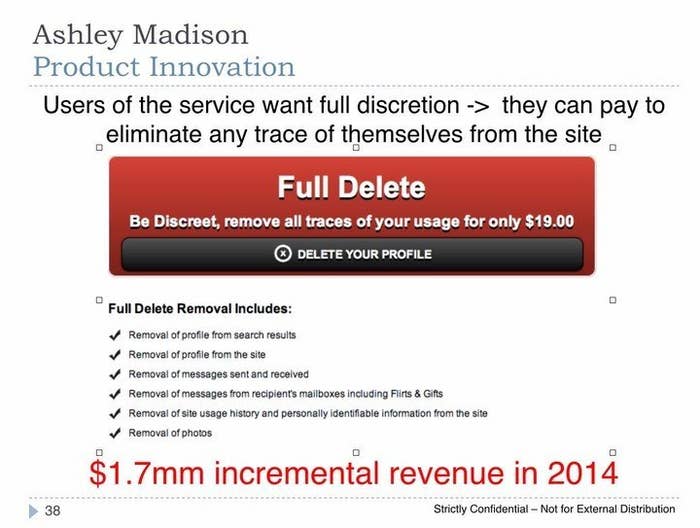 Ashley Madison, the hacked affairs site, made nearly $2 million dollars off of its so-called "Full Delete" function in 2014, according to private company documentation leaked yesterday.
The document, which was not independently verified by BuzzFeed News, describes a function that costs users 20 dollars and promises to remove a user profile from search results, scrubs past messages and photos from the site as well. This is above and beyond the normal profile deactivation, which simply hides a profile from search.
While it's unclear whether the email and credit card information of anyone who paid for the service — 1.7 million dollars at 20 dollars a pop would mean nearly 90,000 users did so in 2014 — is included in the massive dump of personal information leaked yesterday, neither credit card information nor registration email are on the list of data removed under the program.
In other words, it's possible that the people who paid extra for the peace of mind that their online activity would remain private are among the millions of people whose privacy was so brutally exposed.
What is entirely clear is that Ashley Madison made millions selling peace of mind to some users, even while they remained open to a catastrophic hack.
Ashley Madison did not immediately respond to BuzzFeed News' request for comment.