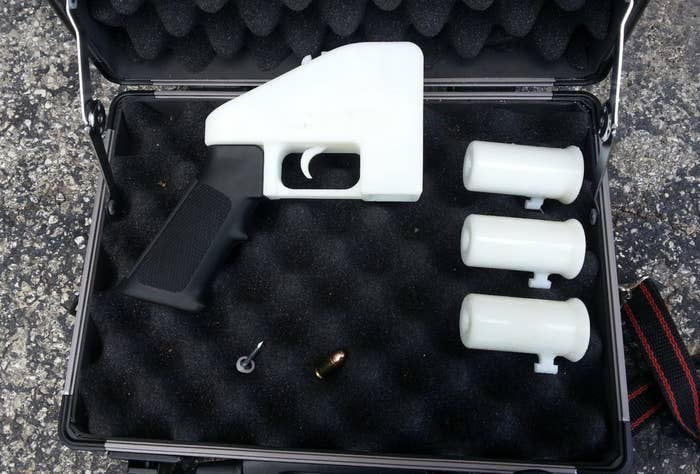 Facebook is banning from its platform sites that host digital blueprints to make guns on 3D printers, BuzzFeed News has learned.

The move comes amid a rush by states to block these instructions from being posted. A July settlement between the State Department and Defense Distributed, an open-source organization that created the first completely 3D-printed gun, cleared the way for the group to publish the gun code. However, that was stalled when a federal judge on July 31 granted a temporary nationwide injunction that prevented Defense Distributed from uploading the plans.
In the meantime, Facebook is taking its own stand. "Sharing instructions on how to print firearms using 3D printers is not allowed under our Community Standards," Facebook said in a statement. "In line with our policies, we are removing this content from Facebook."
The injunction prevents Defense Distributed from publishing the plans. But the instructions are widely available online, on sites such as CodeIsFreeSpeech.com — which hosts plans for parts of an AR-15, a Beretta, and Defense Distributed's Liberator. Attempts to post the site on a user's News Feed, through Facebook's Messenger app, or on Instagram (which Facebook owns) produce a variety of error messages.
Other sites that host the files can still be posted through Facebook.
According to a Facebook spokesperson, the company is currently working on scaling up its anti–3D gun policy, but did not provide any additional details about how it would do so. The spokesperson added that 3D-printed guns violate the regulated goods section of the social giant's community standards, which limits gun sales and exchanges to licensed dealers. Facebook did not share when or how the decision was made.
3D-printed gun enthusiasts first noticed that Facebook was banning links to CodeIsFreeSpeech.com last week. In a post on its website, the Firearms Policy Coalition, a pro–Second Amendment nonprofit that is behind CodeIsFreeSpeech, described the ban as "an outrageous display of censorship and bias" and linked to a petition to reverse the block.
"Facebook's complete and total takedown and block on CodeIsFreeSpeech.com is without question a human policy decision by Facebook executives to single us and our speech out for especially disfavorable treatment," the post reads.
So far, eight states have sued the Trump administration to dissolve the settlement, and courts in three states have barred the release of the digital instructions. In a July 31 tweet, President Trump signaled his ambivalence about the weapons, writing, "I am looking into 3-D Plastic Guns being sold to the public. Already spoke to NRA, doesn't seem to make much sense!"