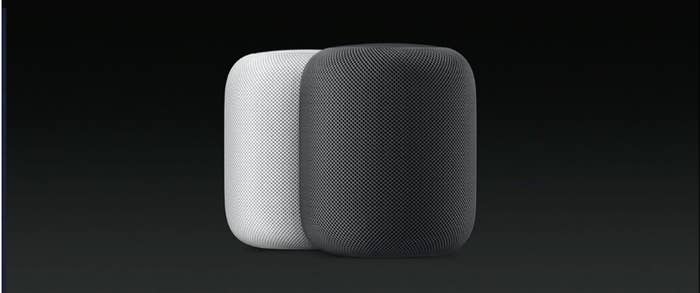 Apple is finally getting into the home speaker business.

Today, the company that changed portable music with the iPod announced the HomePod, a plump, cylindrical, voice-activated speaker. Running Siri, Apple's virtual assistant, the device is clearly intended to go head to head with the current leading smart speaker, Amazon's Echo.
"Just like iPod reinvented music in our pockets, HomePod is going to reinvent music in our homes," said Apple Senior Vice President of Worldwide Marketing Phil Schiller.
Schiller drew an early, implicit contrast between the HomePod and the Echo — which has been criticized for persistently listening to users — by announcing that HomePod won't send any data to Apple unless spoken to, and when it does it will be through an anonymized ID.

The device is designed for Apple Music (subscription required) and an intelligent "musicologist" that can respond to prompts like "Play Beats One radio" or "Who's the drummer in this?" or "Play more like that" or "I like that song."
The 7-inch device will be released in December in the US in two colors, white and space gray. It will cost $349.
CORRECTION
An Apple Music subscription is required to use Apple Music on HomePod. An earlier version of this story said HomePod came with Apple Music.