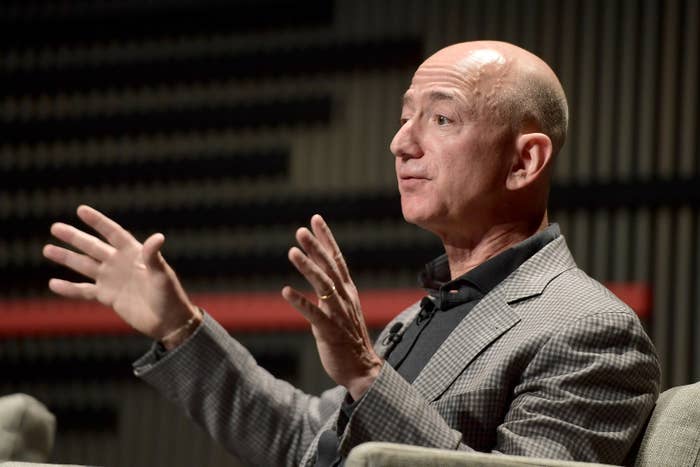 Amazon pulled its fourth-quarter advertisements from Bloomberg's website, a move some within the media giant think is retribution for Bloomberg's controversial story alleging that Chinese spies hacked into the online retailer's servers.

According to a source in a position to know, Amazon's digital media buyer, Initiative, informed Bloomberg's sales staff on Oct. 16 that it would cancel its ad buys for the fourth quarter due to budget cuts. Internally, the source said, the staff received that decision, made only eight days after a previous communication with Initiative confirming that the ads would run, as a direct response to Amazon's displeasure over the Oct. 4 story. (Amazon announced Thursday that its marketing expenses for Q3 2018 were $3.3 billion, up more than $800 million from the year before.)
Grant Milne, an Amazon spokesperson, told BuzzFeed News on Wednesday evening that the ads had been canceled due to a missed "creative deadline," contradicting Amazon's media buyer. Yet according to the same source, Wednesday night — after BuzzFeed News inquired about the pulled ads — Amazon placed a new, significantly smaller order for Q4 ads on Bloomberg TV.
Neither Initiative nor Amazon told Bloomberg that they pulled the ads because of the report.
The canceled (and rebought) ads come amid intense criticism of Bloomberg's story about Amazon and Apple, the other major firm named in the report as a victim of the Chinese hack. In an interview with BuzzFeed News last week, Apple CEO Tim Cook called on Bloomberg to retract the story. On Monday, Amazon Web Services CEO Andy Jassy seconded Cook. And Jay Carney, a former White House press secretary and Amazon's senior vice president of global corporate affairs, tweeted Tuesday, "When a story is this wrong, journalistic integrity demands a retraction."
No other outlet has been able to match Bloomberg's story, which alleged the insertion of spy chips in motherboards assembled in China that were then distributed through the server manufacturer Super Micro to dozens of American companies.
Amazon isn't alone in apparently retaliating against Bloomberg over a report it says is untrue and riddled with inaccuracies. According to multiple sources, Bloomberg was not invited to Apple's fall product event next week in Brooklyn. Apple declined to comment.
John Paczkowski contributed reporting.