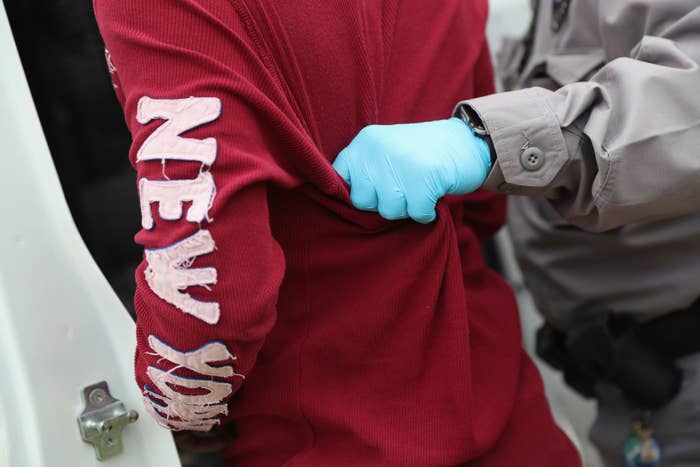 The Department of Homeland Security is transferring dozens of undocumented women to a privately run detention center in Texas that has a history of complaints against it, including overcrowding, inadequate food services, and even snake infestations in detainee barracks.
A DHS spokesperson confirmed late last week that the department had begun transferring women from a facility in New Mexico to the West Texas Detention Facility in Sierra Blanca, a small town about 90 miles outside of El Paso.
Those transfers began without DHS contacting attorneys representing the women, said human rights activists, who've questioned the move given long-standing allegations of problems at the Sierra Blanca facility.
At least three companies have been brought in to operate the facility since 2015, and its warden was fired in 2016 after it was taken over by Emerald Correctional Management following complaints of squalid living conditions. Last year, the US Marshals Service began monitoring conditions at the detention center in response to attorneys' complaints.
The transfers come during a turbulent time for private detention companies. In July, private prison company CoreCivic announced it was closing a facility in Estancia, New Mexico, while earlier this year the Gallup Independent in New Mexico reported that the Cibola County Detention Center, another privately run prison, was also closing.
But at the same time, the Trump administration is planning a major expansion of the nation's immigration detention system. Trump's first budget included a request for $4.9 billion to cover the cost of that expansion.
The Sierra Blanca facility is now run by LaSalle Corrections, according to its website. The DHS spokesperson couldn't comment on why LaSalle was now in charge, nor could she discuss what, if any, reforms have been made at the facility in response to past complaints.
But in May, Martín Méndez Pineda — a Mexican journalist held at the Sierra Blanca facility after he sought asylum in the US — opted to "self deport" rather than remain there. In an op-ed for the Washington Post, Pineda leveled a series of complaints against the facility, saying he was held in barracks known amongst detainees as "el gallinero" because the conditions were so crowded they resembled a henhouse.
"Honestly, it is Hell," Pineda wrote.