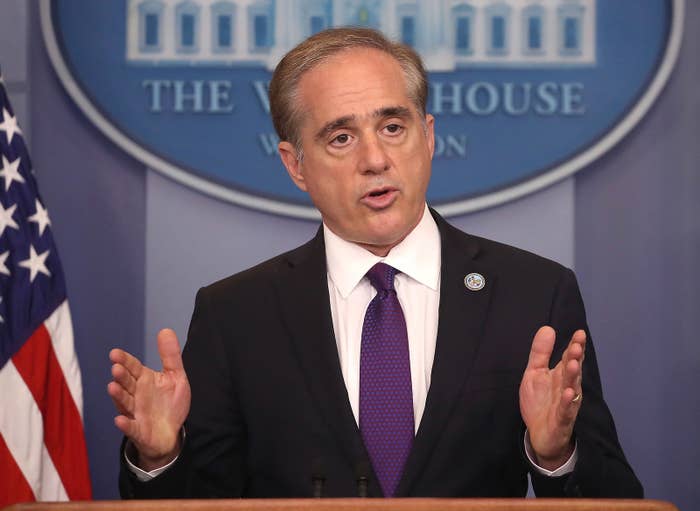 The Congressional Hispanic Caucus is expected to meet Wednesday with Homeland Security Secretary John Kelly on a range of immigration policy issues, including efforts to end the deportation of veterans.
The meeting comes as Veterans Affairs Secretary David J. Shulkin in an interview with BuzzFeed News signaled a willingness to consider giving veterans already deported to places like Tijuana, Mexico, access to VA health care services.
Military veterans who aren't US citizens can be deported if they're convicted of crimes. One of the biggest problems facing deported veterans is access to basic health care for a variety of problems — including those they may have developed while serving, like post-traumatic stress disorder — and congressional Democrats have called on the VA to take steps to provide them with assistance.
Shulkin, a medical doctor who has made expanding access to VA services a priority for the department, said he is open to finding ways to expand the department's existing assistance for veterans living abroad, which most deportees don't have access to. "If we have a lot of people who are in Tijuana, we could certainly take a look at that," Shulkin said.
Texas Democratic Rep. Joaquin Castro on Tuesday told BuzzFeed News it was "encouraging" and said, I hope the VA secretary will send doctors to visit with, examine, and treat the veterans."
But Castro, part of the Congressional Hispanic Caucus group who will meet with Kelly, said their main priority remains ending the practice of deporting veterans. "These veterans have to be let back into the United States," Castro said.
Although the number of veterans who have been deported is unknown — the Department of Homeland Security doesn't keep statistics on veteran deportations — civil rights groups have identified more than 239 veterans from 22 countries, the bulk of whom now live in Mexican border towns like Tijuana. University of California at San Diego researchers studying the health impacts of deportation on veterans said they suffer from a variety of health problems, which can be exacerbated by stresses of the deportation process.
Although the Obama administration largely ignored pressure from the ACLU and other groups to help these veterans, taking up the issue of deported veterans makes a certain amount of sense for Shulkin and the new administration. President Trump made veterans issues a central part of his presidential campaign, and Shulkin has made expanding access to VA benefits a top priority of his tenure at the department.
"The issue of expanding eligibility to broader groups of veterans is something we very much want to do, and in fact my longer term view of VA is to not only allow all veterans to access us … but we want to include their dependents, ultimately," Shulkin said.
But Shulkin cautioned that process likely won't start in earnest until the VA has addressed ongoing problems, particularly long wait times to see doctors and substandard care. "I don't want to see us, this year, expand eligibility until I can make sure that those we're caring for are getting all the services they need and they're getting them in a timely fashion," he explained.
As part of the reform effort, on Friday Shulkin released a list of 136 suspensions and 590 terminations of VA employees since the beginning of the new administration. The VA plans to update the list on a weekly basis. Although ostensibly part of a public transparency push under the current administration, this "adverse action report" is a not-so-subtle warning to the department's employees.
"It is a message. Now we're taking this seriously … obviously, there's a lot of things going on in the VA that need to stop," Shulkin said bluntly.