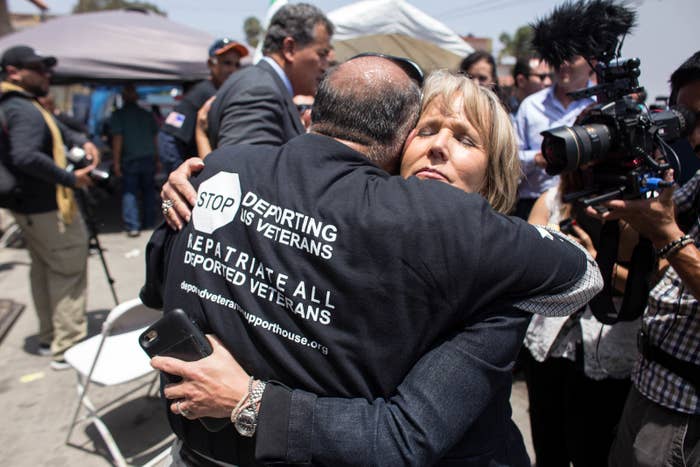 The Congressional Hispanic Caucus on Thursday called on the Trump administration and congressional Republicans to stop deporting active duty members of the military and veterans and to ensure that hundreds of veterans already deported have access to quality medical care.
In letters to members of President Donald Trump's cabinet, the CHC outlined a series of demands, including that the Department of Homeland Security immediately halt deportation proceedings of military personnel — veterans as well as active duty — and that the Department of Veterans Affairs establish facilities along the border that can help deported veterans.
The CHC also wrote to the chairs and the ranking members of the House Armed Services, Veterans Affairs, and Judiciary Committees asking for hearings on a package of legislative fixes CHC members introduced earlier this year.
"This Administration must do more to uphold our commitments to those who have worn the uniform regardless of their immigration status. If approved, these requests would stop the shameful practice of deporting veterans and provide deported veterans living outside of the U.S. with the benefits they have earned," CHC Chair Michelle Lujan Grisham said in a statement to BuzzFeed News.
The group of Latino House lawmakers has taken an increased interest in the plight of deported veterans, many of whom are living in impoverished conditions in Mexican border cities like Tijuana and Nogales. Earlier this year, CHC members had expressed hope Congress and the White House could easily pass legislation to end further deportations and to help veterans already removed from the country, believing politicians' predilection toward being seen as veteran-friendly would grease the legislative skids.
And there have been some bright spots. Veterans Affairs Secretary David Shulkin this summer agreed to meet with the CHC to discuss ways his department can help deported veterans. The House this month also passed legislation by Santa Barbara Democrat Rep. Salud Carbajal to help immigrant members of the military secure permanent citizenship. The issue has also gained some traction in the Senate, where Illinois Democratic Sen. Tammy Duckworth, who is also a veteran, has introduced legislation aimed at ending the practice.
But the fate of the broader reforms remains grim, as does the chance of the Trump administration using its executive authority to help veterans. Shulkin, for instance, hasn't responded to repeated requests to set a date for a meeting since his initial acceptance, a CHC aide told BuzzFeed News, and DHS has been unwilling to agree to end deportations of either veterans or active duty service members.
The lack of movement has members "frustrated," the aide said. "But that's the new normal for everything around here."