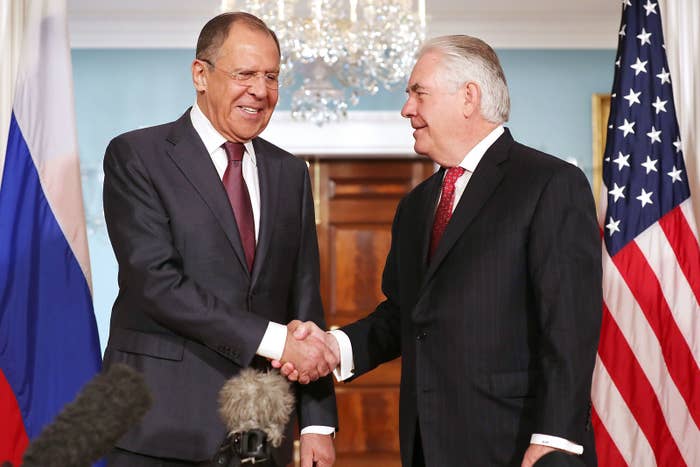 After months of angry statements, diplomatic expulsions, and shuttered consulates, US and Russian officials have quietly put an end to the tit-for-tat retaliations between the two sides, and US officials are now considering reviving parts of a Russian proposal from March to strengthen military-to-military contacts.

The improvement in relations follows talks between Secretary of State Rex Tillerson and Russian Foreign Minister Sergey Lavrov on the sidelines of the UN General Assembly last week.
For weeks, US officials had braced for Moscow to take retaliatory measures against US facilities in Russia in response to Washington's closure of a Russian consulate in San Francisco in late August. But following last week's meetings, Moscow is signaling an end to the feud, and US officials are expressing cautious optimism about the two diplomats' conversations.
"They were able to exchange and operate with candor and make progress," Tillerson aide R.C. Hammond told BuzzFeed News. "We're encouraged about that."
In New York, Tillerson held two bilateral meetings with his Russian counterpart. But before his second meeting in Midtown's luxurious Palace Hotel, Tillerson flipped the script and asked Lavrov if the two men could meet alone. That decision kept Under Secretary of State Tom Shannon, the top acting US official for Europe, Elisabeth Millard, and other US officials outside the room for 45 minutes while the two men talked privately. State Department officials declined to give a full readout of the conversations, but Lavrov came away from the meeting with an upbeat view of the US–Russia relationship.
"[Trump] wants to have good relations with Russia, understanding that this would be in the American interest," Lavrov said in an interview after the meeting. "What I feel talking to Rex Tillerson is that this is the position of the administration. They are not happy with the current state of relations."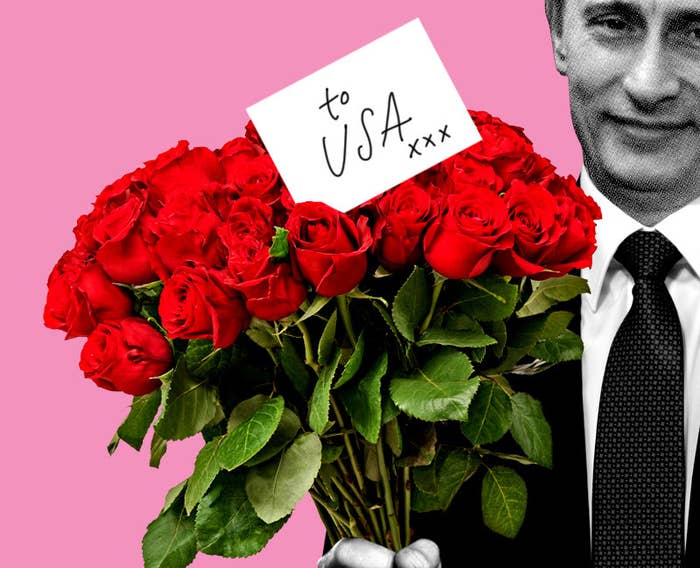 Tillerson has long made stabilizing the US–Russia relationship a priority, but that goal was derailed this summer after Congress imposed new sanctions against Russia for meddling in the 2016 election. In response, Moscow ordered the expulsion of hundreds of US employees in Russia. The US subsequently closed three Russian facilities, including the consulate in San Francisco.
Some US officials had expected Moscow then to restrict access to the US consulate in St. Petersburg, which has long been a target of both Russian spies and everyday vandals, or the US consulates in Vladivostok and Yekaterinburg. But the Kremlin appears resigned to merely threaten a lawsuit against the US for closing the San Francisco consulate, a somewhat docile response.
Much of what Tillerson told Lavrov in the past week remains unknown, but one diplomatic source said the secretary conveyed to the Russians his support for meetings between Secretary of Defense James Mattis, National Security Adviser H.R. McMaster, Joint Chiefs of Staff Chairman Joseph Dunford, and their Russian counterparts. The Kremlin first pushed for those meetings in a secret proposal delivered to the State Department in March, but in the ensuing months, only Dunford took the initiative to meet with his Russian counterpart.
It's not clear how widely details of Tillerson's meeting have been shared within the State Department. When asked about the discussion, Brian Hook, Tillerson's right-hand man, pleaded ignorance. "I was not in the first part of the meeting," Hook said at a press conference two days after the bilateral. "I don't have a full readout of that meeting."
Analysts said Tillerson's support for military-to-military interactions represented a carrot to the Russians, but one with limited risks.
"I'm considered a Russia hawk but there's no reason why we can't have these meetings," said John Herbst, a director at the Atlantic Council and a former foreign service officer. "You can be tough with the Russians and engage with them at the same time."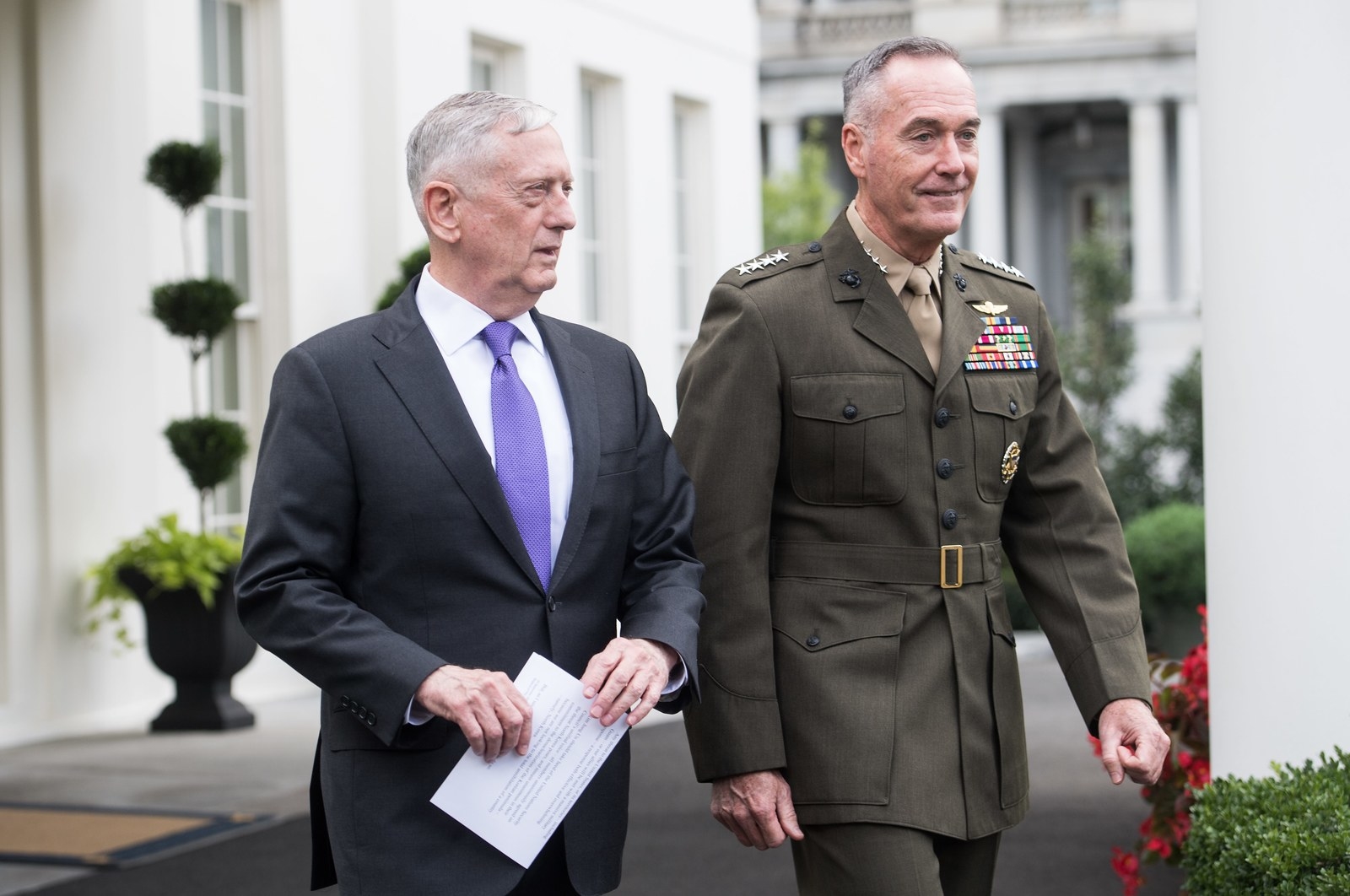 Hammond, the Tillerson aide, said that a better functioning military-to-military relationship was important as US and Russian forces operate in increasingly close proximity in Syria.
"The deconfliction lines are very important, for the Russians and for us," Hammond said, referring to the hotline used by both countries to prevent accidental collisions. "The trick with the deconfliction lines is they need to be more than just open. They work best when both sides are asking and listening."
While the Russians would likely jump at the opportunity to hold meetings, McMaster and Mattis are unlikely to share their enthusiasm. "Certain parts of the US government, especially the Defense Department, are deeply skeptical of Russian engagement," said Jeremy Shapiro, a former Obama administration official and scholar at the European Council on Foreign Relations. "Even in the Obama administration, the political masters had to ride them pretty hard to engage, and they weren't entirely successful. And that's when relations were much better."
Given the variety of disagreements between the two governments, US officials cautioned that relations between Moscow and Washington are far from stable, and any number of long-simmering issues could quickly reignite tensions. A dispute over the Treaty on Open Skies, for instance, may lead the US to announce new restrictions on Russian military flights over US territory in the coming days, the Wall Street Journal reported Tuesday.
The Trump administration also faces a looming Oct. 1 deadline in which it is required to provide to Congress details on the implementation of sanctions the president begrudgingly signed into law in August. Those details include identifying individuals who work for Russian defense and intelligence sectors who would be eligible for US sanctions.

Earlier this month, Democrats on Capitol Hill grilled Jon Huntsman, Trump's nominee to become US ambassador to Russia, on the importance of keeping Congress informed about the implementation of sanctions. Huntsman, the former governor of Utah, promised that the Senate Foreign Relations Committee "will get all the information it needs."
If the Trump administration aggressively implements the sanctions legislation against Russia, that could provoke a retaliation, said Angela Stent, a former US national intelligence officer on Russia.
"We don't know who's going to be on the Trump administration's list or what it's going to cover, but it's definitely of interest to the US–Russia business community," she said.
In Syria, the death of Russian Lieutenant-General Valery Asapov by militant shelling near Deir el-Zour prompted Russia's deputy foreign minister on Monday to accuse the US of pursuing a "two-faced policy" in the country, a charge the State Department vigorously denied.
Despite those obstacles, Moscow does have incentives to pursue a modest detente in the relationship.

Two European officials said Russia's security services, in particular the FSB and GRU, likely opposed another round of diplomatic closures because it would severely hamper their ability to operate in the United States.
"I think that makes sense," said Stent. "The facility in San Francisco was being used for things beyond diplomatic activities." Moscow is thought to have directed espionage resources toward surveilling the US tech sector.
Last week, Lavrov repeatedly made clear his view that the Obama administration, not Trump, was to blame for the poor state of US–Russia relations.
"[Relations are at] a very difficult and a very low point, which is the legacy of the Obama administration," Lavrov told the Associated Press and Russia's Tass News Service. "We waited very long with our tit in response to Obama's tat."

Some analysts have taken that as a sign that both Washington and Moscow have turned a new page.
"Both sides needed to have a falling out," said Shapiro. "The Trump people needed it because they needed to demonstrate that they were willing to be confrontational with the Russians. And the Russians needed it because they needed to be able to demonstrate that they're not happy where Trump is going and the waiting period is over."