Uber has pegged itself as a service that is good for both riders and drivers. That's a sentiment the company continues to echo even after it announced the discounted fare prices that the company introduced as a summer promotion in New York City and San Francisco — which aim to make UberX rides cheaper than a taxi — permanent all year-round: Uber provides the best economic opportunity for drivers.
The idea is that Uber drivers are making more money than they did before the price cut, according to Uber NYC General Manager Josh Moher, because they can accept more rides per hour due to a higher demand from customers who like the low rates.
And in drivers' minds — save for the company's no-tip policy and the low UberX fares — app-based car services like Uber, Lyft, and Gett do make their lives better. With these services, drivers can make their own hours, don't have to wait at a base to be dispatched, and are not subject to the whims of a dispatch agent or a "middle man," as one driver told BuzzFeed News in a previous interview.
But those prospective benefits for drivers are seemingly undercut by a service in New York that Uber hasn't been touting: the fleet partner program. According to the site, a fleet partner is anyone who owns more than one car in the Uber system and pays the drivers themselves, instead of Uber paying the drivers directly.
Here's how it works: Car services or private individuals who own more than one car and register with one of Uber's bases can either rent their cars to or set up a contract with Uber drivers. These fleet partners — who are usually looking to make an extra buck on older cars in their fleet or idle inventory — then accept payment from Uber and pay the driver accordingly. In some cases, fleet partners take a percentage of the drivers' total fares, in others, fleet partners charge a standard weekly (or in rare cases monthly) rental fee, a price point the fleet partner decides. Theoretically, then, these fleet partners can operate as mini-Uber bases, much of the time mimicking some of the economics and practices of yellow cab or black car bases — fees, lack of flexibility, and middle men.
Uber encourages potential and current fleet partners to look for prospective drivers and renters on the Uber marketplace, which serves as sort of a Craigslist for both drivers looking for cars and renters looking for drivers. Not all listings on the site are for fleet partners, however. Some listings are just car owners looking to cover some of the expenses on a car they may not use often but still need by renting it out to Uber drivers.
At its best, the program offers a low-commitment way of becoming an Uber driver. At its worst, however, drivers can be bound to several months-long contracts where they only see 60% of the net fares — after Uber's 20% cut and other taxes and fees — and may be forced to pick shifts that are less flexible.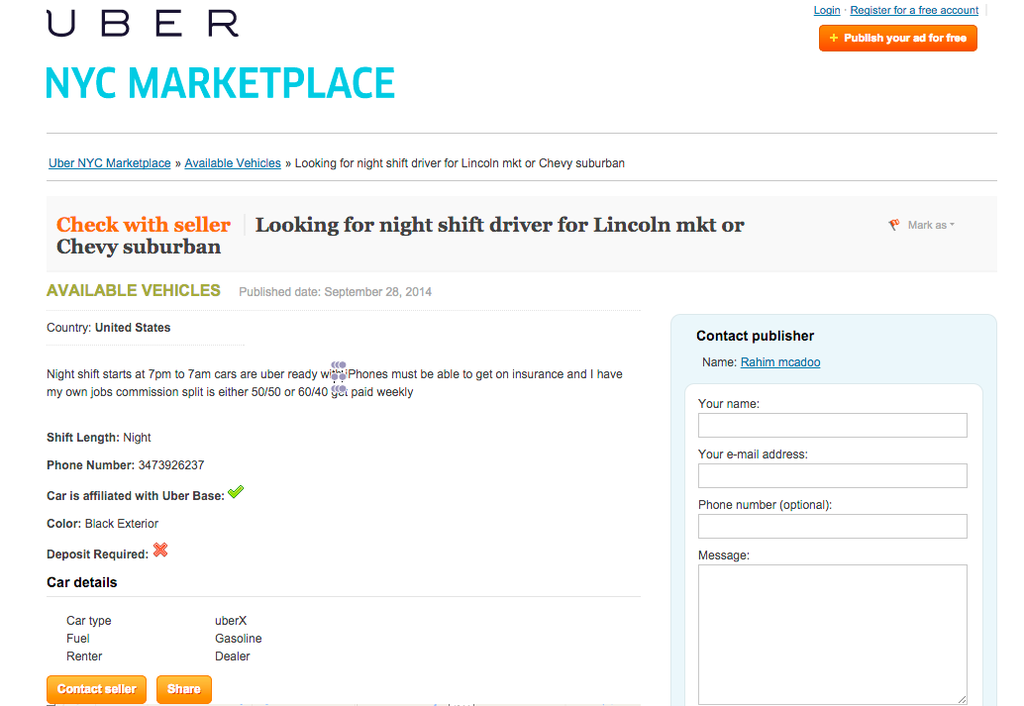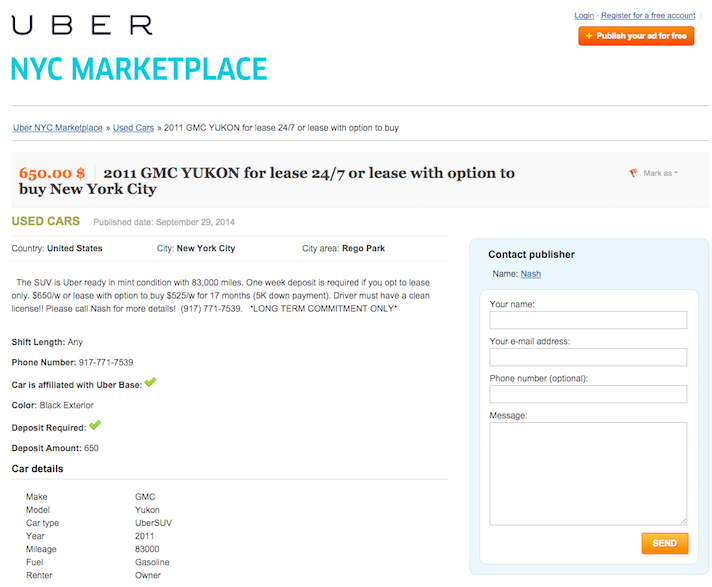 Through this program, drivers who don't own cars are able to access the superior economic opportunity Uber claims to offer but, in a number of these fleet cases, the benefits inherent in app-based car services like Uber seem to vanish.
The downsides are clear: Drivers have to pay a weekly rent or are beholden to a specific contract, they have to deal with a middle man, and oftentimes can no longer choose their own hours. Both Uber and fleet partners take their cuts — and drivers, who pay standard expenses such as gas (owners generally pay for car maintenance) and tolls, can end up making a lower weekly income compared to what a driver would make if he owned his own vehicle.
Raza Ali, a current Uber driver who is renting a car from a private individual for $500 a week, told BuzzFeed News that, all things considered, he can bring in a net weekly income of $800 in an average week. But Jaimin, another driver, has been renting a car to drive for Uber for $700 a week and expressed his frustration at the fleet gig.
"Next week will be my last week and then I'm returning the car," said Jaimin, who added if he doesn't find a car to rent for a cheaper fee he will not be driving for Uber anymore. "The [Uber] rates are so cheap ... 20 to 35% cheaper, and the commission and gas is too high. I pay $160 a week for gas. I also have to pay for tolls. For the [drivers who get] 50-50 weekly pay, it doesn't work out that way because gas prices are higher."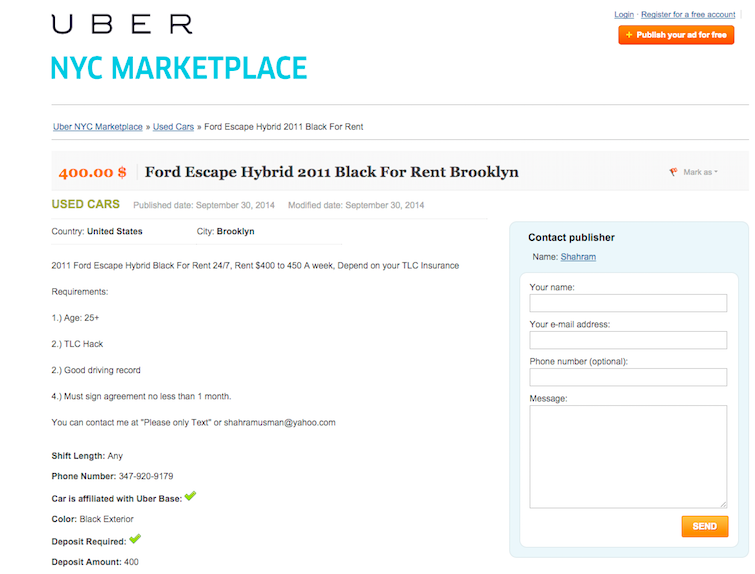 The fleet partnership program has also spawned its own livery services, like Steinway Livery Service, which was created solely to rent a fleet of black cars out to potential Uber drivers.
After working with Uber to insure Uber drivers via Steinway Livery Services' parent company TA Anchor Insurance, Steinway's founder and owner Tahir Hussain became enamored by the business model.
"In the 18 years of my being in the taxi insurance business all I heard was dispatchers [in other car service companies] did favoritism," Hussain told BuzzFeed News. "If you gave [the dispatchers] money on the side that particular driver would get the better quality of job. Those who did not give money on the side would be suffering in Brooklyn and Bronx just taking local calls. Other radio companies prior to Uber, they had their own radio frequencies they were charging kind of a like a royalty fee to use those frequencies. The expenses were too high on a weekly basis. Since Uber came they revolutionized the whole industry they brought a lot of fairness to the business. Experienced drivers were switching to Uber because there was no favoritism, no franchise fee." Now, Hussain said he only feels comfortable renting to Uber drivers.
AB. H Transportation also rents out its fleet solely to Uber drivers in New York.
"Drivers who probably cannot afford buying a car or don't want the commitment to lease cars or finance cars, they come to companies just like us," Baraa Alhaw, president of AB. H Transportation told BuzzFeed News.
Hussain, who has dealt with several car service companies in nearly two decades of providing commercial insurance to them, said that many of the companies who rent to Uber drivers don't have other options. "They have to do something to survive because in the next couple of years, if they don't change the way of doing business they will be diminished," Hussain said. But the new cost of doing business means that companies are renting out cars to — and helping — their competition.
Friendly Ride Limos, a luxury-based limo service, also has several listings on the Uber marketplace. But General Manager Kashis Maqsood told BuzzFeed News that he doesn't feel they are helping the competition because, he said, Friendly Ride provides a completely different service than Uber.
"When you are dealing with drivers who want to drive with Uber you are dealing with taxi cab drivers; there's a difference between chauffeurs and drivers," Maqsood said. "We saw the opportunity in the market to lease the old cars to work with Uber. It's on a very limited scale, we're not pushing it or anything."
Maqsood noted, however, that his experience with fleet partnerships was less than satisfying. "We just tried it because it was a big buzz about Uber in the market, we wanted to see what it's all about," Maqsood said. "People are attracted to Uber — there are many reasons [for] it. But we are not because we are different. You don't make anything, there's more maintenance of the car. Because when you lease the vehicle they don't drive their own car, so you know how they drive it, it's a hassle to deal with that kind of business."
Though Maqsood doesn't think Uber is a direct competitor (although the company also offers an SUV and black car service that includes luxury cars), he said that many competing car services may not have the choice to opt out of the fleet partnership program because of a lack of a stable enough client base to subsist alongside Uber.
"Everybody has different ways of working in this transportation market," Maqsood said. "Maybe [other car services] are not yet on that level that we are. We are working since 2007 ... we're going to back out [of the fleet partnership program]. Some people can't back out [when] they later find out it's not worth it."
Although Maqsood admitted Uber poses a threat to the existing players in the car service industry, he remains optimistic.
"Everybody in this transportation business are scared of Uber and they are trying to figure out how they will get rid of it," he said. "But what I think is that no company in the world can take the share of the market 100%. There's always a chance for people like us."
Uber did not respond to BuzzFeed News' request for comment by the time of publication.