Uber's Biggest Chinese Competitor To Shareholders: We're Killing It
In a letter to shareholders, Didi Kuaidi said it controls 80% of the private car market and 99% of the taxi-hailing market in China.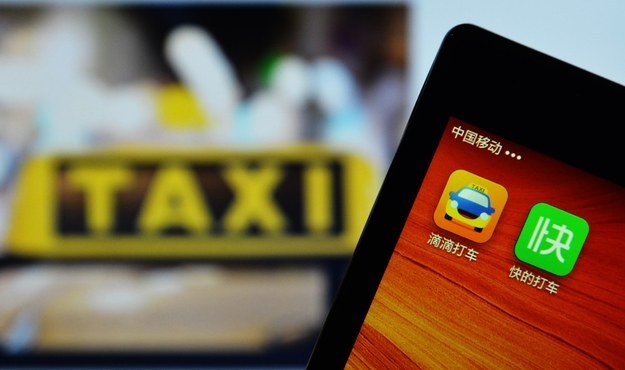 The battle for dominance in China's ride-hailing market is now a war of words as well. Weeks after Uber CEO Travis Kalanick penned a letter telling the company's investors its drivers are making close to 1 million trips every day in China, and it plans to pour $1 billion into the market to help them make even more, Didi Kuaidi — Uber's biggest competitor in the country — issued a similarly triumphant letter. Turns out Didi Kuaidi, which is in the midst of a major fundraising round, is also doing quite well in China — so well, that CEO Cheng Wei is considering extending its fundraising beyond $1.5 billion.
"In just five days, we were oversubscribed," Cheng Wei wrote to shareholders. "We may plan to upsize given the oversubscription."
Backed with existing funding from Chinese e-commerce and web giants AliBaba, Tencent, and Sina, Didi Kuaidi has seen considerable growth in ride volume. Private car requests have gone from 1 million to 3 million per day, and taxi requests are at 3 million. As it stands, according to Wei, Didi Kuaidi controls 80% of the private car market and 99% of the taxi-hailing market and is in 360 cities across China. Uber, which is backed by Chinese web giant Baidu, is only in 11 cities, and sees about 1 million ride requests per day.
"With advantages in scale and operational efficiency, we can provide more ride orders to drivers than competitors," Wei wrote. "Even in cities with fierce competition, our per ride subsidies is only one-fifth that of competitors."
And in a poke at Uber's strategy of wooing drivers in China with big bonuses, Wei said that Didi Kuaidi takes a more thoughtful approach to such incentives. "We offer promotions to encourage drivers' and users' behavior engagement and develop the market, but we are disciplined at the magnitude of subsidies," he wrote. "We have recognized that excessive subsidies such as two to three times the fare can encourage fraud and are detrimental to the market."
As BuzzFeed News reported, Didi Kuaidi plans to offer a robust transportation platform that extends beyond simply car-hailing. Already the company has launched its own designated driver service and a carpooling service called Hitch. It plans to offer a shuttle service as an offshoot of Hitch, as well.
"In one month before its launch, Hitch has attracted 1 million car owners to sign up," BuzzFeed News reported of the company's carpooling service launched in early June. "At its launching day in Beijing, we have seen 100,000 Hitch orders on daily basis. Hitch will be the first breakthrough in China's sharing economy, bringing happiness to the people who are willing to share."
Here are some screenshots of the letter obtained by BuzzFeed News: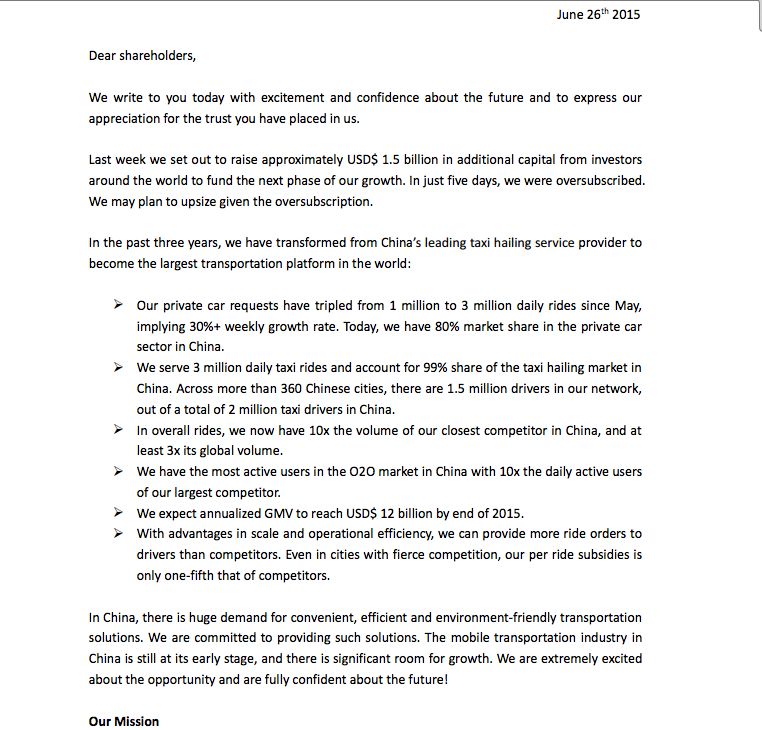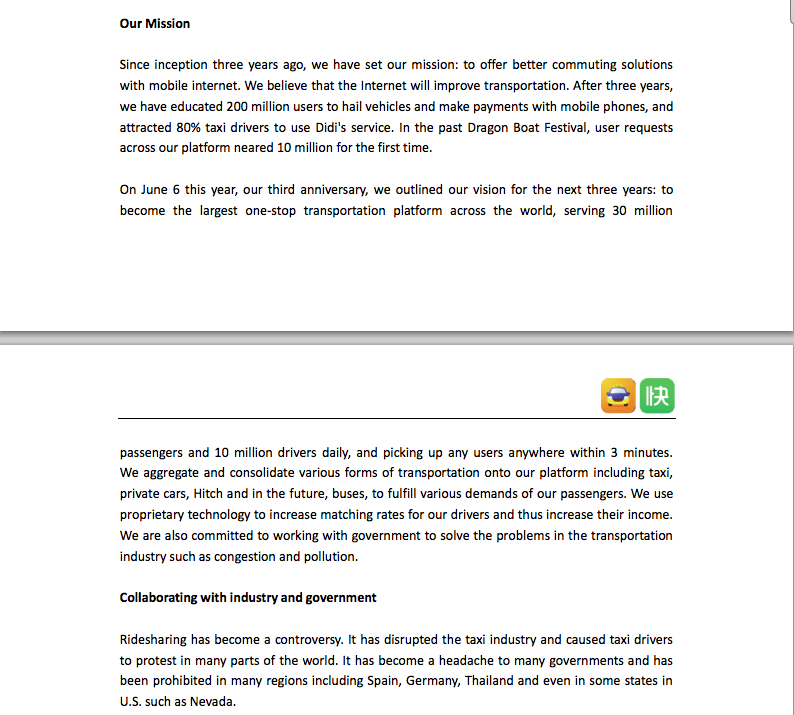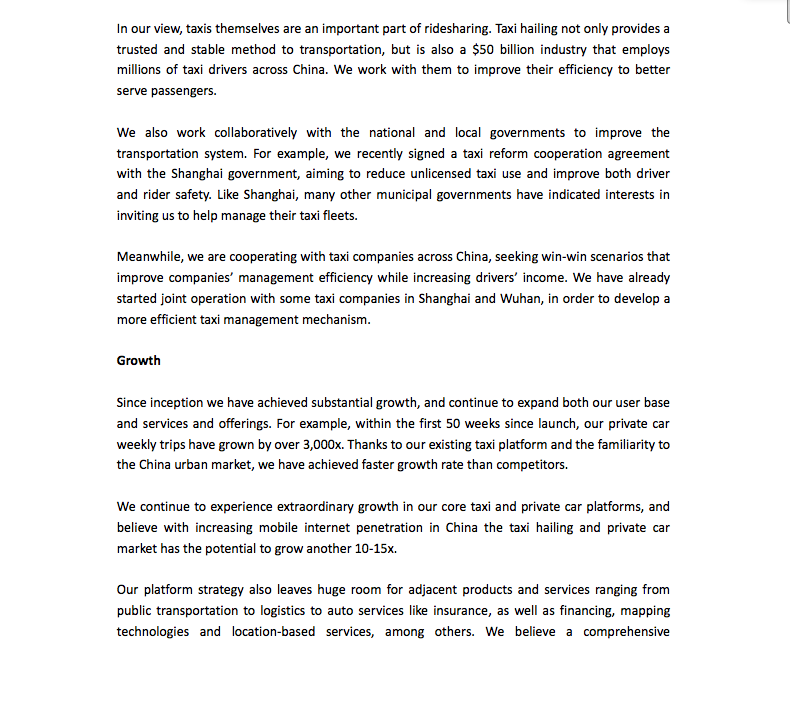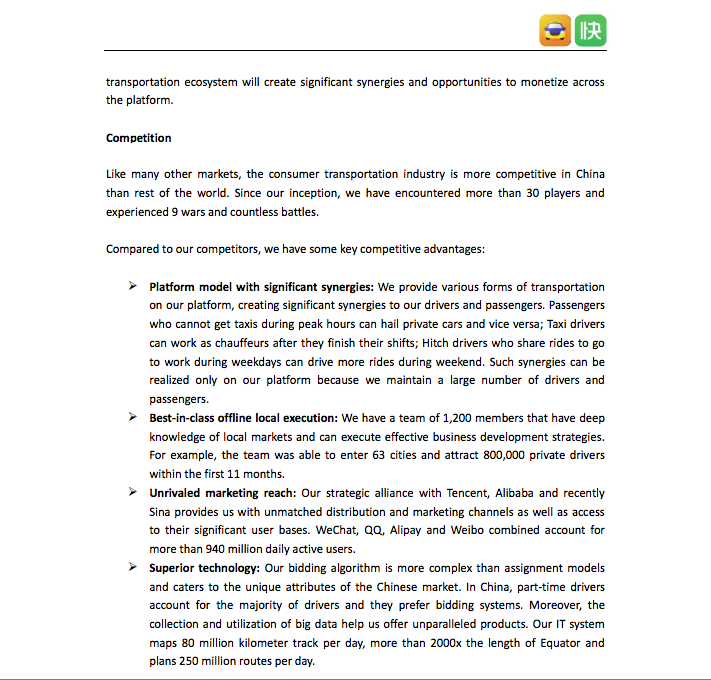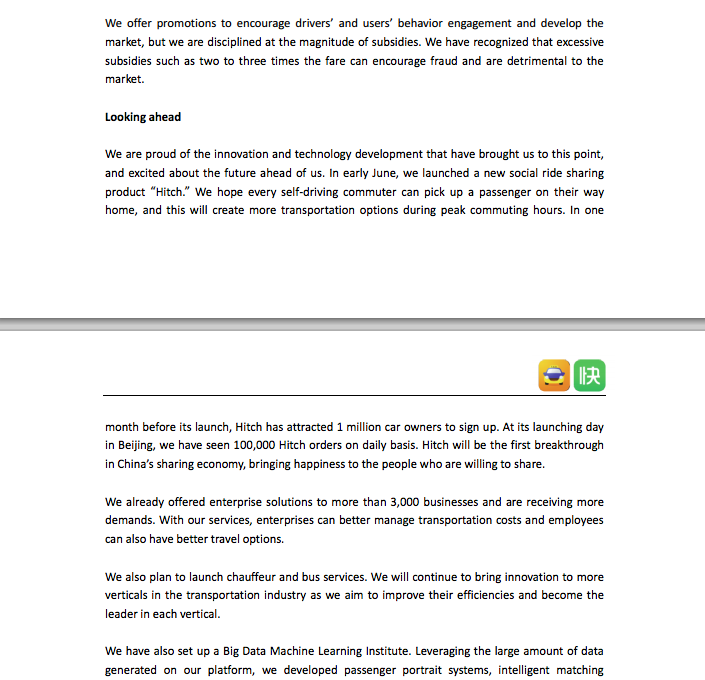 Didi Kuaidi confirmed today that it has raised $2 billion in funding from Capital International Private Equity Fund and Ping An Ventures, in addition to existing investors Alibaba, Tencent, Temasek and Coatue.
"Didi - Kuaidi plans to invest in building new services, data analytics and customer service," a spokesperson wrote to BuzzFeed News.