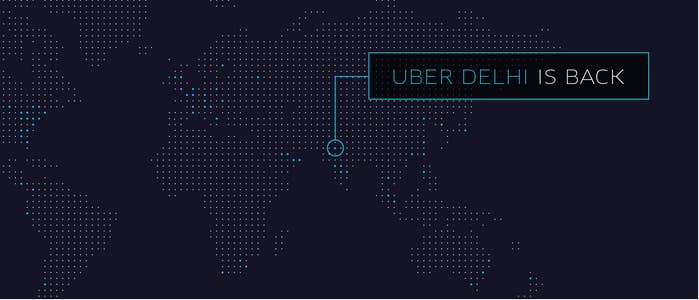 Uber announced today that it will resume operations in New Delhi less than two months after a passenger was allegedly raped by her driver.
The driver, Shiv Kumar Yadav, has since been charged with rape, kidnapping, and intimidation while local authorities temporarily banned the service. Yadav has pled not guilty to the charges.
According to an official blog post, the company applied for a radio taxi license in the city in order to be reinstated, a move that seemingly cuts against Uber's strongly held position that it is a technology platform, not a transportation company. The move, the blog post reads, reflects Uber's "commitment to providing riders with more options for safe and reliable transportation, including the ability to request a Radio Taxi on-demand."
In a statement to BuzzFeed News, the Uber Delhi victim's lawyer, Douglas H. Wigdor, said he and his client were "surprised" that Uber was continuing to operate without consulting them. (As BuzzFeed News reported the victim discussed a potential suit against Uber in the U.S. with Wigdor.)
"According to a news report and an email that they had the audacity to send directly to my client, Uber has announced, just weeks after the tragic rape of my client and during the criminal trial of the Uber driver, that it has re-entered the market in Delhi," Wigdor said. "While we have no doubt that Uber is focused on it's bottom-line, we are surprised by this development as we had made it clear to Uber that the rape victim wanted to be part of a consultation process regarding safety procedures to ensure that no other person becomes a victim at the hands of an Uber driver. Most unfortunately, this has not happened and we have no confidence that the touted 'India-specific safety measures' will prevent another attack."
In addition to creating these new safety features — which include an in-app emergency button — Uber is also only allowing drivers who have had their police clearance reverified in the last six weeks back onto the platform.
The company, which has actively fought government regulated background checks and car inspections in many U.S. cities, will also implement independent background checks and reviews of vehicle documentation in India.
"Connecting riders with a safe, reliable transportation option, while providing drivers with better opportunities is our unwavering mission, and we are setting an even higher standard than current industry requirements," the blog post reads.
The Delhi Transport Department has rejected Uber's request for a radio taxi license, The Hindustan Times reported. We will continue to update with more details.