Uber Is Rolling Out Cash Payments In Hyderabad
The ride-hailing service embarks on an experiment in a market with low credit card penetration.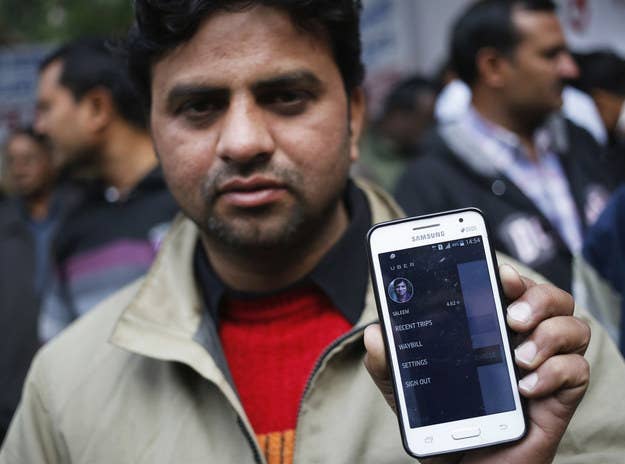 Uber is now accepting cash or credit in Hyderabad, India.
On Monday afternoon, Uber rolled out a new, experimental feature in the City of Pearls that allows passengers to pay their UberGo, UberX, and UberSuv fares with cash.
The move is something of a departure for the ride-hailing service, which has long championed the convenience of cashless transactions in the more than 300 cities in which it operates. To date, Uber has allowed passengers to pay for their rides only through its app — via credit card or a digital wallet.
But in emerging markets like India and Colombia where credit card penetration is low, Uber's cashless system has limited the company's growth. The company moved to address this issue with digital wallets, which can be used with Uber's mobile app and are easily replenished by purchasing ride credits at a local convenience store. But there's clearly room for improvement.
Hence, Uber's experiment with cash payments in Hyderabad. And to be clear, it is an experiment. Karun Arya, Uber's head of communications in South Asia, told BuzzFeed News the company is using the city as a testing ground and will offer a cash payment option until it has collected the data it needs to make an informed decision about the viability of the feature, which adds a new level of complexity to Uber's otherwise quite simple system. Cash transactions, for example, make charging and collecting commissions on rides a bit more difficult. According to Arya, drivers will be charged a fee that will amount to 20% of the fares on a regular basis — though he would not specify how regularly.
Cash payments are another in a series of tailor-made features Uber has debuted in India with an eye toward winning market share. Among them: UberAuto, which offers passengers access to the low-cost auto-rickshaws popular in the country; UberGO, a cheap, fuel-efficient hatchback service well-suited to India's congested roads; and a panic button, developed following the alleged rape of a passenger in India late last year.
In India, where Uber is facing steep competition from local rivals like Ola — which currently operates in 127 cities and recently raised $400 million in funding — addressing market nuances like limited credit card penetrations is crucial to the growth and success of the company. According to Anand Subramanian, director of marketing communications at Ola, 50% of all of the company's transactions are cash-based. By experimenting with cash payments in Hyderabad, Uber is recognizing that international expansion in countries like India may well hinge on quickly adapting to local custom.
Said Uber Hyderabad general manager Siddharth Shanker, "Tradition dictates that cash plays a big role for Indian consumers. As a data-driven technology company that has seen strong growth in India we feel this is the right time to explore the extent of this predisposition when it comes to our service."