Uber Drivers Face Uphill Battle As New York Protests Continue
As existing drivers protest outside the Uber offices, prospective drivers continue to line up in the offices to sign up for the service.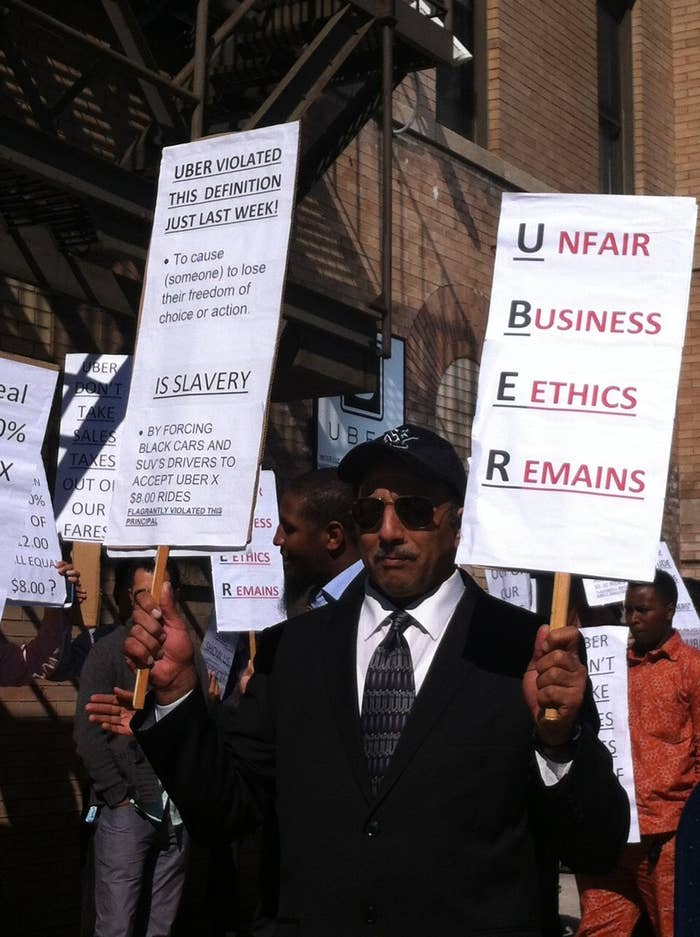 Uber drivers gathered outside the company's Long Island City offices for the second time in two weeks today — picket signs and megaphone in tow — this time to protest the temporary summer discount that made Uber X fares cheaper than taxis. But while the movement attracted national attention last week, drivers are already seeing signs that it will be a long and difficult fight.
Approximately two hours into the protest, the crowd of drivers (comprising all men, save for one female driver) still numbered less than the group of drivers that gathered at an organizational meeting on Friday by the eight original drivers behind the Uber Drivers Network of NYC, the group that has been working to mobilize drivers to demand change from the company for two months. Throughout the morning protesters watched as prospective employees made their way past the crowd to sign up as a driver for the service.
Uber NYC General Manager Josh Mohrer told BuzzFeed News he thought the number of drivers present today was only about one-fifth the number of those who showed up to last Monday's protest.
"I think you might be seeing a little of a hangover from [last Monday's protest]," Mohrer said.
"I think they're saying, 'Well there's one policy that we didn't like that's now been changed, well we [also] want to have tips in the car,' where Uber doesn't do tips or 'the driver rating system is unfair, we don't want to have that anymore,' or 'the price cuts we made three months ago,' which has actually resulted in Uber drivers earning more than ever. This past week was a record-earning week on a net basis for each driver hour. Basically, the price cut put Uber X at less than a taxi, it brought way more people into the app, so for every driver you see here there's dozens out there."
Now that the summer is over, Mohrer said the company is evaluating data to see if the price cut works as well for the fall season as he said it has for both drivers and riders during the summer.
"It's only been two weeks since the summer ended, and the summer and fall behave differently," he said. "There's an argument to say if the price cut wasn't in place they'd be making less because fewer people would be using the service. So a higher fare doesn't always mean higher earnings."
As BuzzFeed News reported, after last Monday's protest and a two-day work strike against a policy that required both black car and SUV drivers to take Uber X requests, the company announced Friday that it would repeal that policy. Paired with the existing policy that drivers accept 90% of all requests to avoid being temporarily suspended, many SUV and black car drivers complained they missed out on the more lucrative black car requests because they were otherwise occupied with Uber X rides.
While there was talk of drivers unionizing at Friday's meeting, the protest appears to be struggling to reach and mobilize a critical mass of Uber drivers. Much of the organization appears to be haphazard, with drivers relying on personal networks and cold-calling.
"Text every driver you know," Abdoulrahime Diallo, one of the organizers, instructed the protesters. "It's worth the investment, tell them to stand with us."
But the drivers are still hopeful. Mustapha Diallo, another driver and original organizer, told BuzzFeed News he hopes to get at least 1,500 drivers to show up today, approximately 500 more than showed up last Monday. Though when BuzzFeed News left the protests, there looked to be only a little over 100 drivers.
Then, of course, there are logistical protesting problems. "It's going to be tough, a lot of drivers are looking for parking and that's something that's not easy to get in this area," Diallo, who said he and the organizers have resorted to approaching marked Uber cars to spread their information, said. "We had almost 1,000 drivers here last week. We hope we can get 1,500 today."
Drivers of services like Lyft and Uber are at a disadvantage when it comes to organizing and reaching a large group. Unlike drivers of taxis or other car services, Uber and Lyft drivers don't have a centralized base or hub where they can contact other drivers. Aside from signups, visits to the Uber offices are rare for most drivers.
But Diallo and the original organizers believe they can organize a grassroots movement. Each of these drivers present at the protest know an average of five other drivers, many through either familial or cultural ties, he noted. The organizers themselves have known each other for a while, Diallo said. Abdoulrahime Diallo, for example, is Mustapha Diallo's nephew.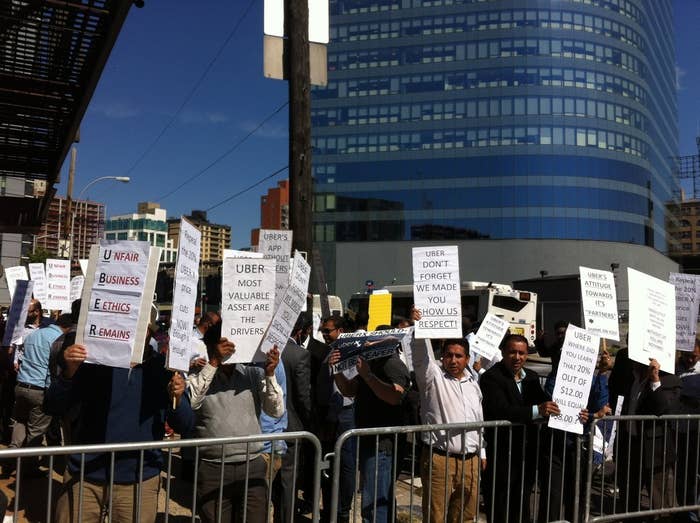 Reaching drivers they don't know is a bit more difficult. Even as this group of frustrated drivers chant their demands for change outside, it's business as usual inside the Uber offices. New and prospective drivers lined up to find out more about the advertised $5,000 monthly income they can potentially make; some even signed up on the spot.
One prospective driver who asked not to be named said he didn't know what was going on outside but was just there to learn about what he can earn as an Uber driver.
"I'm also here because you can just sign up in one day," he told BuzzFeed News.
This scene is largely illustrative of the impact, or seeming lack of impact that the protests have had on the Uber organization thus far.
"If our partners are upset, we obviously have to sit down with them," Mohrer said. "But hundreds of drivers are joining the system every week — this represents a very small percentage of drivers. They have the option of working with Uber or not. I'm confident that not only are they earning more than ever, they're earning more than any other car service in the city."
According to Mohrer, Uber's decision to repeal the policy last Friday also didn't have anything to do with the group's first protest or work strikes.
"It had to with the 200 one-on-one coversations we had with drivers who scheduled time and told us their thoughts," he said. "The general consensus was even if economics are better [they] still want to have the choice [of receiving Uber X requests.]"
Though Mohrer contends the protests and strikes don't seem to have an impact on the company's decisions, Diallo told BuzzFeed News that he believes he and the group of drivers they've reached are capable of inciting change.
"They will have to [make a change]," Diallo said. "We all left other companies to join them because of the freedom of the system. But if I'm not making my money, why would I stay? We want it to be fair. If they are not willing to change, we'll ask [our supporters] to join another company. You know how much money all these people are making for them a day?"
It's this attitude and optimism that is shared among the drivers that is encouraging these drivers, though frustrated, to stick with Uber.
"We are not anti-Uber," another speaker yelled. "We love Uber. We are your business partners — treat us like business partners."