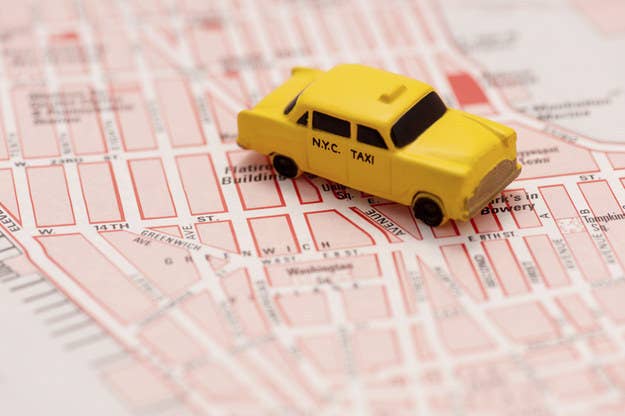 The Taxi and Limousine Commission will be holding a public hearing on Thursday morning to discuss a proposed change to its rules that could place new restrictions on app-based car services like Lyft and Uber operate in New York City.
The commission will propose closing a loophole that allows Lyft, Uber and other For-Hire Vehicle (FHV) services to dispatch cars and drivers that are not affiliated with their own bases, a move which would reduce the number of drivers for these companies.
In New York, for a company to provide for hire or contract transportation services they must have a base that is licensed by the TLC and its drivers must in turn be registered with that base. Additionally, drivers can only be registered with one base at a time.
As it stands, the TLC rules state that a vehicle must be dispatched from its affiliated base unless, "The Vehicle is an Accessible Vehicle being dispatched to transport a Person with a Disability, or The Base informs the customer that the Vehicle is from another Base."
That latter clause presents a loophole that has given drivers who work for existing car services in New York or are registered with either an Uber or Lyft base the ability to accept rides from other companies, so long as the customer is notified. In other words, drivers registered with a Dial 7 — a black car service in New York — base, for example, can also work for Uber on the side. Customers are notified via a push notification of who their driver is in addition to what base they're being dispatched from.
But Tarek Mallah, general manager of Dial 7, is outraged by how Uber and Lyft are able to operate under the current laws.
"We have never given our consent for any of the ride sharing companies, not Uber, not Lyft, not Gett, to use our drivers or to use our name," Mallah told BuzzFeed News. "We have already filed a complaint with the TLC [because] they are alluding [that] they are booking our drivers on our behalf with consent."
It's understandable, considering Uber's growing dominance in the New York market, that these services don't want to want their drivers to contribute to their competitors' success. But according to Mallah, the current rules can also confuse customers.
"We had an incident [with] a passenger who was complaining about a lost and found item and his booking was with Uber or Lyft," he said. "It was a complaint that came in about a ride that we did not originate or were responsible for or book."
A large contingent of Uber drivers agree with Mallah and feel the rules should be changed to close that loophole. In an open conference call on Monday, the Uber Drivers Network of New York — led by Abdoulrahime Diallo — discussed the implications of the proposed changes.
"If the TLC decided to [...] make it a one-base rule, companies like Lyft will have to eventually either get their own bases or they'll have to join bases that already exist," Diallo said to the drivers that called in. "Now we're sharing our jobs with all these other drivers Dial 7, Carmel, V.I.P., Big Apple," he said. "They have their main income from their main jobs and then they have Uber. Uber drivers are only doing jobs for Uber. If a driver used to be out 8 hours a day now he has to do 14 or more to make the same amount they used to make."
Diallo went on to encourage the drivers to show up to tomorrow's hearing to have their own opinions heard as well.
"If the TLC makes it a one-base rule, it would protect the market itself," he said. "That's what it should be. Just like companies compete for clients. We are the ones who are doing the work."
"We have no problem with these tactics," Uber NYC general manager Josh Mohrer told BuzzFeed News over email. "We think anything that gives drivers more opportunity is a good thing and are confident that our platform provides the best value to drivers. Until July we adopted the industry norm and required drivers to switch their base affiliation to Uber (which thousands of drivers have done since 2011) prior to activating their driver account. However when Lyft started following a more literal interpretation [of the rule], we asked the TLC for their opinion, they told us it was fine, and we happily adopted this new interpretation, which effectively allows drivers to try Uber before making the substantial commitment which the base transfer process entails."
Closing the loophole would force companies like Uber and Lyft to only dispatch their own drivers — which would certainly decrease the amount of drivers on the road.
"For them the goal is to maximize revenue at any cost," Diallo said of Uber and Lyft. "The more drivers they have on the road the less likely they'll miss any fare from any rider."
Though historically Uber and Lyft have ignored bans on their services (see UberPop in Germany) Mohrer told BuzzFeed News, if the TLC in fact rules for the proposed changes Uber will abide by the new rules.
Lyft did not immediately respond to BuzzFeed News' request for comment.