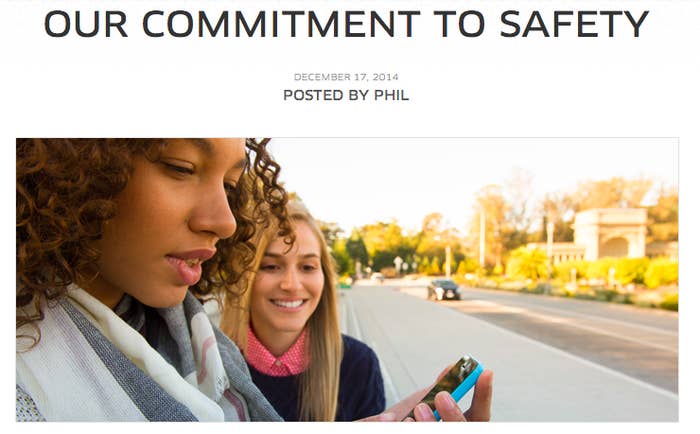 Uber Head of Global Safety Philip Cardenas published a post today laying out the company's "roadmap" toward improving safety over the next year. The report comes after an internal review performed by the company's safety team and the recent rape of an Uber passenger by her driver in New Delhi.
Uber has since been banned in New Delhi and other parts of India while the driver has been arrested and charged. At the time of his arrest the driver accused or raping his passenger was awaiting trial on at least four other criminal charges, and as a result much of the blame has fallen Uber, which issued a public apology. Police in India have said that Uber can be held liable if it's found that they misled their riders about how stringent their background checks are.
In the post, Cardenas said that the company is looking into new ways to screen drivers "using scientific analysis and technology to find solutions," particularly in parts of the globe that have complex regulations on background checks.
But even in the United States, some cities and state authorities are fighting both Uber and its biggest competitor, Lyft, on ordinances mandating that for-hire vehicle drivers must undergo a state- or city-regulated background check. In fact, District Attorneys in both Los Angeles and San Francisco have filed a lawsuit against both companies claiming, among other things, that they are misleading riders to believe regarding the rigor of their background checks.
Uber makes no mention in the report of reevaluating background checks in the U.S. but did say the company is developing custom tools, like voice verification, to enhance driver screenings.
Additionally, Cardenas announced that the company has hired Tim Collins, who most recently led Amazon's Europe operations, to head Uber's global support team.
"Our 2-way feedback system has introduced unprecedented transparency to transportation," Cardenas wrote. "But as our rapid growth continues, our customer service must evolve to keep pace."
Under Collins, Uber will also be establishing Safety Incident Response teams globally with the goal of providing instant support during emergencies.