Android Auto Hits The Road In Hyundai's New Sonata
The 2015 Sonata is the first car to ever be manufactured with Android Auto built into it.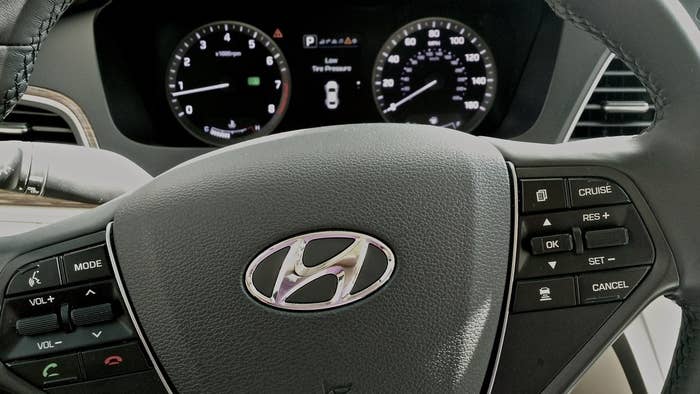 Two years ago, after fielding a number of inbound requests from automobile manufacturers, Google embarked on an effort to bring its Android mobile operating system to the car. Hoping to better understand how people use their phones while driving, Google outfitted the cars of some of its employees with cameras and asked them to diary their in-car phone usage. The results of that study informed what would ultimately become Android Auto. They were also terrifying.
"We were like, holy crap, people are doing really unsafe things in their cars," Andrew Brenner, lead product manager of Android Auto, told BuzzFeed News. "It gave us a clear understanding of what we wanted to do from the outset: Make it easier to give people the digital experience they crave in their cars, but do it in a safer way."
Google launched Android Auto in March of this year with an eye toward offering a safer in-car smartphone experience — and pushing its Android OS another step closer toward ubiquity. Now, just a few months later, it's partnered with Hyundai to build Android Auto into the 2015 Sonata.
The 2015 Sonata is the first car to ever be manufactured with Android Auto built into it. And after a weeklong test drive, it's not hard to see why Google chose it. The car is outfitted with a bevy of automated safety features. It sounds an alert beep and flashes a yellow warning light if you activate your turn signal when there are other cars or objects in the way. It sounds an even louder alarm if you accelerate when the car in front of you is slowing down. And if you should get a bit too close to that car? The words "COLLISION WARNING" appears on the screen in the center of your dashboard in white letters as the car beeps loudly. The car's center console is an 8-inch touchscreen — large enough to quickly glance at to see, say, where you need to go without taking your eyes off the road for too long. The car almost literally screams safety. It's exactly what Google was looking for.
"When we started on the project, we looked for manufacturers that are really forward-looking," Brenner told BuzzFeed News. "And so we announced the open automotive alliance in January 2014 with Hyundai, Honda, GM, and Audi — all four were very forward-looking. Hyundai ... is doing great things with the cars. They have 8-inch touchscreens, steering wheel control. They're the first ones to come to market with this."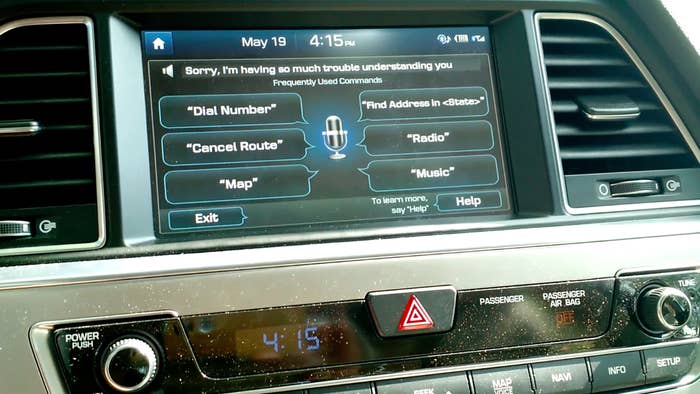 But others carmakers are following quickly. Bentley, Nissan, Jeep, and Infiniti, among others, have agreed to incorporate Android Auto into their vehicles. Some among this group have also signed on to use CarPlay, a rival platform developed by Apple.
"From our research and what we've seen in the market, we see the people are using their phones more and more in their cars," Brenner said. "They don't want to leave the connectedness and benefits of having the cloud and the internet with them right now. But in many states like New York and California it's illegal to even touch your phone. So we really looked at this as something that we can do to help keep people safer. We combine the great stuff of your phone with the things that the car is great at."
In the case of the Hyundai Sonata, that looks something like this: Using an array of buttons on the car's steering wheel, a dashboard touchscreen, and your voice, you can make calls, navigate to a chosen destination, and turn on the radio — or a favorite music app.
While Android Auto might reduce the need — or temptation — to pick up a phone while driving, it does have some limitations. It doesn't recognize voice commands unless they're spoken in a very specific format. So, for example, ending navigation is not as easy as uttering something intuitive like "end navigation" or "stop navigation." Attempting to do exactly that during my test drive, I ended up distractedly paging through a touchscreen help menu until I discovered the proper voice command: "cancel route."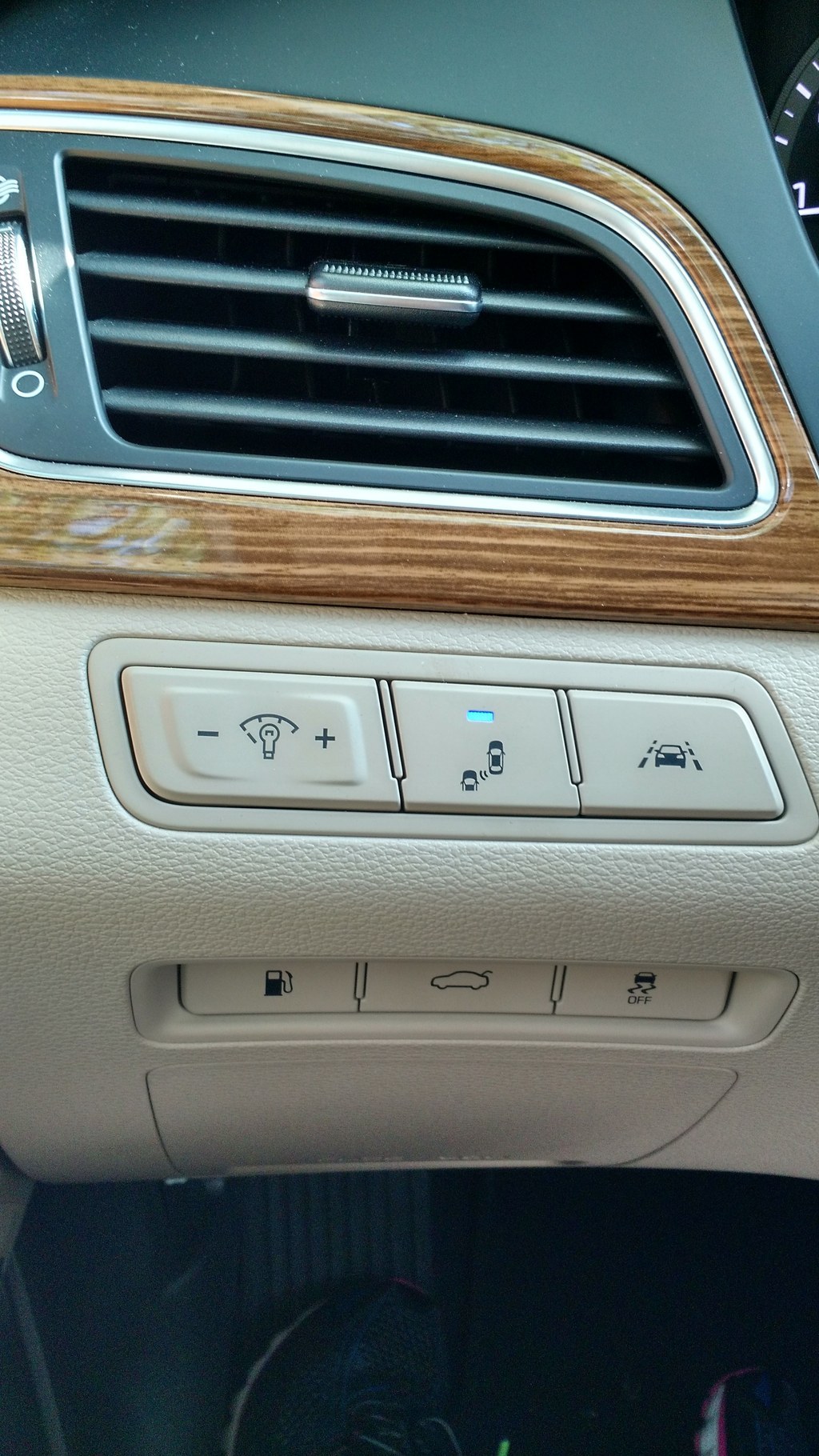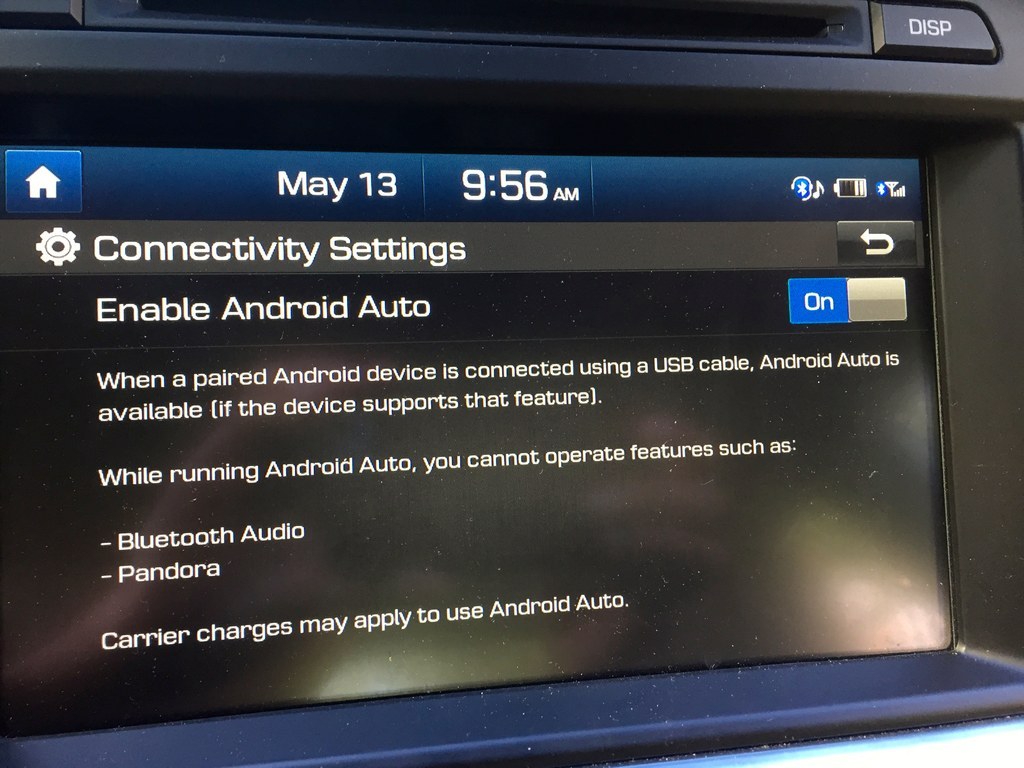 Several other Android Auto functions felt like they might be more easily accomplished manually. While Android Auto does recognize spoken phone numbers, it takes several seconds do so, and asks users to navigate a number of additional prompts and verifications before it actually dials them. You can expedite the process via the Sonata's touchscreen, but that requires looking away from the road.
Android Auto does make driving directions quite a bit easier, thanks to tight integration with Google Now. Navigating to a nearby airport is as simple as pressing the microphone button and saying, "Find John F Kennedy airport." It also makes it easier to access some third-party apps via the Sonata's in-car touchscreen.
"We looked at what people did in their cars other than Google apps," Brenner told BuzzFeed News. "Music apps is really high on the list. ... So what we did was, we took the same user interface that we used for our own apps and we gave that to third parties. For example, one of our partners Spotify. Now you can download Spotify onto your phone and if you have Android Auto you can automatically use [the Spotify app] through Android Auto on the Sonata screen with some very small modifications through their code."
And what about questions of data security? Brenner said that since Android Auto requires a USB connection between car and mobile device, it's "actually as secure as your phone. "All of what you see on the car is what's on your phone. ...The USB cable is just sending video. All the data isn't actually 'known' to the car so there is no increased security risks from the data. The car isn't getting a transfer of the data from the phone."
For an in-car mobile system to truly be effective, it must entirely eliminate the need to pick up a phone while driving. Android Auto hasn't reach that point just yet. But it's a reasonable first step. And an interesting peek at what's to come.