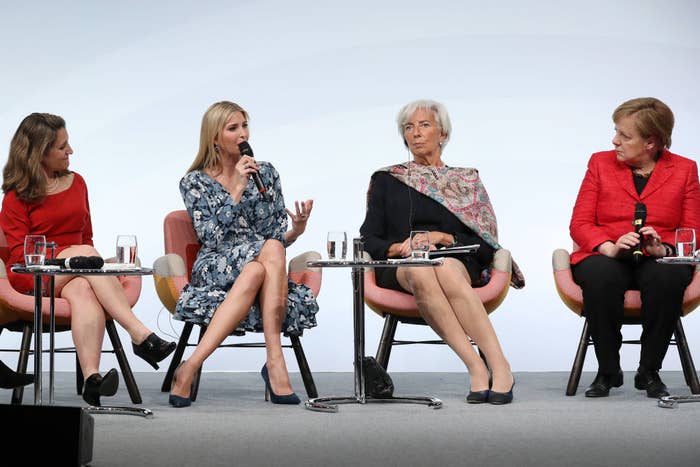 Ivanka Trump, who serves as an assistant to her father, President Donald Trump, faced critical questions at the W20 Summit in Berlin on Tuesday, and was booed and hissed at by some audience members when she said that her father was an advocate for women and families.
Trump sat on the panel alongside several other female leaders, including German Chancellor Angela Merkel, International Monetary Fund Managing Director Christine Lagarde, Canadian Foreign Minister Chrystia Freeland, Queen Maxima of the Netherlands, and tech entrepreneur Juliana Rotich.
The moderator, WirtschaftsWoche's editor-in-chief Miriam Meckel, dove right into the discussion by first asking Trump what, exactly, her role was in the White House.
"The German audience is not that familiar with the concept of a first daughter," Meckel said. "I'd like to ask you, what is your role, and who are you representing: your father as president of the United States, the American people, or your business?"
"Certainly not the latter," Trump said, adding that she was still learning about the role in the first 100 days.
Later in the panel, when the conversation turned to the topic of childcare, Trump lauded her father for his support of women and families.
She first spoke about her father's advocacy of granting American families paid leave, and then said, "He's been a tremendous champion of supporting families and enabling them to thrive."
The audience cut her off with a round of boos and hisses.
The interjection prompted Meckel to dig in further.
"You hear the reaction from the audience, so I need to address one more point," she said. "Some attitudes towards women your father has publicly displayed in former times might leave one questioning whether he's such an empowerer for women. How do you relate to that? Are things changing?"
Trump said she'd "certainly heard the criticism from the media that's being perpetuated."
But she said that her personal experience, as well as those of "the thousands of women who have worked with and for my father for decades when he was in the private sector," were "testament to his belief and solid conviction in the potential of women and their ability to do the job as well as any man."
Earlier in the discussion, Meckel had asked the panelists to raise their hand if they considered themselves feminists.
Trump did not raise her hand, but later she said, "I do label myself a feminist, and I do think of that in broad terms."