Twitter on Wednesday banned a high-profile alt-right troll, marking the latest step in the social network's efforts to crack down on hateful and abusive speech.
The account belonging to 29-year-old Tim Gionet, widely known by his Twitter handle @BakedAlaska, was permanently suspended. When asked about the suspension, a spokesperson for Twitter cited the company's practice of not commenting on individual accounts and referred BuzzFeed News to its hateful conduct policy.
The policy prohibits "repeated and/or or non-consensual slurs, epithets, racist and sexist tropes, or other content that degrades someone."
It was not immediately clear what specifically prompted the suspension, and Gionet (who previously worked at BuzzFeed) did not respond to a Facebook message seeking comment. A cached version of the account indicated he had most recently tweeted on Monday to his 193,000 followers.

However, the suspension comes amid significant criticism of Twitter's handling of extremist voices, and after the company has taken steps to more rigorously control hate speech on the platform. The most recent salvo came Wednesday, when Twitter acknowledged that its verified status — which is indicated by a blue checkmark — "has long been perceived as an endorsement" and announced a new verification policy. Under the new policy, accounts can lose their verified status for "intentionally misleading people" and "promoting hate and/or violence."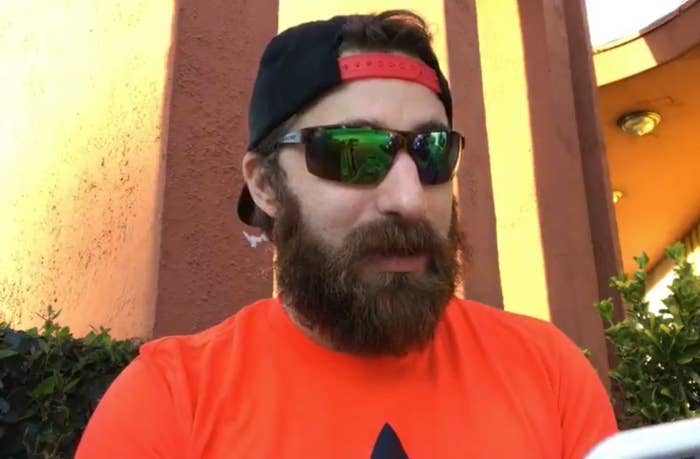 In the past, Twitter awarded verified status to white supremacist figures such as Richard Spencer and Jason Kessler, the organizer of the Charlottesville Unite the Right rally that resulted in the death of a counterprotester — a move that prompted significant backlash against the social media platform.
Gionet had often used his Twitter account to share far-right content. In the past, he tweeted the so-called 14 Words, a popular phrase among neo-Nazis, and said, "I have no problem with white nationalists." He is among a handful of figures who rose to fame during the Trump candidacy by mixing extremist ideology with provocative internet antics and trolling.
Other platforms that have banned Gionet include Uber, GoFundMe, Patreon, and PayPal.

Gionet appeared to have been caught off guard by the Twitter suspension Wednesday. In a livestream later posted on YouTube, Gionet excoriated Twitter for the suspension, comparing the social network to a public utility. "There needs to be some accountability," he said. "You can't just ban people when you disagree with them."
"If you're a public figure," Gionet added, "you're at a massive disadvantage if you don't have a Twitter account."