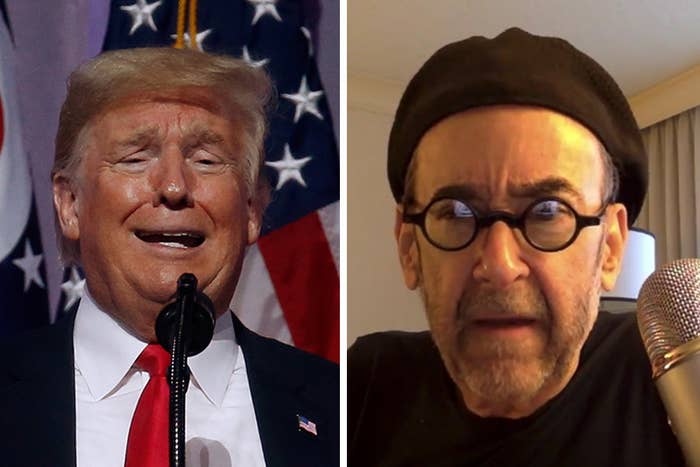 Donald Trump met in the Oval Office this week with a YouTube conspiracy theorist who has been among the leading voices pushing the nonsensical QAnon mythology that imagines Trump will soon expose a secret Democrat-led pedophile ring.

Lionel Lebron said in a pair of YouTube videos that he met Trump while touring the White House on Thursday, later posting a photo of him and his wife posing together with the president.
"There are simply no words to explicate the profound and ineffable honor of meeting @realDonaldTrump in the tabernacle of liberty, the Oval Office," Lebron tweeted Friday. In another picture posted to Twitter, Lebron poses alone in the White House with QAnon-related hashtags.

Lebron runs a YouTube channel called "Lionel Nation," where he posts about the increasingly popular but completely baseless conspiracy theory known as QAnon. Last week, Lebron posted a video guide for those who "want to be a QAnon apostle." A week before that, Lebron posted another titled "The #Quintessential #Quiddity of #QAnon: How the #MSM Forged the Shibboleth As A Recruitment Tool."
Though the QAnon theory is convoluted and inconsistent, it essentially posits that Trump is going to save the world from a global cabal of powerful pedophiles. The conspiracy is based on supposed clues posted online by a person or group of people known as "Q," who believers theorize (without evidence) is a highly placed member of the government.
Though QAnon has germinated in fringy corners of the internet such as the 4chan and 8chan message boards, it has also prompted some believers to take real-world action. In June, an armed man who appeared to reference the theory was arrested after driving an armored vehicle onto a bridge over the Hoover Dam. In July, a man claiming to have found a "child sex camp" was arrested in Arizona. And a man arrested for starting wildfires in California earlier this month also frequently posted about the theory.
Lebron's videos and social media profiles frequently promote QAnon. In a video last month titled "QAnon for Dummies," he said that "Q is our Deep Throat." In July he said in a video that he was "still feeling the warmth and the glow and the excitement of knowing that Q is back."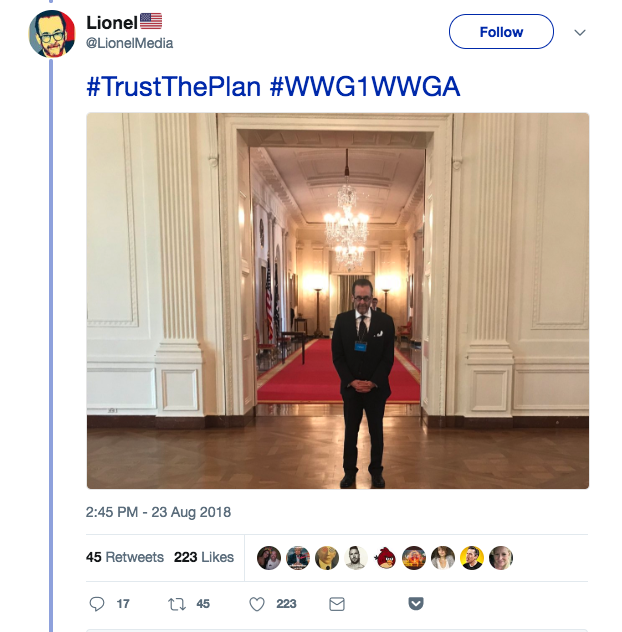 The White House did not respond Friday to questions about why Lebron was allowed in the Oval Office, how long his encounter lasted with Trump, or what was discussed. Lebron also did not immediately respond to a request for comment.
However, in a video describing his visit, Lebron said he was shown around the White House, including access to the Lincoln Bedroom. He also said that he was given a "swag bag" that included a mug with Trump's signature imprinted on the bottom as well as a personalized card from the president.
"I have it on good authority he did this just for me," Lebron said of the card. "Not for anybody else."
Lebron added in the video that he did not bring up QAnon while meeting with the president because, "I would never ever want to be known as somebody who would connect" Trump to the theory.
"I think we all know he knows about it," Lebron continued.
Trump, he suggested, was "stuck" in the White House, and as he was leaving the president said "bye," but really seemed to be implying "I can't leave, I'll never be able to leave again."
"It was as though he was saying, 'I wish I could go with you, I can't even go to the other floor,'" Lebron said.