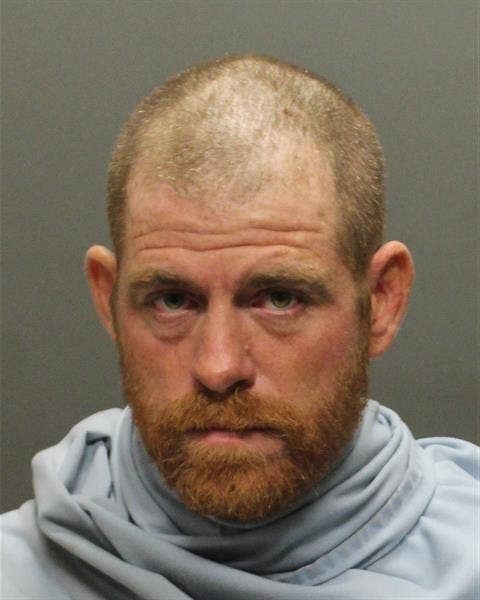 A man at the center of an unfounded conspiracy theory claiming a child sex trafficking camp was uncovered near Tucson, Arizona, has been arrested on suspicion of trespassing for the second time in two weeks.
Michael Lewis Arthur Meyer, the founder of the Veterans on Patrol group, has been pushing the unsubstantiated claim for more than two months through Facebook and YouTube videos, alleging a vast conspiracy and cover-up that encompassed the Clintons, Rothschilds, Arizona elected officials, drug cartels, a Mexican concrete company, and the son of a former president of Mexico.
Many of Meyer's videos include a request to supporters for financial donations and supplies.
Since late May, Meyer and his supporters have camped in the desert near Tucson, claiming to be setting up operations to stop not only the child sex trafficking ring but uncover a wide-ranging conspiracy surrounding it.
"This is a child sex trafficking camp that no one wants to talk about, that no one wants to do nothing about," he said.
Federal and local law enforcement officials have refuted the claim that Meyer and his group have uncovered any kind of trafficking ring and stated that a video widely circulated by the group of a site covered with trash and debris is actually an abandoned homeless encampment.
On Sunday, Tucson police said Meyer was arrested on property owned by Cemex, a concrete company, on suspicion of trespassing. Meyer also had a warrant out for his arrest after he failed to show up in court last week on an assault charge.
Meyer's videos on Facebook and YouTube have racked up hundreds of thousands of views and sparked others, including militias and anti-government groups, to offer support and volunteers.

At one point, Meyer occupied a Cemex tower for nine days, claiming he wouldn't come down until law enforcement agreed to look into his claims.
The 39-year-old also has a history of taking "stands" against law enforcement, including in 2014 when he took part of the Bundy standoff in Bunkerville, Nevada. There, rancher Cliven Bundy and supporters faced off with federal officials in a tense, armed standoff after officials began to seize his cattle, years after Bundy had refused to pay more than $1 million in grazing fees.
In Arizona, Meyer has since focused his efforts on housing for homeless veterans, but began to claim he had uncovered a pizzagate-style sex trafficking camp equipped with "rape trees."
"Meyer's various representations and claims were thoroughly investigated," the Tucson Police Department said in a statement. "No evidence of sex-trafficking was located as a result of the Tucson Police investigation."
Meyer has, however, maintained his claims of a sex camp, even after some initial supporters began to distance themselves from him and his allegations. Viewership of Meyer's videos has fallen significantly since his initial claims, and he has recently tried to involve local elected leaders and law enforcement.
Hours after his arrest Sunday, the group's Facebook page alleged that President Trump had been made aware of their child sex trafficking investigation, and that "the message was hand delivered and [the group was] assured that this Administration is 'on it.'"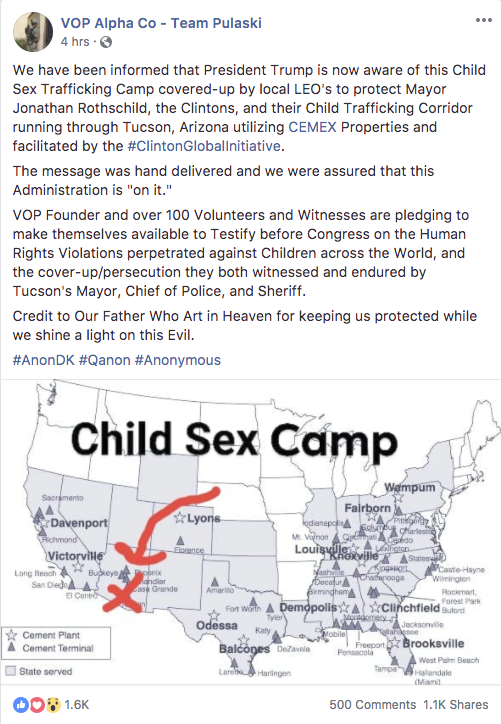 The White House did not immediately return a request for comment.
In a video posted late Sunday, Meyer said he was held in county jail for about four hours and alluded that his arrest was part of the ongoing cover-up effort.

"None of this is made up," Meyer said in the video.
In another video posted on the group's Facebook page, but that has since been removed, Meyer seemed to issue a threat to Tucson Police, telling officers to "choose your side."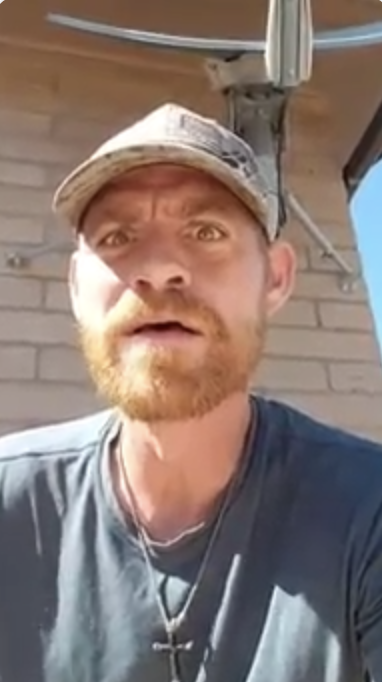 "[Tucson Police Department] you're either going to have to choose your criminal boss, Chief [Chris] Magnus," Meyer said in the video, "or you're going to have to stand up on truth and righteousness and tell the public what's really going on."
Meyer alluded at a possible standoff with authorities, saying that if police tried to shut down the group's campsite, "hundreds of us will be there."

"We're not surrounding it with guns, we're surrounding it with unarmed patriots praying peacefully and our God is going to hold you off," he said. "So Tucson Police Department, choose your side. You're running out of time."
Tucson police said they have continued to receive complaints about Meyer and his group, including residents and a homeowner's association who say supporters have "threatened and intimidated them."
"Through social media, Meyer has made multiple threatening and hostile remarks directed toward various elected and appointed officials," police said.
In another video, Meyer appears undeterred by the arrest and says he will continue to pressure local officials to investigate his unfounded claims.
"Some good things are going to happen, because we're going to water some seeds and fire our city up," Meyer says in the video. "They know the truth now."