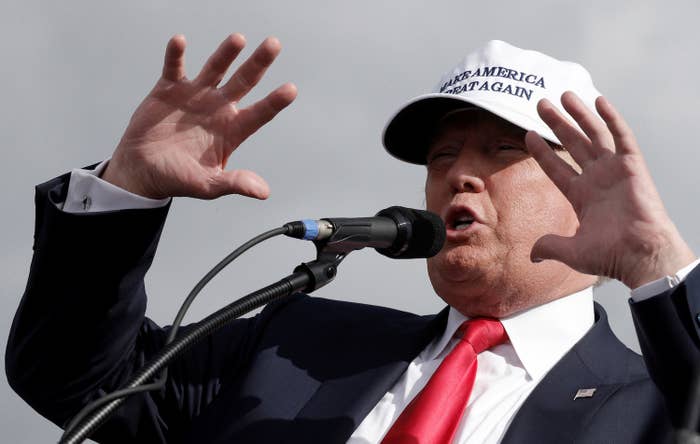 In 1992, a 46-year-old Donald Trump looked at a group of 10-year-old girls and quipped, "I'm going to be dating her in 10 years."

The comment, which was unearthed and published Wednesday by CBS News, was part of an Entertainment Tonight Christmas feature. The video shows a group of young girls riding an escalator at Trump Tower as the now–presidential candidate makes his claim about dating one of them in the future.
It was a line he used at least twice when talking to young girls. On Thursday, the Los Angeles Times republished a Tribune wire report, also from December 1992. As a children's choir sang outside the Plaza Hotel, Trump asked two of the girls how old they were, the report said. They said 14, and he replied, "Just think — in a couple of years, I'll be dating you."

The Tribune news brief was headlined, "Such a comedian."
Trump is currently facing a firestorm of criticism that was sparked by remarks he made in 2005 while talking to TV host Billy Bush. Those comments, recorded by a hot mic as Trump prepared to make a cameo on a soap opera, surfaced Friday and revealed that Trump tried to have sex with a married woman and claimed he could grab women "by the pussy."
The 2005 conversation prompted a wave of defections and unendorsements from prominent Republicans.
The presidential nominee has attempted to stanch the outflow of support, despite a string of similarly withering reports this week; in addition to the CBS video, the New York Times published accounts on Wednesday from two women who said Trump made inappropriate sexual advances toward them.
The Trump campaign slammed the report in a statement, saying the "entire article is fiction, and for the New York Times to launch a completely false, coordinated character assassination against Mr. Trump on a topic like this is dangerous."