Salt Lake City Has Officially Elected Its First Openly Gay Mayor
Jackie Biskupski said she was "deeply humbled" after taking the lead over incumbent Ralph Becker on election night, and her victory became official on Tuesday.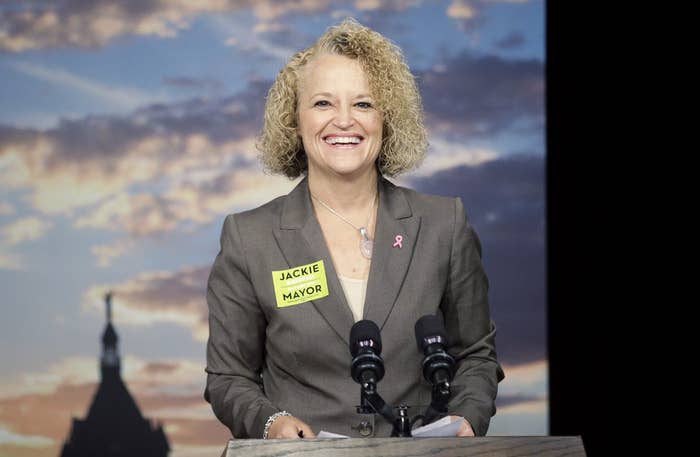 Salt Lake City — the capital of one of America's reddest states and the headquarters of the Mormon church — has officially elected its first openly gay mayor, officials announced Tuesday.
Following the Nov. 3 election, Jackie Biskupski took 52.19% of the vote to incumbent Ralph Becker's 47.81%. In a statement to BuzzFeed News, Biskupski said she was "deeply humbled by the outpouring of support I have received."
The Salt Lake Tribune declared Biskupski the victor, though as of election night only about 46% of the votes had been counted and Becker did not concede. On Tuesday, the Salt Lake City Recorder's Office announced the official results: Biskupski had taken 51.55% of the vote to Becker's 48.45%.
When initial results came in showing Biskupski had taken the lead, the crowd at her campaign headquarters erupted into cheers, according to journalists at the scene.
Biskupski joined a relatively small group of openly gay U.S. mayors that includes Annise Parker of Houston and Ed Murray of Seattle.
Though it may surprise outsiders unfamiliar with Salt Lake City's unique political environment, both candidates were Democrats with strong LGBT credentials.
Biskupski first ran for, and won, a seat in Utah's House of Representatives in 1998. Her victory made her the first openly gay elected official in the state.
On her website, Biskupski touts a record of "standing up for LGBT families on issues like adoption" and "the fight for anti-gay bullying legislation to protect students in Utah schools."
But Becker is a well-known friend of Utah's LGBT community as well. When same-sex marriage became legal in Utah just days before Christmas in 2013, Becker showed up at the county clerk's office and performed marriages himself. Perhaps most significantly for this election, Becker won important endorsements from LGBT advocates in the state.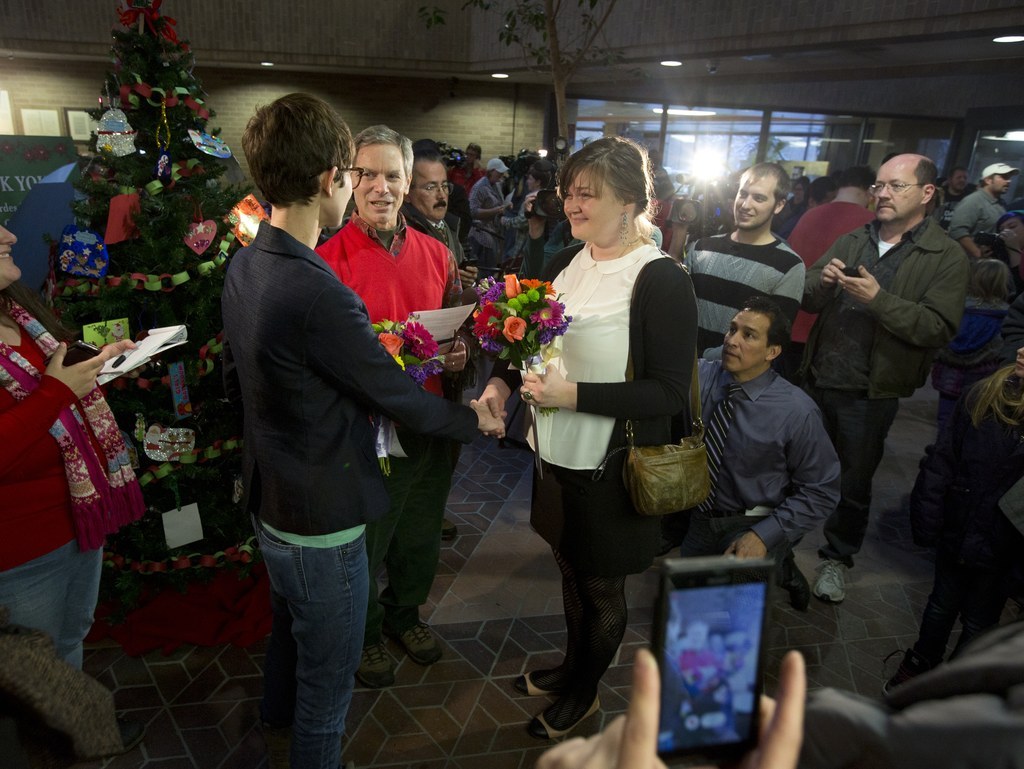 While Utah is very red, Salt Lake City tends to be a reliable outpost of blue. Before Becker, Salt Lake City was led by Rocky Anderson — another LGBT-friendly Democrat who pushed environmental issues, opposed the Iraq war, and in 2011 launched a new political party. The last time the city elected a Republican mayor was in 1971.
Salt Lake City is home to the headquarters of The Church of Jesus Christ of Latter-day Saints, or Mormon Church, which is culturally conservative and has supported anti-same-sex marriage laws, including and most famously Proposition 8 in California.
But the city is also home to a thriving LGBT community, and while those two cultures are sometimes at odds, they also, sometimes, are not. Case in point: Both sides came together earlier this year to pass a non-discrimination bill.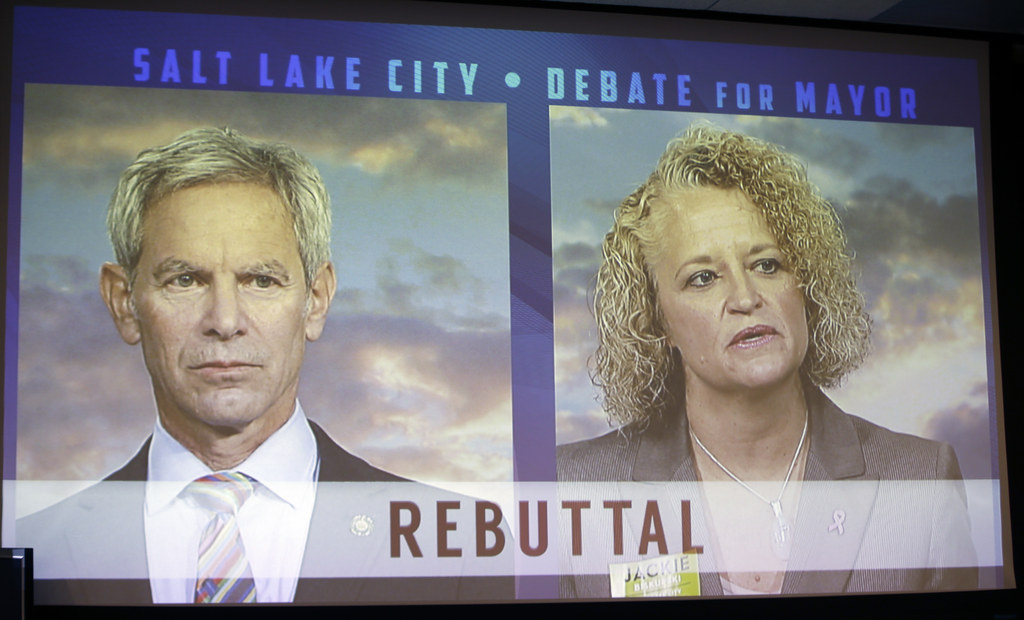 During the campaign, Biskupski won endorsements from organized labor and unveiled a plan she said would streamline the bureaucratic process for businesses.
Becker — who finished second to Biskupski in the primary — countered that he would be better able to manage the city's thriving economy. He also cast himself as a moderate and courted Republicans.
Derek Kitchen — who helped overturn Utah's law prohibiting same sex marriage — also won an election Tuesday and picked up a city council seat.
A small business owner who was seeking elected office for the first time, Kitchen was running to represent Salt Lake City's District 4.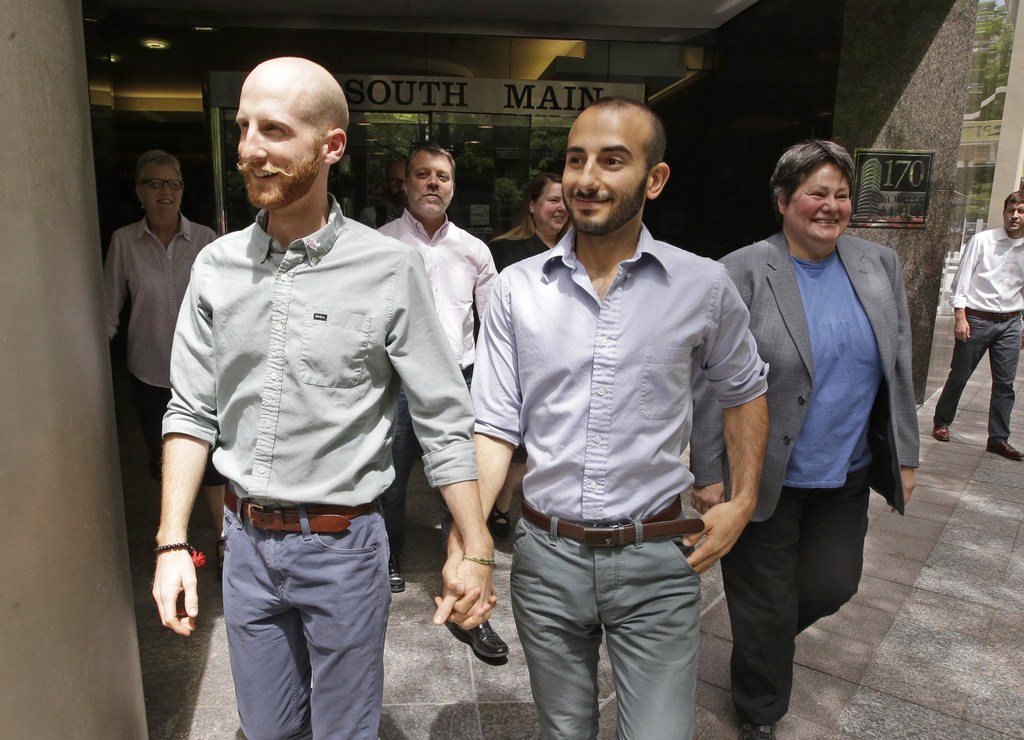 Before the election, Kitchen was best known for his participation in the lawsuit that eventually overturned the ban on same sex marriage. Kitchen, his (now) husband, and two lesbian couples sued over Utah's Amendment 3, which defined marriage as being only between a man and a woman.
In response to the suit, a judge overturned the amendment in December 2013.
In May, Kitchen said that he felt "energized" after the lawsuit and decided to channel his sense of momentum into running for city council, Salt Lake City Weekly reported.
"I felt empowered to put my voice and my energy behind something that I cared about, and I thought that the city council would be a great way to continue that," Kitchen said.
Kitchen was running in a non-partisan election against Nate Salazar, who conceded Tuesday night.