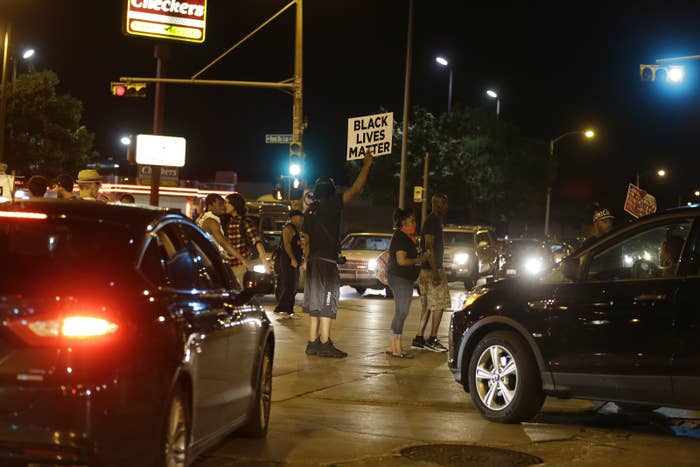 MILWAUKEE — The police killing of a black man Saturday in Milwaukee ignited a weekend of violent protests, some of which became so heated that by the following day news organizations covering the unrest were forced to heighten security and pull out their journalists.
The nights of violent demonstrations followed the fatal police shooting of 23-year-old Sylville Smith in Sherman Park, one of the city's deeply segregated northern neighborhoods. In the hours after his death, protesters burned several buildings and injured officers, prompting Wisconsin Gov. Scott Walker to activate the National Guard.
Protests were less destructive Sunday night, but the situation remained among the most tense and dangerous veteran protest reporters had experienced. What caused the protests to become so dangerous — eclipsing high-profile demonstrations in Ferguson, Missouri, two years ago after the death of Michael Brown — remains unclear, but those who spoke with BuzzFeed News pointed to a lack of progress in police relations and dissatisfaction with media coverage.
On Sunday evening, as several large crowds gathered for vigils, the environment turned from peaceful to hostile. "Fuck off," some people shouted at BuzzFeed News. "What the fuck's that white guy doing here?" another said.
Protesters also threatened a number of journalists, particularly white reporters. Near a police line, angry men promised to "beat your white ass" and warned to "get the fuck out of here." A small rock was thrown at a BuzzFeed News reporter. A rapid succession of gunshots rang out from around the corner.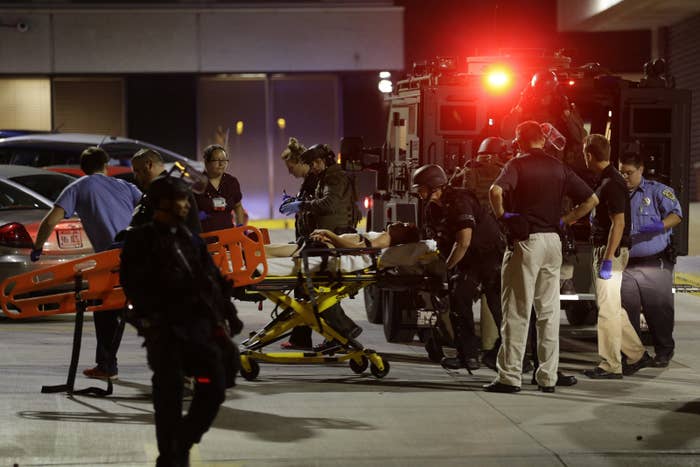 Later in the evening, a group of men in a large SUV followed a BuzzFeed News correspondent to a hotel north of downtown Milwaukee. At a red light, three men jumped out of their Chevrolet Suburban and began rushing toward the car. After a brief car chase through a neighborhood he arrived safely back at his hotel where an armed guard was stationed and the SUV drove off.

A number of reporters shared similar experiences.
A.J. Bayatpour, a reporter for Milwaukee Fox affiliate WITI, tweeted that he was threatened as gunshots were fired just 15 feet away. George Stanley of the Milwaukee Journal Sentinel told BuzzFeed News his paper was sending reporters out in groups and "instructing them to put safety first."
"We've never been attacked like this before, at least not in memory," Stanley said.

Journalist Tim Pool — well-known for his livestreaming coverage of protests — announced on YouTube that he was leaving Milwaukee due to safety concerns and racial tensions. In an interview Monday, Pool said that from the moment he arrived in the city he saw anger and violence directed at anyone who appeared white from some black residents.
"It's just at the point if you don't look like you're part of that community, you're in serious danger," he told BuzzFeed News.
Pool said he witnessed a reporter being physically grabbed and threatened by a person he described as a member of a Black Panther party. In another incident, he said a woman smacked a reporter on the head and urged others to "fuck him up."
But after witnessing a white 18-year-old sustain injuries after being shot in the neck during a protest, Pool said he decided it was time to leave Milwaukee.
"For those who are perceivably white, it is just not safe to be here," Pool, who is half-Korean, said.
Pool also compared the protests to what he saw in Ferguson, where he said people were happy to speak with reporters — and those who weren't chose not to interact with jouralists.

"In Ferguson, people were angry with the police, and they were mad with what the police were doing as an institution," Pool said. "Here in Milwaukee, it was just if you are a different race, we're mad at you."
Though few protesters were willing to speak with BuzzFeed News, racial tensions in Milwaukee run deep. The city's population is 40% black but most of its black residents live in northern neighborhoods that are miles from downtown or the trendy Historic Third Ward. The New York Times reported that black men in Milwaukee have some of the highest incarceration and unemployment rates in the country.
The city's deep segregation and related social problems previously exploded in 2014, when a police officer fatally shot Dontre Hamilton, a 31-year-old black man with a history of mental illness, whose death sparked outrage and protests. That anger has not subsided in the last two years.
"They're taking our lives whether we fight back or not," Ebony Baker told BuzzFeed News. "So we might as well fight back."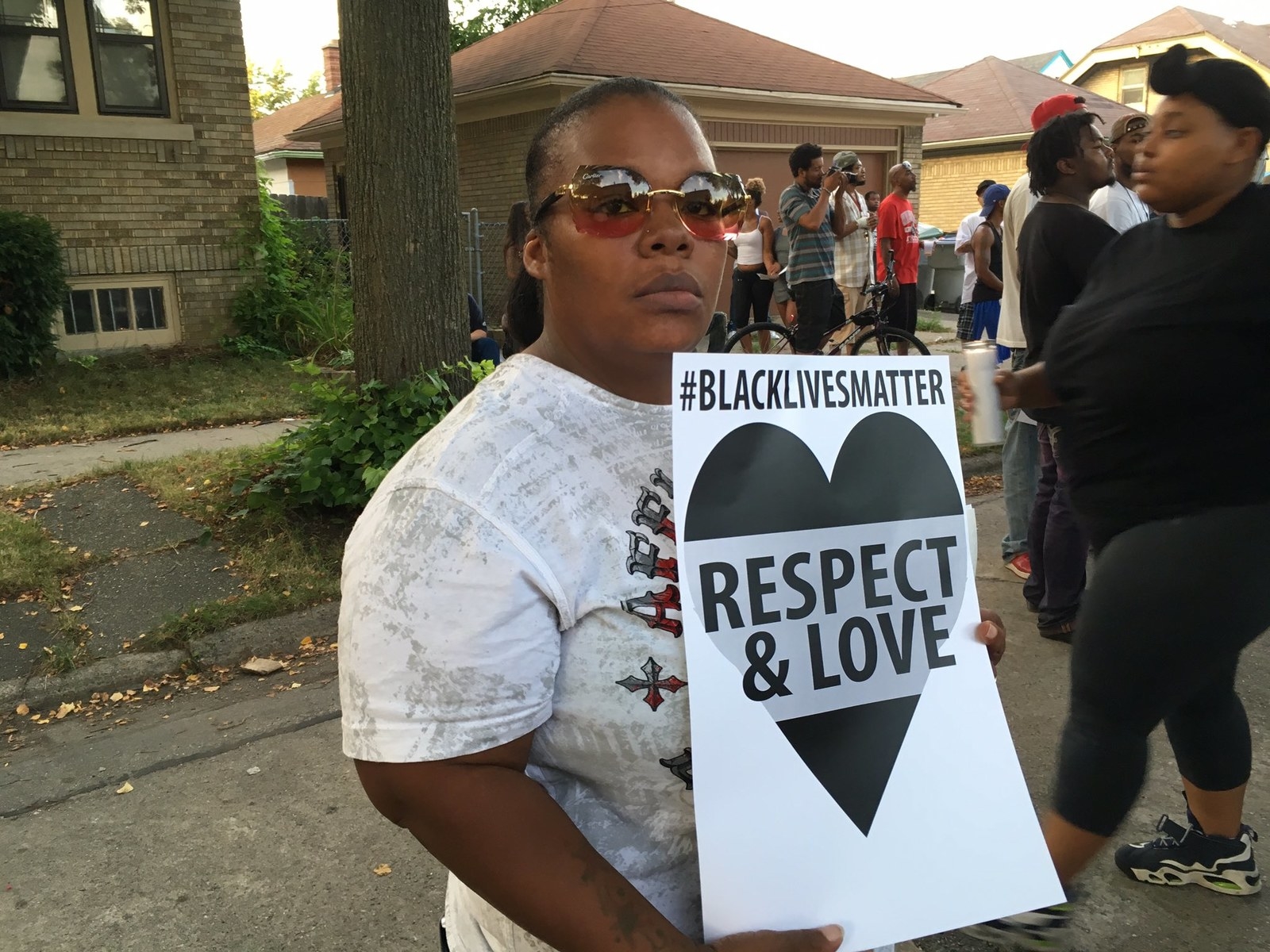 Others said that ongoing problems with policing were fueling both tensions and protests.

"With the police, it's like a race thing," Linda Williams said. "They pull over black people more often than any other people."
While complaints against police departments from predominately black communities have emerged across the country, the level of destruction seen in the protests after Smith's death is rare. And widespread threats against outside journalists, even white journalists, are exceedingly uncommon.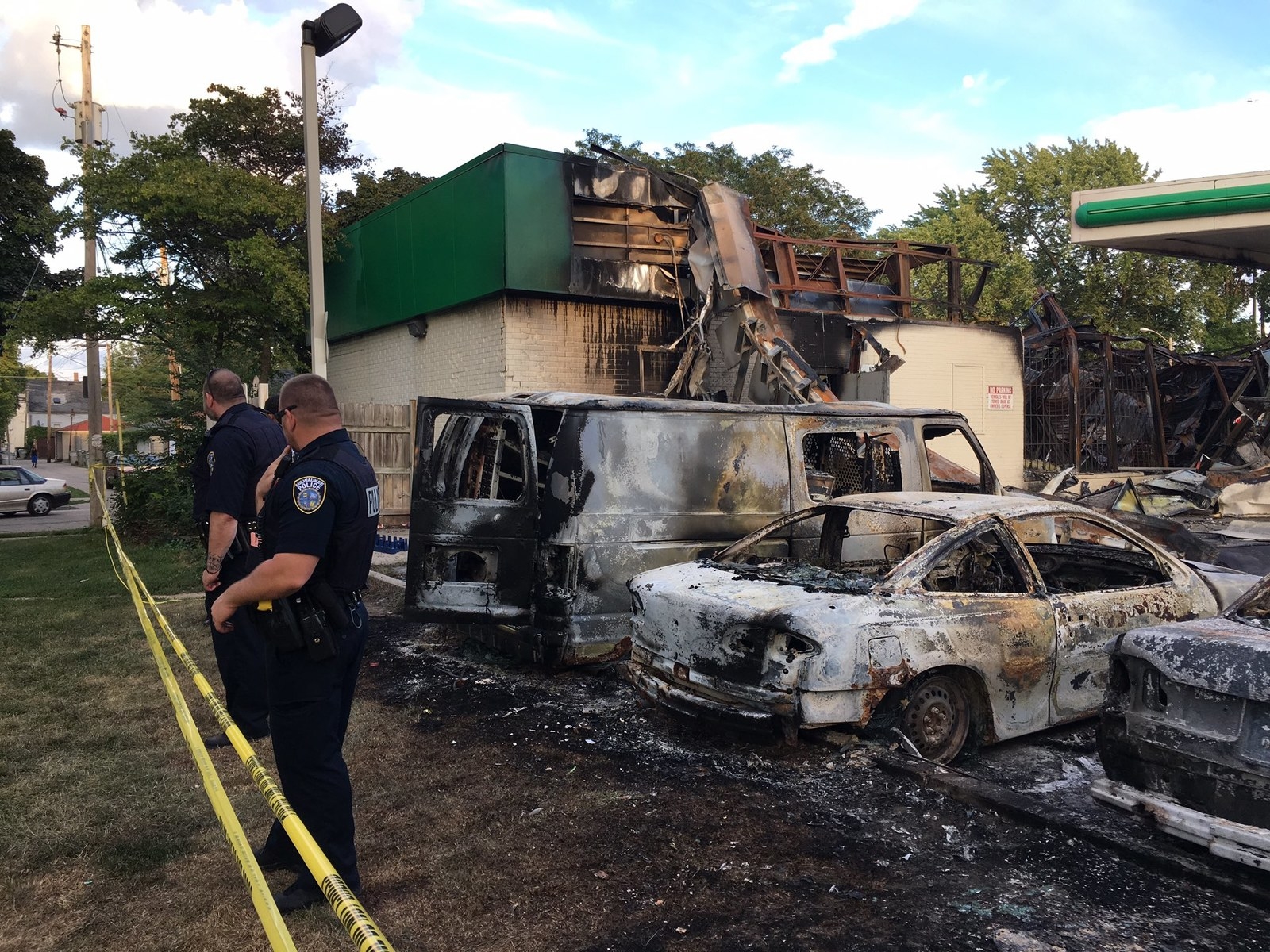 Dontre Hamilton's mother, Maria Hamilton, suggested the media's behavior during previous news events might have contributed to the problem. She recounted on Monday a vigil after her son's death, which took place just four miles from Smith's. At the time, she said, reporters became pushy and intrusive during a sensitive moment.

"When it's personal like this," she told BuzzFeed News, "we don't need no cameras."
Though the media presence in Milwaukee was not huge, some reporters could be seen crowding a vigil — a practice that appeared to irk some in attendance.
Maria Hamilton also suggested another reason for the violent protests: Nothing has changed in the city.
"The mayors, the chief, if they had did something when Dontre had killed, we wouldn't be here today," she said. "They're pulling people over for no reason other than being black."
CORRECTION
George Stanley works at the Milwaukee Journal Sentinel. An earlier version of this article called it the Wisconsin Journal Sentinel.