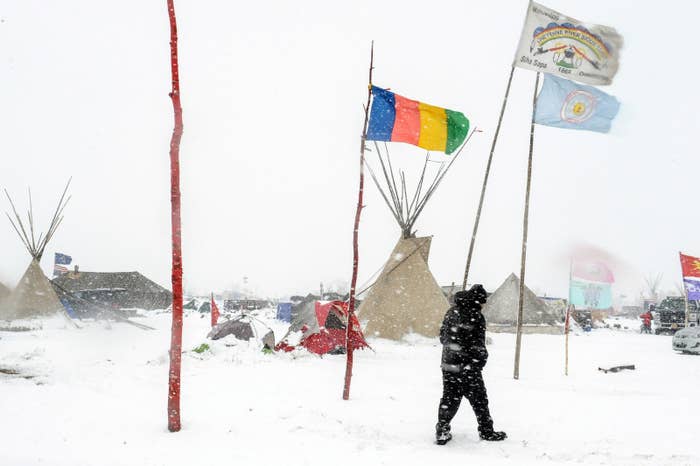 Despite an executive order from the governor of North Dakota that protesters evacuate the area near the controversial Dakota Access Pipeline, an official said Tuesday they would not block supplies from reaching the camp.

Gov. Jack Dalrymple signed the order Monday, citing "severe weather storm conditions" that could "endanger human life." It applies to areas in Morton County near Cantapeta Creek and the Cannonball River, which includes the site where protesters have set up camp.

On Tuesday, a spokesperson for the Morton County Sheriff's Department told Reuters that items such as food and building materials would not be able to enter the camp area.

Reuters reported that, as of Tuesday morning, no cars that had been carrying such supplies had been made to turn back.
But a spokesperson for the governor later told the news agency that no such blockade was planned.
"There is not going to be any blockade of supplies," spokesman Jeff Zent told Reuters.
Dalrymple's order states that anyone choosing to stay in the area "does so at their own risk, and assumes any and all corresponding liabilities for their unlawful presence and occupation of evacuation area."
The order does not mention efforts to force the protesters out. However, it does state that encouraging people to enter or remain in the area "will be subject to penalties as defined by law." It also orders state agencies to not guarantee services in the area.
A spokesperson for Dalrymple told the West Fargo Pioneer that there are no plans to forcibly remove people from the area. Representatives for Dalrymple did not immediately respond BuzzFeed News' request for more information.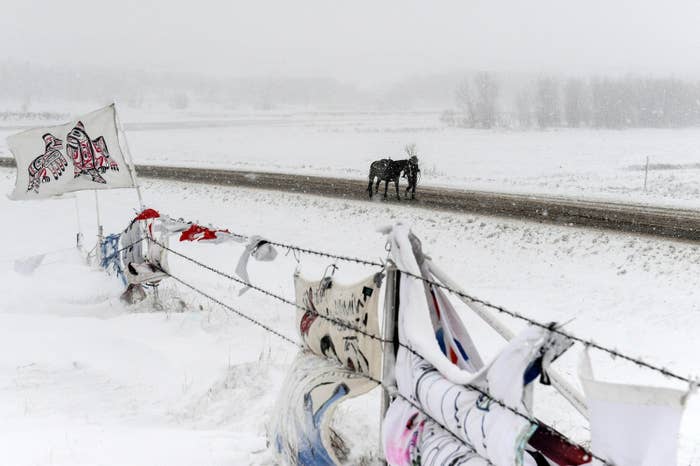 On Monday, the National Weather Service issued a winter storm warning for the region where the protests were taking place. Some areas could see as much as 18 inches of snow. The Standing Rock Sioux tribe announced on Facebook that work at the protest sites would be suspended Monday and Tuesday due to the weather.

Dalrymple's order comes just days after the Army Corps of Engineers said it planned to close areas where protesters had gathered. The Corps has also said it does not plan to forcibly remove protesters, the Argus Leader reported.
The $3.8 billion, 1,172-mile Dakota Access Pipeline is almost finished. However, protesters, many of them Native Americans, have been gathered for months to oppose the project, saying that the proposed shale oil pipe threatens both sacred sites and water supplies in the region.