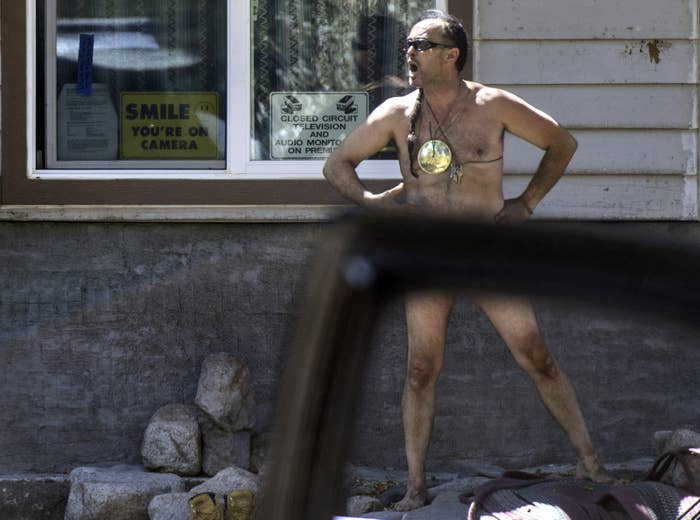 A man arrested this week for allegedly setting a massive Southern California wildfire has a history of making threats and sharing bogus anti-government conspiracy theories online, including the baseless idea that the world is run by a secret cabal of pedophiles.

Forrest Clark, 51, was arrested Tuesday after investigators concluded he had intentionally set the Holy fire, which as of Friday had burned more than 18,000 acres in Orange and Riverside counties. The blaze has also destroyed at least a dozen buildings and was only 5% contained as of Friday afternoon.
Clark is currently facing three counts of arson, one count of making criminal threats, and two counts of resisting police.
Prosecutors have not said what Clark's motive may have been, but a Facebook page appearing to belong to him suggests he was obsessed with fringe anti-government conspiracy theories. In one instance, on July 17, he shared a YouTube video — which has since been taken down — with the caption, "protect our children execute the pedos!"
The post was just the latest of Clark's comments about pedophilia. Earlier in July, he wrote, "hang the pedophile Pope!" And in April he shared a now-deleted YouTube video alleging to reveal indictments of Joe Biden, and wrote, "Save our children Save our Country Hang them all."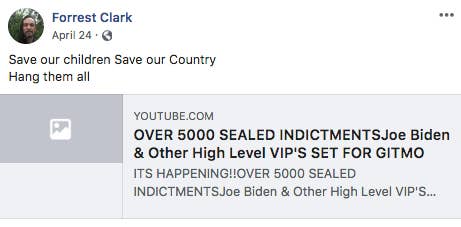 The posts appear to reference a widespread, right-wing conspiracy theory known as QAnon. Subscribers to the theory believe that President Trump is poised to stop a secret group of powerful people who operate child sex rings.
The "Q" in QAnon stands for a person or group of people who post vague messages online that believers interpret as evidence supporting the theory. Fans also believe, without proof, that Q is a high-placed government official.
Though the theory has thrived on internet message boards such as 4chan and 8chan, it has also prompted some believers to take real-world action. In June, an armed man who appeared to reference the theory was arrested after driving an armored vehicle onto a bridge over the Hoover Dam. And in July, a man claiming to have found a "child sex camp" was arrested in Arizona.
Brian Levin, who studies hate and extremism at California State University San Bernardino, told BuzzFeed News Friday that there "appears to be a link with respect to the location of the wildfires and the use of weapons."

"He's borrowing a certain type of MO from what he sees online," Levin said.
Levin pointed to comments Clark made online about Agenda 21, a UN action plan from 1992 that conspiracy theorists believe is really a pretense for powerful globalists to seize control of land. Clark appeared to draw a connection between Agenda 21 and starting fires.
"The thing I thought was so interesting was he talked about these fire weapons," Levin said. "And he accused the government of using technology, including lasers, to cause arson to advance their Agenda 21."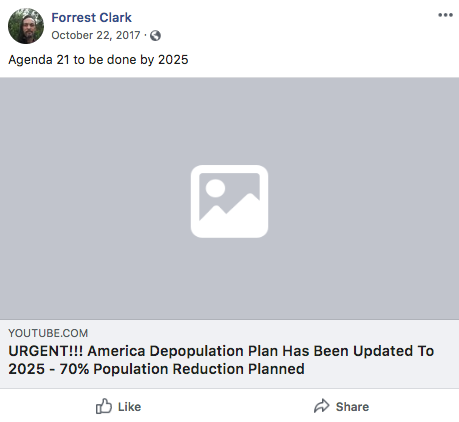 Mixed in with QAnon and Agenda 21 theories, Clark also shared a photo of Nabisco Ginger Snaps and wondered on Facebook why the company's logo "has a zeppelin with an antenna/ transmitter as a symbol?" That same day, he speculated that the creases on the top of the cookies could be "Hebrew writing."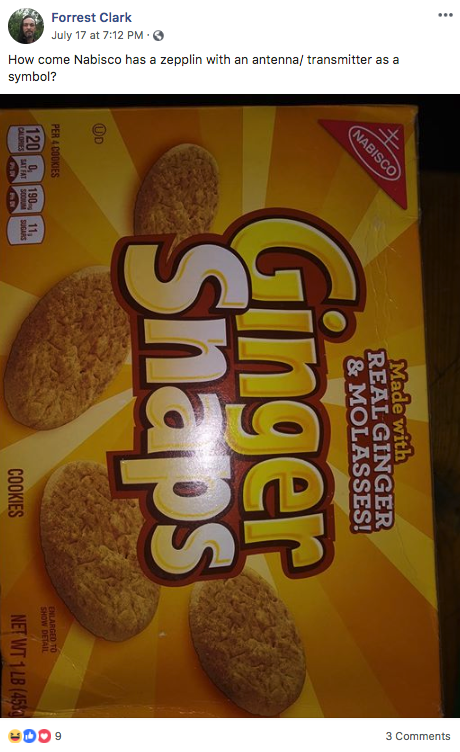 Last November, Clark also posted online about 9/11, saying "THERE WERE NO PLANES!" In October, he described the Las Vegas shooting as an "FBI FALSE FLAG" that included "7 shooters." And that same month, he said the moon landing had been faked. All those claims have been thoroughly debunked.

In the real world, Clark is accused of making threats against multiple people in recent days. Holy fire volunteer Chief Mike Milligan told the Orange County Register that he had received menacing emails from Clark last week, including one allegedly promising "this place will burn."
Court documents also allege that on Aug. 6, Clark threatened to "commit a crime [that] would result in death and great bodily injury" to a man.
Milligan also told the Register that Clark had a long-running feud with other people in the area.
When police came to speak with Clark at one point Tuesday, he also reportedly took off his camouflage underwear, leaving him clad only in a large golden medallion hanging around his neck.
The Register reported that he also claimed to be capable of reading minds.
During his first appearance in court Friday, Clark also reportedly made a series of strange comments. When told of his charges, Clark yelled out "it's a lie" from behind a courtroom partition, the Desert Sun reported.
Attorneys on both sides then agreed to postpone the hearing, but when Clark was asked if he understood what was happening, he reportedly responded, "I comprehend. I do not understand. Though, I will say 'yay' [sic] at this time."
He later said that he could post his $1 million bail "immediately" and claimed that he could "have a million right now, easily," according to the Desert Sun.
Levin said that some people are driven to extremism by religious or political philosophies, while others suffer from "cognitive impairment or some other type of impairment." Some people also embrace conspiracy theories as a way of coping with "emotional or psychological distress," Levin said, adding that it's possible Clark "found an ideology that touched a cord with his particular perceived grievance."
Clark also posted extensively on Facebook about suffering from cancer.
For the time being, Clark remains behind bars and crews continue battling the Holy fire, which is one of more than a dozen major wildland blazes currently burning in California.
Levin said that It will take time to fully understand what role extremism played in the Holy fire, but added that the case may illustrate the ways in which a "fragmented society" connects people's grievances with extremism.
"That means we're going to increasingly see on our radar screen these people who are violent for their own idiosyncratic mix of reasons," Levin said.