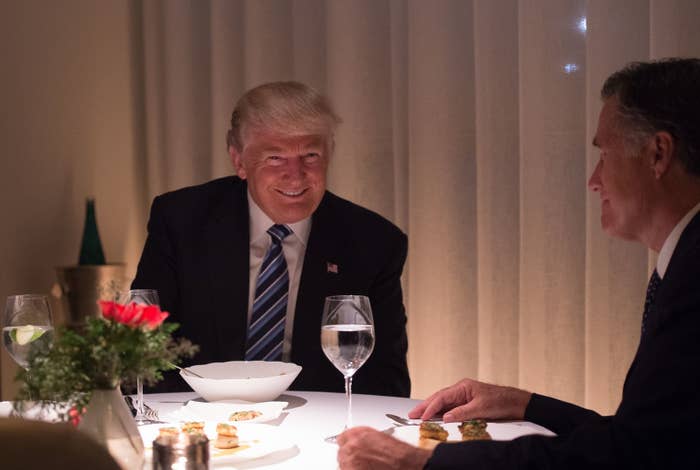 Donald Trump said in a series of tweets Wednesday morning that he will be removing himself from "business operations" of the Trump Organization in order to focus on the presidency.
While the president-elect said that he would no longer be involved in the business operations, he did not say anything about exiting ownership of the companies, meaning he could still maintain a financial interest.
This personal financial interest in his businesses "will sometimes conflict with the public interest and constantly raise questions," Norman Elsen, President Barack Obama's chief ethics lawyer, and Richard Painter, George W. Bush's ethics lawyer, said in a joint statement Wednesday.
He announced that he would discuss the matter in a news conference alongside his children on Dec. 15.
Although he said it was not mandated by law that he leave the company, he thinks it is "visually important" to not have any conflicts of interest with his businesses.
Last week in an interview with the New York Times, however, he said that the "president can't have a conflict of interest."
"In theory, I could run my business perfectly and then run the country perfectly," he said.
However, as reflected in his tweets Wednesday, Trump said that the presidency is a "far more important task" and he wants to "fully focus" on "making America great again."
Trump's announcement comes amid news of his various meetings with international business tycoons and continued questions about the role his children would play in his fiscal endeavors since he was elected.
Ivanka Trump — who, along with some of her siblings, is expected to run her father's business — had joined the president-elect in a meeting with Japanese Prime Minister Shinzo Abe on Nov. 17.
A photo showing Ivanka and her husband Jared Kushner in the room was the first solid indication of her potential participation in her father's business plans.
Two days later, the president-elect met with three Indian business leaders who have begun to build a Trump-branded apartment near Mumbai. Trump's children reportedly attended that meeting as well.
Although the Trump administration insisted that the meeting was an informal one intended to allow the businessmen to congratulate Trump on his presidential win, the meeting at Trump Tower in New York City refueled concerns about Trump's fiscal and political conflicts of interest.
That same week, Trump invited approximately 100 foreign diplomats to the $212 million Trump International Hotel in Washington, DC, to discuss, among other matters, possibly renting out space there in the future. One Middle Eastern diplomat told the Washington Post that while many of them had avoided the space during the campaign for fear of a Clinton backlash, "all the delegations will go there" now.
Other officials expressed concern that staying at the hotel could lead to suspicions of Trump attempting to "buy" them.
Nevertheless, several congressional Republicans have said that they believe Trump and his administration will rightly sort out his business interests once he is sworn in. They have also urged Democrats — who have already called upon the Committee on Oversight and Government Reform to investigate these potential conflicts of interest — to give the president-elect time.