Trump Blasts The Media, And Reinforces Nationalism At CPAC Conference
The president spent considerable time during his speech attacking the "fake media" and laying out the nation's core convictions.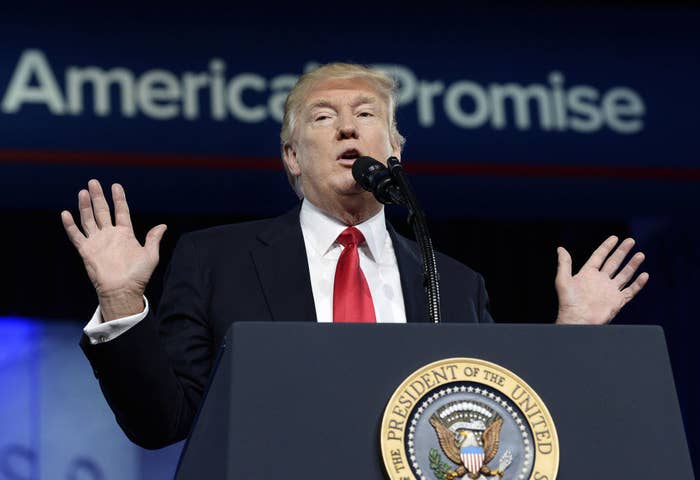 President Donald Trump on Friday spoke at the Conservative Political Action Conference (CPAC) and spent considerable time attacking the media, underscoring nationalistic values, and providing few specifics about his policies on trade, the wall, and ISIS.
Here are some of the things he discussed.
The "Fake News" Media
Trump opened his 50-minute speech by slamming the "dishonest media," accusing outlets of fabricating sources.
"A few days ago, I called the fake news the enemy of the people and they are. They are the enemy of the people," he said.
"They have no sources. They just make them up when there are none."
Trump said he read a story that cited nine unnamed sources and claimed "there are no nine people. I don't believe there were one or two people."
He then pressured the media to expose the people who appeared in stories anonymously.

"I'm against the people that make up stories and make up sources. They shouldn't be allowed to use sources unless they use somebody's name. Let their name be put out there. Let their name be put out," he said.
"A source says that Donald Trump is a horrible, horrible human being. Let them say it to my face," he added.
Watch his full comments here.
The Wall
Trump said that previous administrations, in addition to trading away domestic jobs to foreign countries, "defended other nations' borders while leaving ours wide open. Anybody can come in."
He underscored his promise to build a wall along the US–Mexico border in order to bring an end to illegal immigration, and promised that it would "start soon, way ahead of schedule."
After commending the secretary of homeland security, Gen. John Kelly, Trump vowed to get "the bad ones" out of the country.
"If you watch these people, it is like, geez, so bad, we are getting bad people out of this country, people that shouldn't be, whether drugs or murder or other things, getting bad ones out, they go first and I said it from day one," he said.
Watch his full remarks here.
The Affordable Care Act
Saying he "inherited a mess," Trump repeated his attack on the Affordable Care Act, calling it a "failed health care law that threatens our medical system with absolute and total catastrophe."
He told the crowd that many of the people pushing back against his plans to repeal the ACA "are not you," and rather that they are "the side that lost. They lost the election."
Trump promised to make health care less expensive and accessible to more people, citing those who were forced to give up their health care under the ACA.
Watch his full comments here.
Chicago Crime
Trump briefly mentioned violence in Chicago as he expounded on his dedication to curbing crime that stems from the foreign drug trade.
"By stopping the flow of illegal immigration, we will save countless tax dollars, and that's so important because the tax, the dollars that we're losing are beyond anything that you can imagine."
He said that the "tax dollars" can be used to "rebuild struggling American communities, including our inner cities."
Then he cited recent shootings in Chicago that left several people dead earlier this week.
"I mean, can you believe what is happening in Chicago, as an example?" he asked. "Two days ago, seven people were shot. And I believe killed."
Keystone and the Dakota Access Pipeline
Trump said that in addition to authorizing construction of the Dakota Access Pipeline, he also issued a new regulation mandating that the pipes will be built using American steel.
"I said, 'Who makes the pipes for the pipeline?' 'Well, sir, it comes from all over the world. Isn't that wonderful?'" he began, mimicking the conversation.
"I said, 'Nope, it comes from the United States or we are not building it,'" he recalled telling the other person in the meeting.
Watch his full remarks here.

National Security and Terrorism
Trump vowed to substantially upgrade the military, "offensive, defensive, everything, bigger and better and stronger than ever before," adding that hopefully the country would never have to use it.
"Nobody is going to mess with us, folks. Nobody," he said.
After admitting that he "took a lot of heat" about Sweden, he doubled down mentioning terrorist attacks in France and Germany and said, "We can't let it happen to us."
"Let me state this as clearly as we can," he said, "We are going to keep radical islamic terrorists the hell out of our country."
Watch the full statement here.