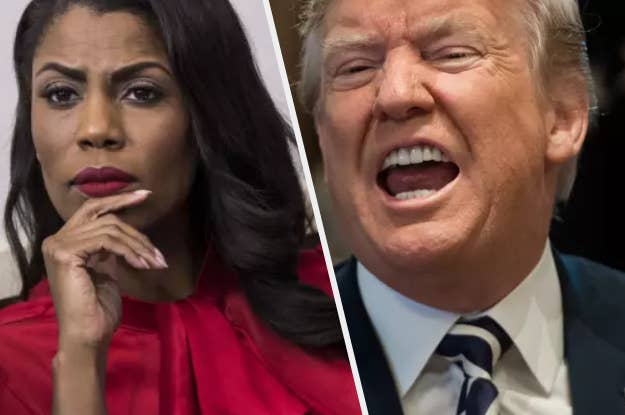 President Donald Trump was surprised that Omarosa Manigault Newman had been fired from her position as a senior White House aide, saying that "nobody even told me about it" and that he learned of the development from watching the news, according to a phone call she recorded.
The recording, first published by NBC News and aired on Today, was allegedly made the day after White House Chief of Staff John Kelly had fired her.
"Omarosa, what's going on? I just saw on the news that you're thinking about leaving? What happened?" Trump says in the recording.
Omarosa explains to Trump that Kelly "said that you guys wanted me to leave."
The president then says that "nobody even told me about it" and expresses frustration, saying "Goddamnit" and "I don't love you leaving at all."
NBC News pointed out that it is not clear what else was said during the phone conversation.
The president responded on Twitter Monday calling Manigault Newman "Wacky Omarosa" and said she "begged" him for a job with "tears in her eyes."
He also claimed she was "vicious" and "not smart," while also saying she often missed meetings and work.
Trump went on to say, "While I know it's 'not presidential' to take on a lowlife like Omarosa, and while I would rather not be doing so, this is a modern day form of communication and I know the Fake News Media will be working overtime to make even Wacky Omarosa look legitimate as possible. Sorry!"

He later said that she "has a fully signed Non-Disclosure Agreement."
In her book, Manigault Newman claims that Lara Trump, the president's daughter-in-law and campaign adviser, offered her a contract valued at $15,000 per month in exchange for her silence after being fired from the White House. She has said that she did not accept the deal.
Manigault Newman responded to Trump's tweets Monday on MSNBC's Velshi & Ruhle, saying, "I think it's sad with all the things going on in the country that he would take time out to insult me and to insult my intelligence."
She went on to reiterate the fact that she has other recordings but said she's not sure when or if she'll be releasing them, saying that she's expecting Trump and his team to retaliate.
"They've been threatening legal action. They're trying to figure out how to stop me," Manigault Newman said, adding that she'd be waiting to see how it shakes out.
BuzzFeed News has reached out to Manigault Newman for comment.
Monday's recording is the latest revelation from the former Apprentice star as she publicizes her new memoir, Unhinged. The White House has fired back, calling Manigault Newman unreliable and a liar. Trump this weekend called her a "lowlife."

On Sunday, Manigault Newman revealed a secretly recorded conversation with Kelly in the White House's Situation Room. In that recording, released Sunday on NBC's Meet the Press, Kelly can be heard saying he wants to make it a "friendly departure" that won't cause any "difficulty in the future relative to [her] reputation."
Manigault Newman said Sunday on Meet the Press that she perceived Kelly's statements as "an obvious threat" and said that she made the recording to protect herself.
She also reportedly claims in the memoir that Trump is a "racist" who repeatedly used the n-word multiple times during the making of his show.

On Meet the Press, Manigault Newman said that since the publication of her book, she has heard the recording in which the president allegedly uses the racial slur.
"I heard his voice as clear as you and I are sitting here," she said.