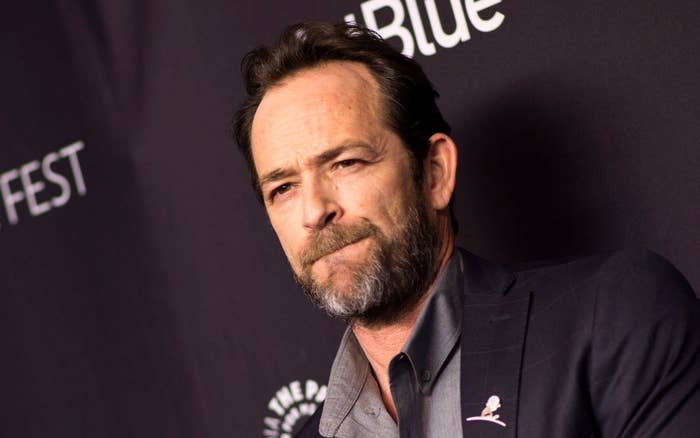 Luke Perry, who found heartthrob fame in the 1990s as the brooding Dylan McKay on Beverly Hills, 90210, has died after suffering a massive stroke. He was 52.
"The family appreciates the outpouring of support and prayers that have been extended to Luke from around the world, and respectfully request privacy in this time of great mourning. No further details will be released at this time," his publicist said in a statement.
His death came just days after he was hospitalized for a stroke at his Sherman Oaks home, prompting an outpouring of support from his former '90s teen drama costars on social media.
After the news broke of Perry's stroke, Ian Ziering, who with others has signed on for a revival of the show on Fox, said on Instagram that "no words can express what my heart feels hearing today's shocking news." And Shannen Doherty, who played Perry's girlfriend on the show, said she was "holding you tight and giving you my strength. You got this."
On Monday, Ziering paid tribute to his former costar on Twitter.
"I will forever bask in the loving memories we've shared over the last thirty years," he wrote. "May your journey forward be enriched by the magnificent souls who have passed before you, just like you have done here, for those you leave behind."
Buffy the Vampire Slayer creator Joss Whedon also paid tribute to the actor on Twitter.
"The first time I met Luke Perry we talked about what kind of movie we wanted 'Buffy' to be," he wrote. "I asked if he'd ever seen 'Near Dark' and he gave me a look of HOW DARE YOU SIR and I knew we'd get along. Funny, committed, and always gracious. He shouldn't be gone."
Over his long acting career, Perry never again quite reached the level of fame he and his costars found after Beverly Hills, 90210 premiered in 1990, causing a seismic shift in television and turning around the fortunes of the fledgling Fox network.
The show's plotlines around real-life adolescent struggles with drugs, sex, and workplace drama proved to be a massive hit, and vaulted Perry into teen idol status.
Perry had appeared on soap operas before Beverly Hills, 90210, and was not part of the original cast in the show's pilot. But Perry was cast as the troubled, James Dean–like Dylan McKay to be both a friend to Brandon Walsh (Jason Priestley) and a love interest for Brenda Walsh (Doherty).
Dylan was central to the show's appeal and popularity. And Perry's fame exploded, as he and the rest of the cast became central figures in the gossip and mainstream press.
In February 1992, during 90210's second season, Perry, Doherty, and Priestley appeared on an iconic cover of Rolling Stone magazine. The show's rabid fandom cleaved into teams, with some pining for the more innocent-seeming Brandon, and others obsessively worshipping the more dangerous Dylan. A few months after the Rolling Stone cover, Perry graced the August cover of Vanity Fair — shirtless and holding a gun — with the headline reading, "Is Luke a fluke?"
While he was on 90210, Perry appeared as the romantic lead in the movie version of Buffy the Vampire Slayer (1992) and as a doomed bull rider in the hit Eight Seconds (1994).
He then left 90210 in 1995 to bolster his movie career, but returned for the show's 9th and 10th seasons, which would be its last. As he once told the Swedish newspaper Aftonbladet: "I'm going to be linked with him until I die, but that's actually just fine. I created Dylan McKay. He's mine."
In the decades since that role, Perry hopped from one project to the next, mostly in television, from voiceover work to guest starring on shows like Will & Grace and Law & Order: SVU.
Most recently, he landed on the teen drama Riverdale, only this time as a father to one of the show's lead characters, Archie Andrews. In an interview with the Hollywood Reporter, he said one of things he "really loved" about the role of Fred Andrews on the CW series was that he doesn't "need to be in every episode."
"I don't need to be the frontman of the show," he added.
He also recently appeared on BuzzFeed News' morning show AM2DM with his Riverdale castmates.
Molly Ringwald, who played Perry's ex-wife on the show, tweeted Monday that her heart was "broken."
"I will miss you so much Luke Perry," she wrote. "Sending all my love to your family."
Because of Riverdale, Perry wasn't able to join the 90210 revival, in which the actors will play exaggerated versions of themselves. But the show's creators wanted him to be on as many episodes as possible with his Riverdale schedule.

Perry, who grew up in Ohio, is survived by his ex-wife, Rachel Minnie Sharp, their two children, Jack and Sophie, and fiancé Wendy Madison Bauer.