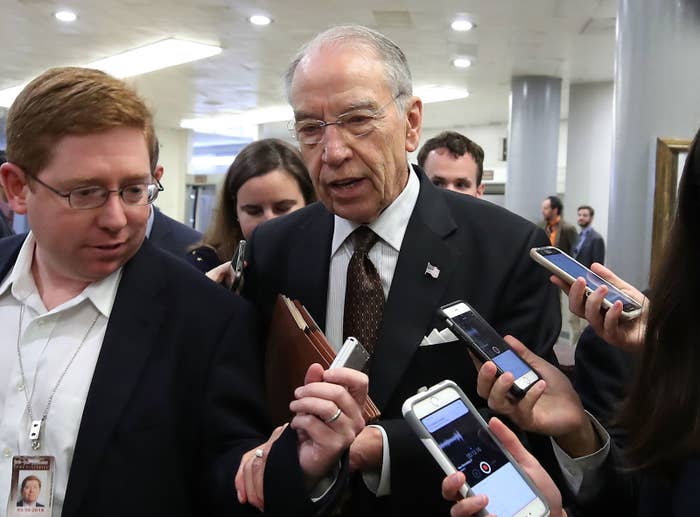 A congressional committee investigating Russia's interference in the 2016 presidential election has stepped up its probe over the past month, requesting that an agency that combats financial crime turn over confidential banking information on nearly 40 individuals and businesses, including at least nine who are American, BuzzFeed News has learned.
Senator Chuck Grassley, the chairman of the Senate Judiciary Committee, sent a letter to the Treasury Department's Financial Crimes Enforcement Network — FinCEN for short — on September 29, seeking information about any suspicious financial transactions banks may have flagged on the individuals and businesses since Jan 2015. Banks are required by law to flag such transactions for FinCEN.
The Judiciary Committee is one of three congressional committees looking into Russian interference. Its investigation only recently got off the ground after months spent negotiating the scope of its probe, two staffers told BuzzFeed News, and a rift has reportedly been developing between Grassley and Dianne Feinstein, the top Democrat on the committee. Feinstein did not sign the letter to FinCEN. Asked why not and what she thinks of the request, she replied that Grassley "can send out a letter on his own. I mean, I don't have to sign any. So that's my answer."
Got a tip? You can email tips@buzzfeed.com. To learn how to reach us securely, go to

tips.buzzfeed.com

.
"The Senate Judiciary Committee is conducting an investigation into Russian interference in the 2016 presidential election, as well as the Department of Justice's enforcement of the Foreign Agents Registration Act," Grassley's letter says. "I am requesting a copy of any and all documents relating to Suspicious Activity Reports (SARs) that have been filed regarding the following individuals or entities." They include:
Rinat Akhmetshin, and Natalia Veselnitskaya, the Russian-American lobbyist and the Russian lawyer who met with Donald Trump, Jr. at Trump Tower in June 2016.

Robert Arakelian, another lobbyist who works with Akhmetshin.

Human Rights Accountability Global Initiative Foundation, the Washington, DC-based nonprofit headed by Veselnitskaya whose stated goal is to "restart American adoption of Russian children" but has lobbied to repeal the Magnitsky Act, the 2012 law that imposed sanctions on Russian officials.

Glenn Simpson, Thomas Catan, Peter Fritsch and their private investigation firm Fusion GPS, which commissioned the so-called "dossier" that alleged the Russian government had been "cultivating, supporting and assisting" President Donald Trump.

Christopher Steele, the former British intelligence agent who collected the intelligence for the dossier; his business partner, Christopher Burrows; and their firm Orbis Business Intelligence.

Perkins Coie, a law firm that reportedly retained and paid Fusion GPS on behalf of the Clinton campaign for research that ended up in the dossier.

Prevezon Holdings, a Russian-owned company that was charged with money laundering and settled with the Department of Justice earlier this year, and eight of its related companies.

The law firm Baker Hostetler, which was hired to defend Prevezon, and two of the firm's attorneys, John Moscow and Mark Cymrot.
Banks, hedge funds, casinos, and other financial institutions are required under the Bank Secrecy Act to file suspicious activity reports with FinCEN when money laundering or fraud is suspected. They are also required to file reports for certain cash or wire transactions of $10,000 or more, even if those transactions seem legitimate. SARs contain personal financial information, such as bank account numbers and a record of financial transactions. FinCEN may not have SARs on all the individuals and businesses the Committee named.

A spokesperson for Grassley, Michael Zona, did not respond to requests for comment about the committee's investigation. Simpson, the Fusion GPS co-founder, declined to comment. Simpson's business partners, Fritsch and Catan, did not respond to requests for comment. Burrows declined to comment on behalf of himself, Steele, and Orbis. Neither Cymrot nor a spokesperson for Baker Hostetler responded to requests for comment. Moscow, the other Baker Hostetler attorney, declined to comment. Akhmetshin, Arakelian, and Veselnitskaya also did not respond to requests for comment. Officials at Prevezon could not be reached. A spokesperson for Perkins Coie said that the firm "rigorously adheres to all laws and regulations including those that protect the integrity of our financial systems, and any suggestion that the law firm has acted inappropriately is wholly unfounded."
Grassley's letter set an October 13 deadline for FinCEN to turn over the financial information to his committee. But according to three sources, no suspicious activity reports have been sent to the committee.
Emma Loop contributed reporting to this story.
UPDATE
This story has been updated to include a comment from the law firm Perkins Coie.
UPDATE
This story has been updated to include a comment from Senator Dianne Feinstein.