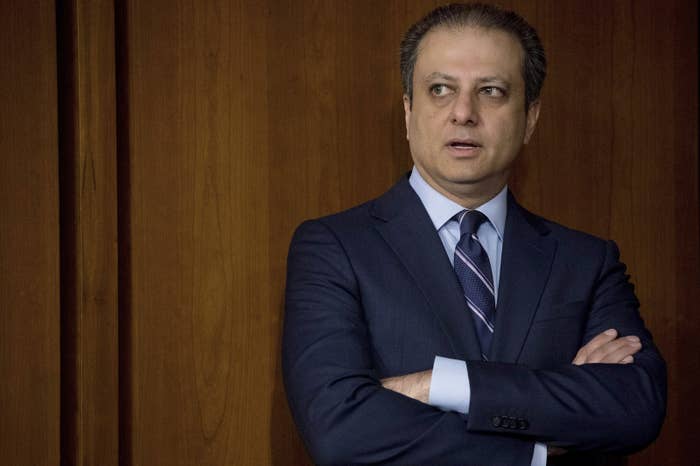 Former US Attorney Preet Bharara sent an email to Justice Department officials in New York to express concern about a voicemail he received in March from President Donald Trump's secretary, Madeleine Westerhout, according to emails BuzzFeed News obtained on Thursday from the Department of Justice under the Freedom of Information Act.
The email was sent by Bharara on March 9, a day before he was asked to resign, to "memorialize certain events of today."
"At approximately 4:41 pm, on 3/9/17, I received the following voicemail at work: 'Hi, Mr. Bharara. This is Madeline Westerhout calling from President Donald Trump's office. If you could please give me a call back at that would be great. Thanks,'" wrote Bharara — who was the US Attorney for the Southern District of New York at the time — in an email sent to Joon Kim, his deputy, and Joan Loughnane, chief counsel to Bharara. He also copied in Hilary Nabhan, the chief of staff for the US Attorney's office. (Kim was appointed acting US Attorney for the district after Bharara was fired.)
"After receiving that message, I immediately consulted with the Deputy U.S. Attorney, Joon Kim, about the propriety of returning the call. We printed out and reviewed a copy of the May 11, 2009 (as well as he December 19, 2007) Memos relating to Communications with the White House," Bharara added.
A paragraph that follows the sentence was redacted by the Justice Department because the information pertained to "intra-agency communications," protected by the "deliberative process privilege."
Bharara did not immediately respond to BuzzFeed News' request for comment on what had been redacted.

Less than an hour after Bharara sent the email to Kim and Loughnane, he sent an email to Jody Hunt, Attorney General Jeff Sessions' chief of staff.
"Jody, do you have a minute for a call? It's important and time sensitive. Could you give me the best number?" Bharara wrote.
Bharara said he spoke with Hunt by phone to discuss the president's request.
"I advised him of the phone call from the President, and we discussed the propriety of speaking with the President in light of all the circumstances, including appearances issues," Bharara wrote in the email he sent Kim and Loughnane.
A section from the email that follows — which presumably contains more detail on the "circumstances" that would prevent Bharara from speaking with Trump — was redacted.
During an interview earlier this month on ABC's This Week, Bharara told host George Stephanopoulos that he had received several phone calls from Trump since last December, which he described as "unusual." He declined to return one phone call he received from Trump after he was sworn in as president.
But Bharara said he decided to take action after Trump's secretary left the voicemail.
"I was in discussions with my own folks, and in reporting the phone call to the chief of staff to the attorney general I said, it appeared to be that he was trying to cultivate some kind of relationship," Bharara said. "It's a very weird and peculiar thing for a one-on-one conversation without the attorney general, without warning between the president and me or any United States attorney who has been asked to investigate various things and is in a position hypothetically to investigate business interests and associates of the president."
Bharara made the comments a few days after former FBI director James Comey testified before the Senate Intelligence Committee that he had written memos to memorialize his own interactions with Trump, which also included telephone calls, that he believed to be improper.
Bharara ultimately decided not to speak with Trump, and called back the president's secretary to say so.
"At approximately 6:30 p.m., I called back the President's secretary, Ms. Westerhout, and told her I had consulted with the AG's [Attorney General's] office and that it was their advice that I not speak directly to the President at this time," Bharara wrote in the email.
The next day, Bharara and dozens of other US attorneys were asked to resign. He refused, and the following day he was fired.
In a cryptic tweet on March 12, Bharara suggested that he had been investigating Trump for corruption.
"By the way, now I know what the Moreland Commission must have felt like," he tweeted.
The Moreland Commission, officially known as the Commission to Investigate Public Corruption, was disbanded by New York Gov. Andrew Cuomo in 2013 after it began to probe entities with ties to the governor.
CORRECTION
Madeleine Westerhout's name was misspelled in an earlier version of this post. (Note that Preet Bharara misspells her name in his emails.)