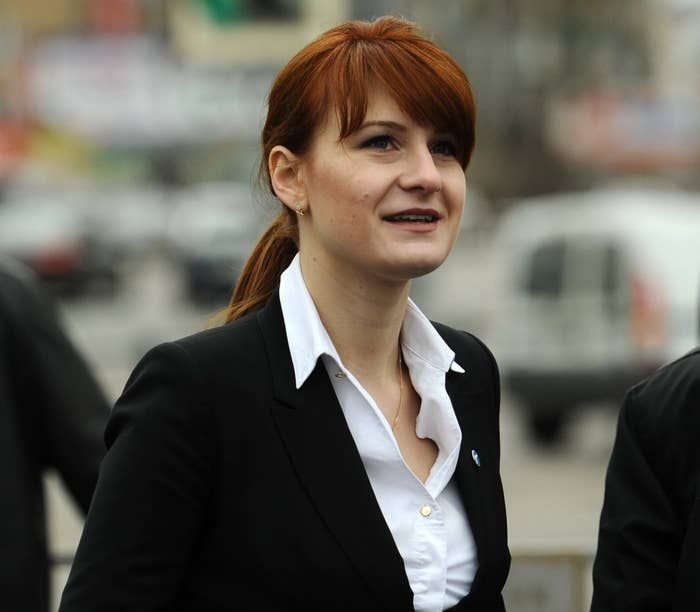 A 29-year-old Russian graduate student who worked for years as a gun rights activist was arrested and charged as a spy on Sunday, according to a criminal complaint unsealed on Monday.
Maria Butina, a protégé of Alexander Torshin, a powerful Russian banking official and close associate of Russian President Vladimir Putin, was charged with "conspiracy to act as an agent of a foreign government" without registering, as required under US law.
According to court documents, which spell her first name as Mariia, Butina worked "at the direction of a high-level official in the Russian government" from 2015 through at least February 2017 to cultivate relationships with US politicians and activists friendly to Russia. Descriptions in the document match Torshin, though he is unnamed.
She was helped in those efforts by two Americans who are identified only as Person 1 and Person 2, the court filings say.
The charges were made public just hours after Trump met with Putin in Helsinki, and three days after a dozen Russian intelligence officers were charged with hacking Democrats during the 2016 election campaign. The case is not part of special counsel Robert Mueller's investigation into Russian election meddling, but was brought by the U.S. Attorney's Office for the District of Columbia and the National Security Division of the U.S. Department of Justice.
Butina had become a familiar face in conservative political circles. She founded a Russian gun rights group, Right to Bear Arms, in 2011 and repeatedly claimed on social media that she was a lifetime member of the National Rifle Association. In 2013, her gun rights group got John Bolton, now Trump's national security adviser, to appear in a video that was used in the group's lobbying.

Torshin and Butina frequently attended NRA events. After the NRA convention in 2013, he posted a photo of the two of them, captioned "Kalashnikov couldn't join me, though we have both been 'life members' of the NRA for years."
After the 2014 convention, she was quoted in conservative media as saying, "We protect gun rights in Russia, and people who are gun owners and in a situation of self-defense. We would like to be friends with NRA."

Torshin was enthusiastically pro-Trump on social media during the campaign. He also sat with Donald Trump Jr. at the 2016 NRA convention, an event at which he reportedly tried to meet with high-level Trump campaign officials, including Jared Kushner. Don Jr.'s lawyer later told McClatchy his exchange with Torshin "was all gun-related small talk."
A few days before Trump announced his presidential bid, Butina wrote an op-ed about the impact the 2016 election could have on the relationship between the two countries.
"It may take the election of a Republican to the White House in 2016 to improve relations between the Russian Federation and the United States," she wrote in The National Interest magazine. She had sent the article to Torshin in advance for his approval.
A month after Trump began his presidential run, Butina was among the questioners at a town hall in Las Vegas, where she asked him to describe his foreign policy "especially in relations with my country."
Trump said that if elected he would improve relations between the US and Russia, adding, "I know Putin and I'll tell you what, we get along with Putin."
Butina told the Washington Post at the time that her question had been "happenstance" and she was not tied to the Russian government.
Her social media posts reveal just how extensively she and Torshin worked to meet politicians and others they thought would be influential for years. Her LiveJournal shows them both meeting Wisconsin Gov. Scott Walker when he was a Republican presidential candidate. Photos of her with former Pennsylvania Sen. Rick Sanotorum and Louisiana Gov. Bobby Jindhal are available on the internet.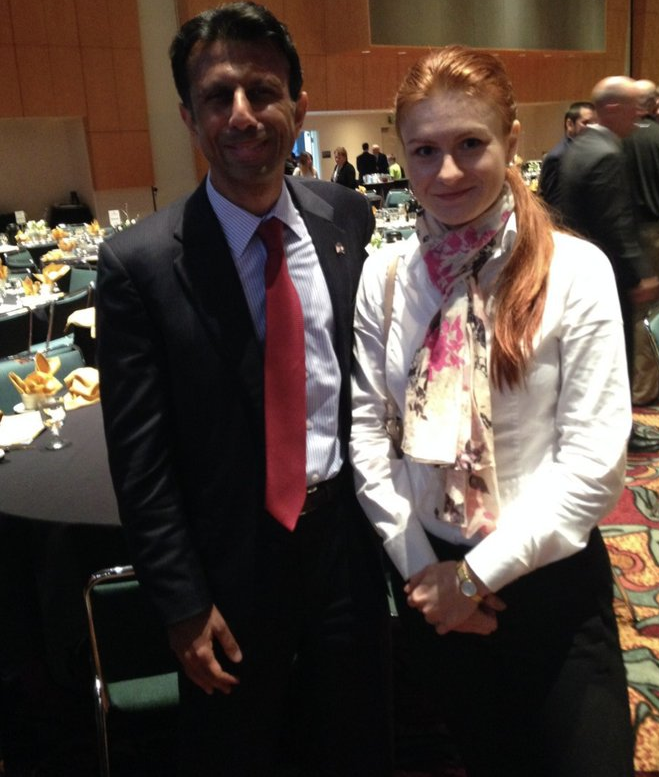 Butina connected with Paul Erickson, a longtime conservative Republican operative from South Dakota and NRA activist, as early as 2013. He attended an event for her organization — which she described as "a Russian version of the NRA" — in Moscow the following year. In May 2016, Erickson reached out to Rick Dearborn, a senior Trump campaign official and longtime advisor to the Sen. Jeff Sessions presenting himself as an intermediary. Sessions is now Trump's attorney general.
"Happenstance and the (sometimes) international reach of the NRA placed me in a position a couple of years ago to slowly begin cultivating a back-channel to President Putin's Kremlin," he wrote, according to a report written by Democrats on the House Permanent Select Committee on Intelligence, who wanted her to be called as a witness in their investigation of possible Trump campaign collusion with the Russian meddling; the Republican leaders of the committee refused their request.
Russia wanted to use the NRA's national convention to make "first contact" with the Trump campaign, Erickson wrote.
"Putin is deadly serious about building a good relationship with Mr. Trump. He wants to extend an invitation to Mr. Trump to visit him in the Kremlin before the election," he wrote.

Butina also used the annual National Prayer Breakfast as a way to make contacts with influential people, according to the court filings. On Nov. 30, 2016, Butina emailed "US Person 1," saying the Russian delegation attending the National Prayer Breakfast had been "handpicked" by a senior Russian official and were "VERY influential in Russia."
She said the delegation was attending the National Prayer Breakfast to "establish a back channel of communication."
Butina entered the US on a student visa in August 2016 as a graduate student in international relations at American University, according to court papers, but she was secretly working on behalf of the Russian government, according to the charges against her.
She is accused of contacting and developing relationships with unidentified "gun rights organizations" and unnamed US politicians. In her time in the US, she attempted to "establish a 'back channel' communication for representatives of the Government of Russia," according to FBI officials.
For years, Butina worked on "developing relationships with US persons and infiltrating organizations having influence in American politics, for the purpose of advancing the interests of the Russian Federation," according to the Justice Department.
According to social media posts by Torshin, she was passing on news about the Trump campaign before she was in the US on a student visa.
"Maria Butina is now in the USA. She writes to me that D. Trump (NRA member) really is for cooperation with Russia," he tweeted in February 2016.
According to the complaint, Butina emailed "a US person in an effort to develop, maintain, and exploit a relationship in furtherance of the conspiracy" in March 2016. In September of that year, she "emailed a US person to organize an event for the purpose of influencing the views of US officials, as those views relate to the Russian Federation."
A lawyer for Butina denied that she had been acting as a Russian agent. In a written statement sent to BuzzFeed News, the lawyer, Robert Driscoll, said that despite her cooperation with the FBI over months, "over a dozen FBI agents" had executed a search warrant on her apartment in Washington, DC, in April.

"The substance of the charge in the complaint is overblown," Driscoll said.
"While styled as some sort of conspiracy to violate the Foreign Agent Registration Act, in actuality it describes a conspiracy to have a 'friendship dinner' at Bistro Bis with a group of Americans and Russians to discuss foreign relations between the two countries — hardly a shocking development for a Russian International Relations student living in Washington," he said.
The National Rifle Association did not respond to a request for comment.
Butina appeared in court Monday afternoon and will have another court appearance Wednesday.