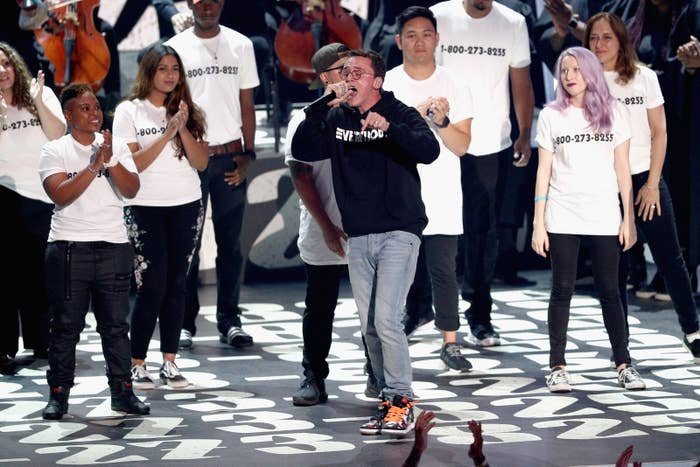 The 2017 MTV Video Music Awards was a night of social and cultural messages: Susan Bro announced a foundation that will carry on the legacy of her daughter Heather Heyer, who died protesting hate in Charlottesville; Reverend Robert Mead, a descendant of Robert E. Lee condemned white supremacy; Paris Jackson decried hate; Pink spoke about the importance of expanding the definitions of beauty; and Kesha got emotional while touting the National Suicide Prevention Hotline.
The "Praying" singer then introduced Logic, who performed "1-800-273-8255" (the National Suicide Prevention Hotline's number) with Alessia Cara and Khalid while backed by suicide attempt survivors and loss survivors. Following the performance, Logic delivered one of the night's most stirring speeches, which touched upon suicide, racism, sexism, homophobia, and other pressing issues.
"I just want to take a moment to thank you for giving me a platform to talk about something that mainstream media doesn't want to talk about: mental health, anxiety, suicide, depression and so much more that I talk about on this album," he began.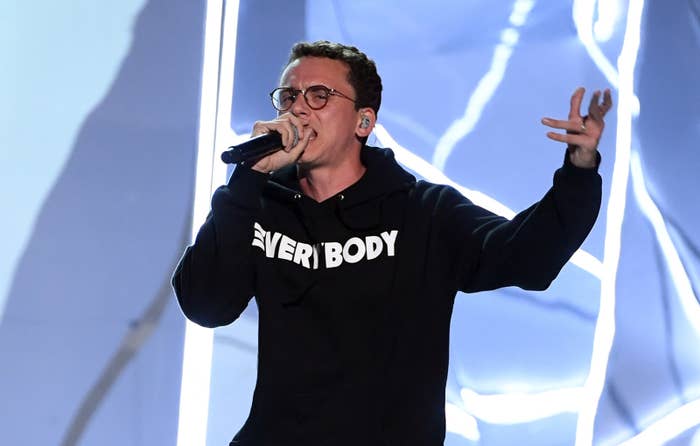 "From racism, discrimination, sexism, domestic violence, sexual assault, and so much more; I don't give a damn if you are black, white, or any color in between. I don't care if you're Christian, you're Muslim, you're gay, you're straight, I am here to fight for your equality because I believe that we are all born equal, but we are not treated equally and that is why we must fight. We must fight for the equality of every man, woman, and child regardless of race, religion, color, creed, and sexual orientation."
Before embracing the survivors who flanked him, Logic closed up with this: "So I say here and now if you believe in this message of peace, love, positivity, and equality for all, then I demand that you rise to your feet and applaud not only for yourselves, but for the foundation we are laying for our children."