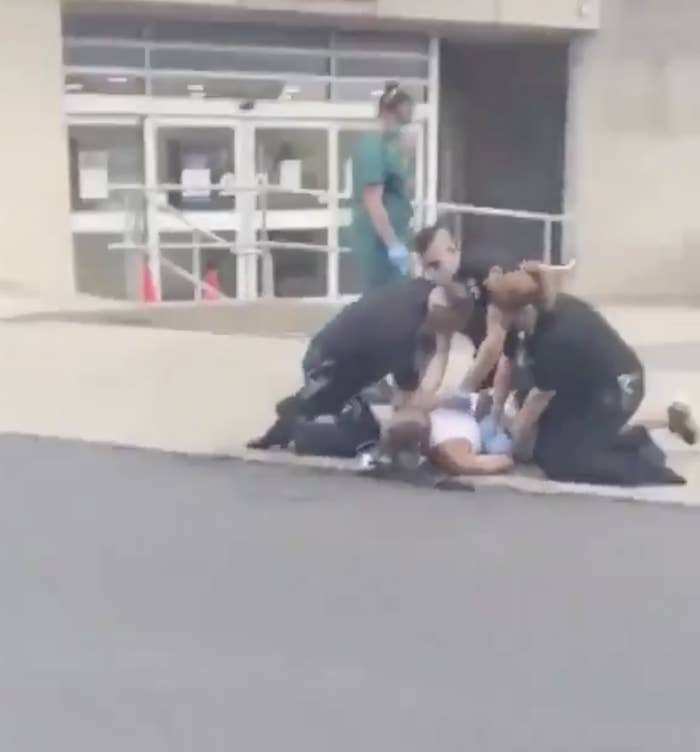 A video that appears to show a police officer kneeling on the neck and head of a man being arrested in Allentown, Pennsylvania, sparked a protest in the city on Saturday.
The video, taken from a car that stopped outside St. Luke's Hospital-Sacred Heart, shows three police officers restraining the man as a hospital employee stands by and watches.
One of the police officers is seen kneeling on the man's neck and head while they put him in handcuffs.
"Get off his neck," a woman in the car can be heard saying.
"He can't breathe," a man in the car says.
The video was shared on social media by the Black Lives Matter to Lehigh Valley as well as by Benjamin Crump, the attorney who took on George Floyd's case. Floyd was killed in May when a Minneapolis police officer used a knee chokehold while arresting him, sparking global protests against police brutality.
"@AllentownPolice held down this man's face to the pavement and then one of its officers placed their knee on his neck!!," Crump tweeted. "This happened yesterday and is exactly what led to #GeorgeFloyd's death. We need this officer's name and badge # NOW."
"We are actively investigating this incident," Bill Lake, assistant chief of the Allentown Police Department, told BuzzFeed News on Sunday.
Lake said the incident occurred shortly before 7 p.m. on Saturday, but did not provide further details on the nature of the arrest or the identity of the officers involved. He also did not say whether the officers had been put on administrative leave.
The Sacred Heart Hospital did not immediately return a request for comment.
In a longer version of the video obtained by local newspaper the Morning Call, the hospital employee is seen crossing her arms over her badge and appears to instruct the people in the car who are recording the video to move away.
The Allentown police department's use of force policy, which was made public last week, prohibits officers from using "neck restraints" and choke holds.
"Preventing imminent death or serious bodily injury to a member or citizen is the only possible exception to the prohibition," the policy states.
The woman who took the video from the car spoke with the Morning Call but asked to remain anonymous. She told the paper that the man in the video was screaming "mira," which is Spanish for "look," seemingly trying to bring attention to the arrest.
City residents gathered outside the police headquarters on Saturday to protest the arrest, chanting "Black lives matter" and "defund the police."
Both the mayor and the chief of police met with the demonstrators and told them that an investigation is underway.

"A knee on the neck, is that OK?" Maegan Llerena, executive director of Latinx activist group Make the Road PA, asked the police chief.