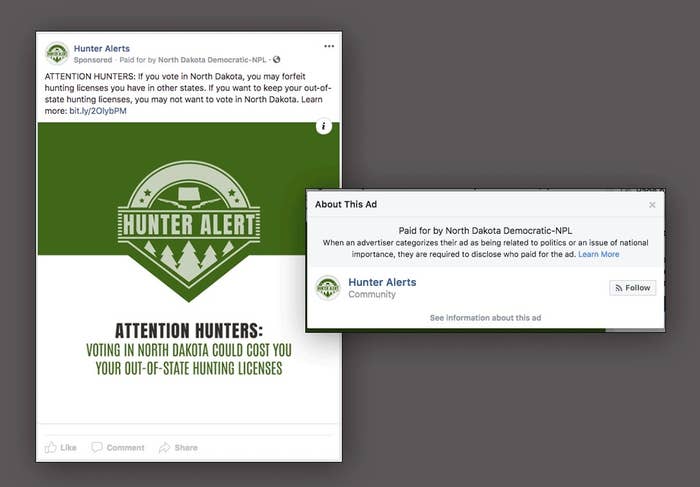 The North Dakota Democratic Party has placed a misleading Facebook ad warning people they could lose their out-of-state hunting licenses if they vote in the midterm elections next week. The North Dakota GOP is now condemning the ad as an example of voter suppression.
"ATTENTION HUNTERS: If you vote in North Dakota, you may forfeit hunting licenses you have in other states," read one variation of the Facebook ad, which is still active on Facebook as of this writing. "If you want to keep your out-of-state hunting licenses, you may not want to vote in North Dakota."
The ad linked to the website of the state Democratic Party, which in North Dakota is known as the North Dakota Democratic–Nonpartisan League Party. But rather than being placed by the party itself, the ad ran from a brand new Facebook page, Hunter Alerts, that does not acknowledge any affiliation with the state Democratic Party, or offer a description of the page's origins or affiliation. Hunter Alerts appears to have been created specifically to run the campaign targeting hunters. The ad was marked as purchased by the North Dakota Democratic Party on Facebook, and clicking a link brought users to a dedicated page on the party's website that had the same messaging. The ad was first noticed by Say Anything, a blog that covers national and North Dakota politics.

The ad began running Thursday, according to Facebook's Ad Archive, just five days before Election Day. Democratic Sen. Heidi Heitkamp is currently running in a tight race for reelection in North Dakota against Republican Rep. Kevin Cramer, who has been leading in polls for months.
The party's ad is misleading, as it's not clear whether people would in fact lose an out-of-state hunting license by voting. Hunting license regulations vary by state and, according to the US Fish and Wildlife Service, many states allow hunters to purchase out-of-state licenses.
Scott Peterson, deputy director of the North Dakota Game and Fish Department, told BuzzFeed News the state doesn't allow people to hold a hunting license in two states at once, however. "If you have a North Dakota hunting license we don't allow dual residency," he said.
But Peterson stressed that he wasn't sure what the Facebook ad was trying to communicate. "I don't know what they were implying by it," he said.
A spokesperson for the North Dakota Republican Party told BuzzFeed News the ad is a clear case of voter suppression.
"Heidi Heitkamp is using her anti-Kavanaugh campaign coffers to suppress voter turnout in North Dakota," Jake Wilkins, communications director for the North Dakota Republican Party, said in a statement to BuzzFeed News. (Heitkamp voted against Brett Kavanaugh's Supreme Court confirmation, which caused a surge in donations for her reelection campaign.)
The North Dakota Democratic Party did not immediately respond to BuzzFeed News' questions about the ad.

The ad is the latest controversy for Heitkamp's campaign in recent weeks. Her campaign ran a newspaper ad in mid-October that included the names of sexual assault and domestic violence survivors, but after it was published, several women said they had not consented to having their names included, and others said they were not victims at all. Heitkamp apologized, saying the names had been provided to the campaign by outside sources. She added, in a statement, that her campaign would retract the ad and personally apologize to each of the women.